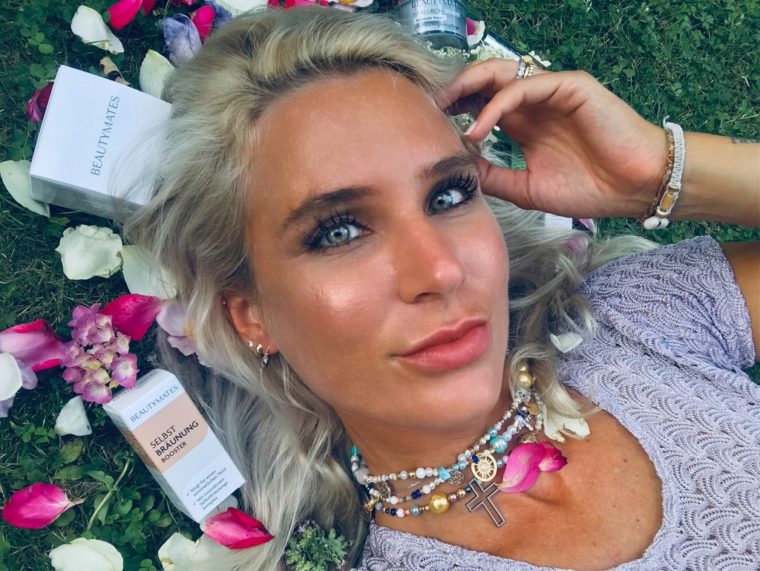 BEAUTYMATES – personalisierte vegane Kosmetik! Durch Instagram wurde ich auf die Marke aufmerksam und war sofort angetan! Vielleicht kennt ihr das – eure Produkte neigen sich dem Ende zu, ihr wart nicht allzu begeistert von eurer letzten Pflegeserie, wenn ihr euch nach einer neuen umschaut seht ihr vor lauter Bäumen den Wald kaum mehr, kurzum; der Markt ist einfach viel zu groß!
Wenn man allerdings gezielt auf Qualität achtet, ohne Tierversuche, vegan – ja, dann ist es doch schwierig nach einem Favoriten zu stöbern! Umso mehr habe ich mich dann gefreut, als ich Beautymates entdeckt habe. Hier gibt es für jeden Gesichts- und Hauttyp die beste, individuelle Pflege. Die Produkte können einzeln, oder als Set erworben werden. Jedes Set ist für einen anderen Typ zusammen gestellt. Zum einen gibt es Anti-Aging Pflege, kombiniert mit 'Hyaluron Lifting und Anit Falten Booster', ebenso 'Perfect Glow Set' für sofortige strahlende und glatte Haut, 'Summer Skin Set' für glatte und gebräunte Haut, 'Perfect Skin Set' für makellose und ebenmäßige Haut, 'Intensiv Lifting Set' für intensive Lifting-Power, 'Augen Lifting Set', 'Glow Booster Duo' und 'das Bestseller Set'! Das Konzept von Beautymates ist ganz simpel, aber sehr effektiv für die Haut; aufeinander abgestimmte Booster und Cremes bilden in drei Anwendungsformen die perfekte individuelle Pflegeroutine! Es gibt zwei Cremes und sechs Booster! Jeder kennt seine eigene Haut am besten, daher ist es vom Vorteil, die Pflege individuell zusammen zu stellen.
Im Prinzip nach dem Motto; Mix and Match! Da ich mich zum Beispiel für das Set 'sofort glatte und gebräunte Haut' entschieden habe, kann ich hier auch den Selbstbräunungs-Booster mit ein paar Tropfen unter meine tägliche Bodylotion mixen. Wichtig ist nur, dass man seiner Haut zuvor ein Bodypeeling gönnt sowie eine Rasur. Auch mein 'Anti-Müdigkeits-Booster' lässt mich morgens nach dem Aufstehen viel schneller wach werden. Meine Haut ist lang nicht mehr so geschwollen nach dem Aufwachen wie sonst!
BEAUTYMATES – personalized vegan cosmetics! Through Instagram I became aware of the brand and was immediately taken with it! Maybe you know this – your products are coming to an end, you weren't too excited about your last skincare line, when you look around for a new one the market is just too big!
But if you pay attention to quality, without animal testing, vegan – yes, it's difficult to look for a favorite! All the more I was happy when I discovered Beautymates. Here there is the best individual care for every face and skin type. The products can be purchased individually or as a set. Each set is put together for a different type. On the one hand there is Anti-Aging Care, combined with 'Hyaluron Lifting and Anit Wrinkle Booster', also 'Perfect Glow Set' for immediate radiant and smooth skin, 'Summer Skin Set' for smooth and tanned skin, 'Perfect Skin Set' for flawless and even skin, 'Intensive Lifting Set' for intensive lifting power, 'Eye Lifting Set', 'Glow Booster Duo' and 'The Bestseller Set'! The Beautymates concept is simple, but very effective for the skin; matching boosters and creams form the perfect individual care routine in three application forms! There are two creams and six boosters! Everyone knows their own skin the best, so it is advantageous to put the care together individually.
In principle according to the motto; Mix and Match! For example, since I decided on the set 'immediately smooth and tanned skin', I can also mix the self-tanning booster with a few drops under my daily body lotion. The only important thing is that you give your skin a body peeling and a shave before. Also my 'anti-fatigue booster' makes me wake up much faster in the morning after getting up. My skin is no longer as swollen after waking up!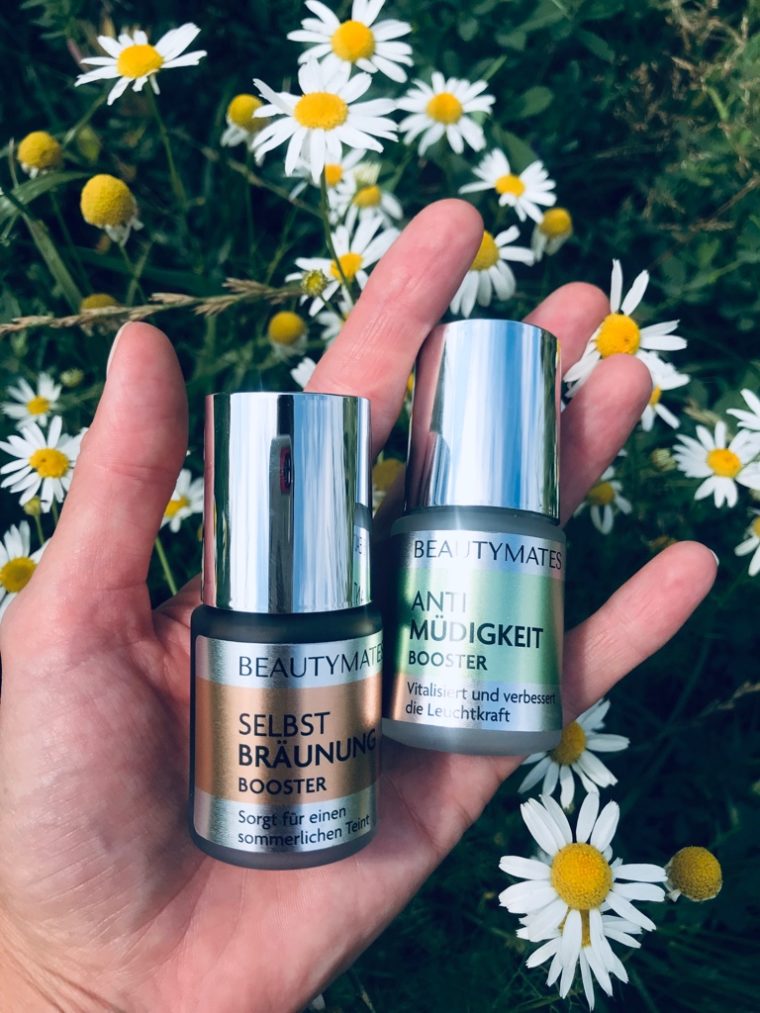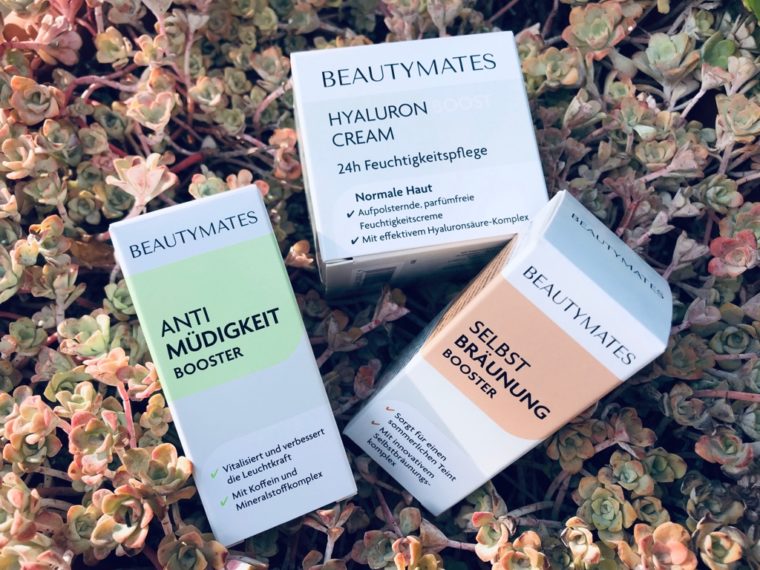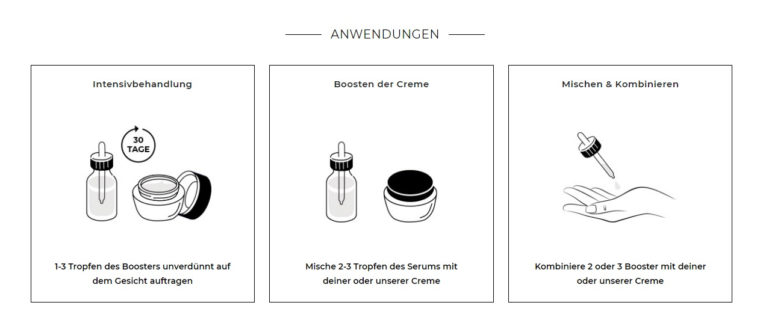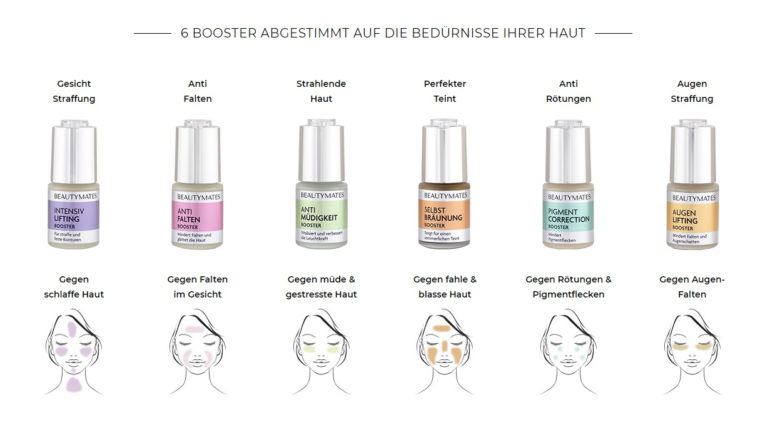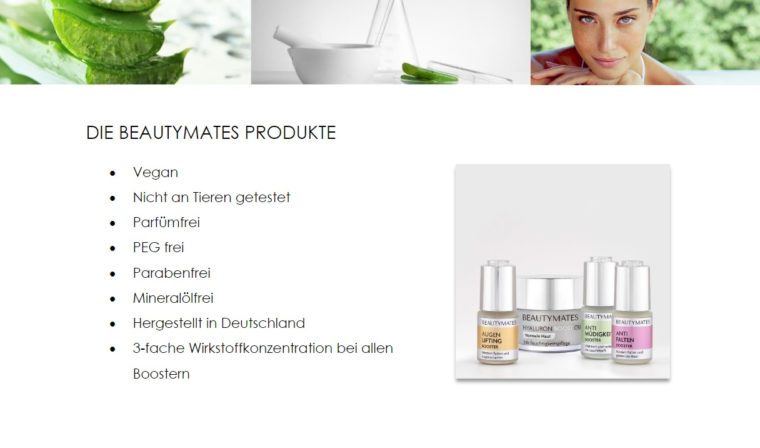 copyright; Beautymates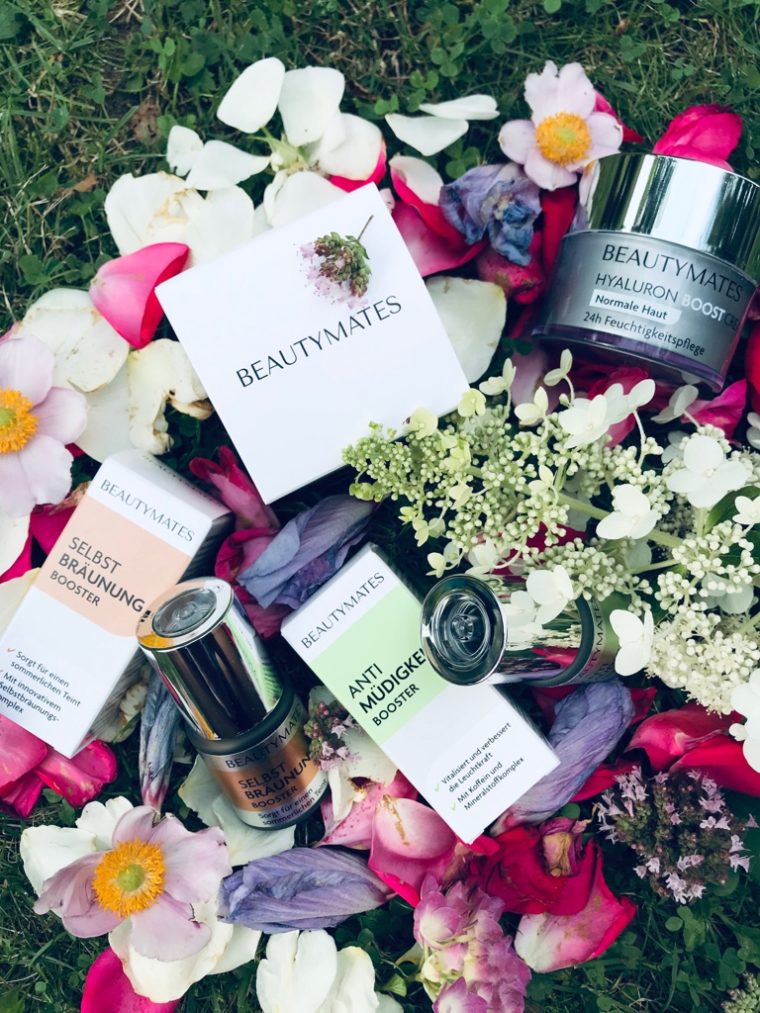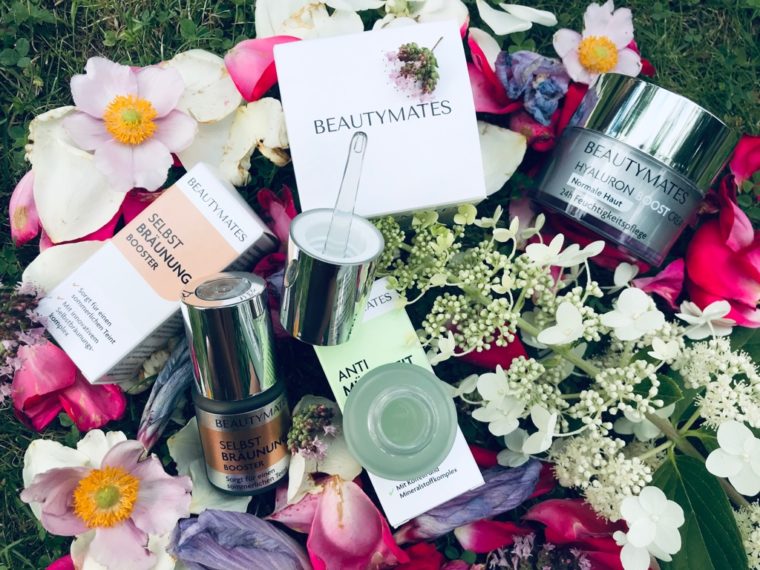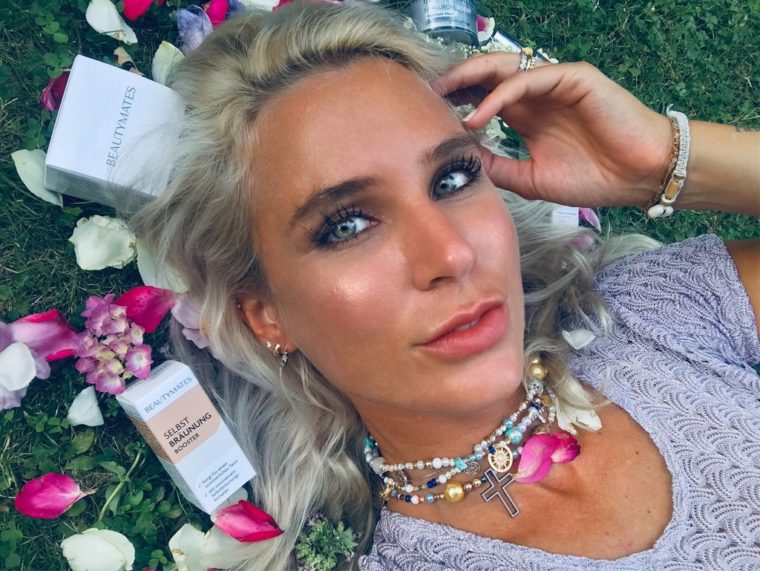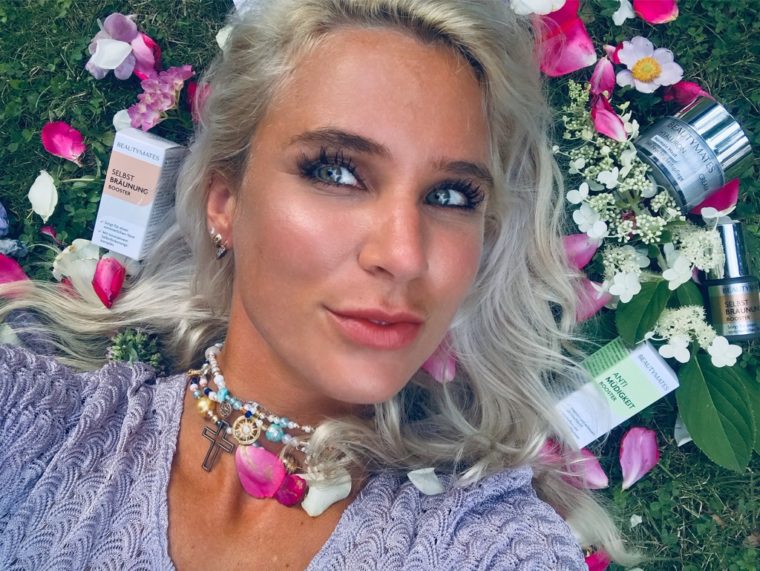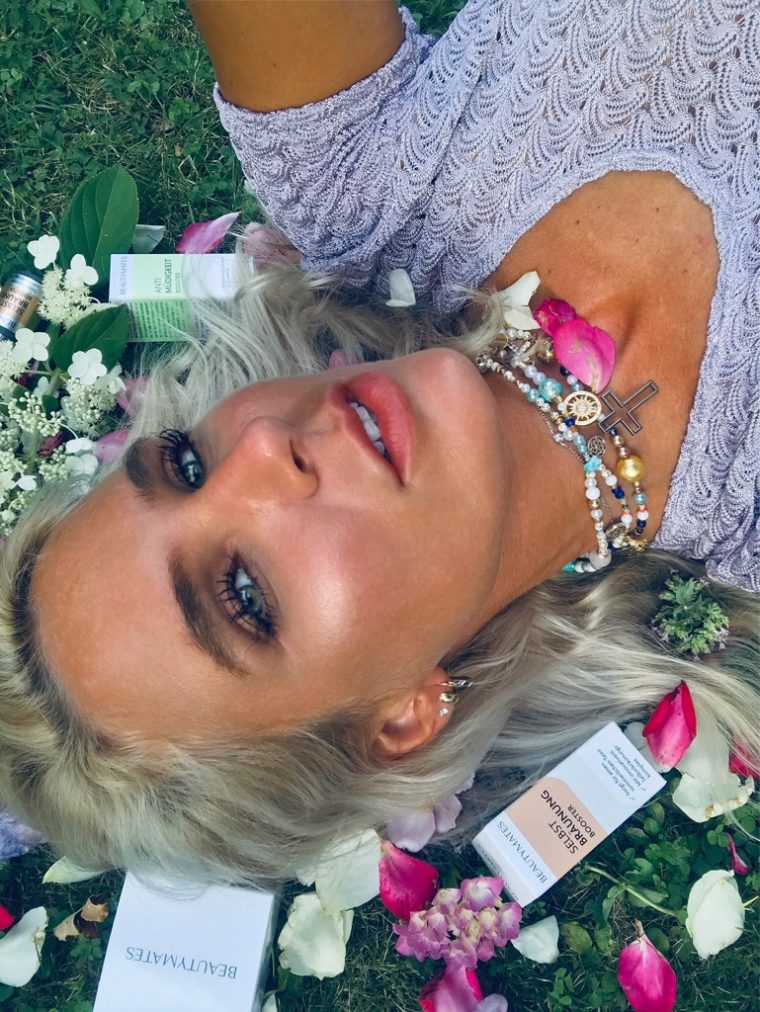 In liebevoller Zusammenarbeit mit Beautymates