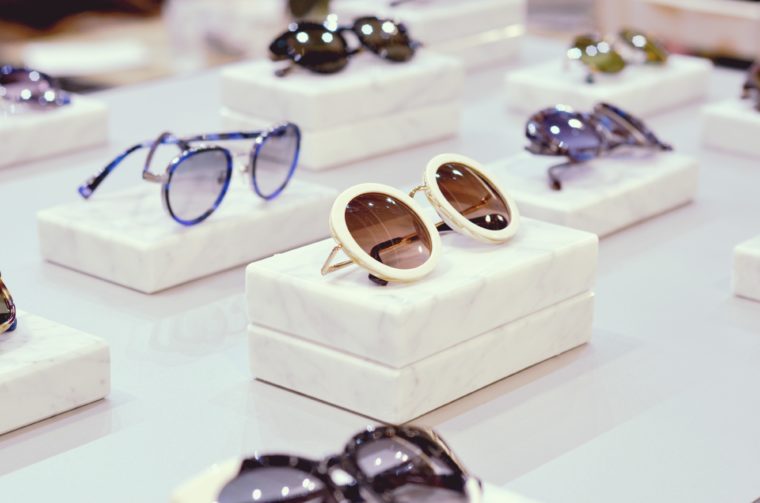 Hallo meine Lieben! Heute möchte ich euch von meinem Mailand Trip erzählen! Wie ihr wisst war ich vor kurzem in der wundervollen Modestadt und durfte bequem von Frankfurt aus mit Lufthansa anreisen. Am Flughafen in Mailand angekommen wurde ich super lieb empfangen und in unser schönes zentrales Hotel in der Nähe des Mailänder Doms gebracht. Mein Zimmer war perfekt – mit eigenem Balkon und riesengroßen Badezimmer – und wie gesagt; zentraler ging es nicht. (Hotel NH President) Geladen war ich von der MIDO, einer riesengroßen Messe rund um das wohl zweitschönste Accessoire; der (Sonnen)Brille! (für mich ist das schönste Accessoire einer Frau die Handtasche! 🙂 – folgend von Sonnenbrille, Schuhen und natürlich einem bezauberndem Lächeln!) Tagsüber haben wir Mailand und die MIDO erkundet, abends hatten wir fantastische Dinner und interessante Gespräche! Vor allem Julia hat mich in ihren Bann gezogen – eine wundervolle Frau! Es war garantiert nicht unsere letzte Begegnung! "magic happens, if you know where to look!" Auf der MIDO bekamen wir einen einzigartigen ersten Blick, was denn so ab März an (Sonnen)Brillen auf den Markt kommt und auf welches Design wir 2017 nicht verzichten können; von Fendi über Balmain, von Marc Jacobs bis zu Elie Saab – alle Brands waren vertreten und bei letzterem durften wir sogar über die Schulter schauen und genau beobachten, wie denn die Schmuckstücke (!) hergestellt werden. Auch Probetragen war erlaubt, was bei den teuren Einzelstücken von Elie Saab wirklich eine Ehre ist – Kunstwerke vom Allerfeinsten welche sogar zum ersten mal in der Geschichte auf den Laufstegen getragen wurde! Wie ihr merkt; ich brauche solch eine Brille!!! #firstworldproblems #loveatfirstsight #lifegoals #livethewonder 😉 Besonders up to date sind diese Saison (Sonnen-)Brillen in Marmor- und Holzoptik. Bei den führenden Materialen Titan, Stahl und Aluminium wird es verspielter und die Formen sind mit ausgeschnittenen Mustern und geometrischen Körpern vorzufinden. Auch der Materialmix in einer einzigen Brille ist Thema und somit wundert es nicht, dass sich die Designer auch an außergewöhnlichen Brillenbügeln austoben. Hier findet man Strasssteine aber auch echte Diamanten, künstlerische abstrakte Drucke, natürliche Materialen wie Federn, Blätter oder sogar echte Blumen wieder. Ein weiteres Highlight sind Brillen, die mit der neusten 3D Technologie hergestellt wurden oder zumindest einen Teil der Brille ausmachen. (siehe unten) Auch die Umwelt ist ein großes Thema und so findet man bei einigen Marken eco-freundliche Materialen vor, wie zum Beispiel aus dem Meer gefischte Plastikflaschen und -tüten, die zu Brillengestellen verarbeitet wurden und werden. Daumen hoch von meiner Seite! Wenn es um die Farben geht ist nach wie vor Colour-Blocking absolut im Trend, aber auch Nudetöne in Naturnuancen! Wenn es um die Brillenform geht sind Aviator-Gestelle sowie Cat-Eye Shapes und runde Gestelle absolut trendy! Aber auch alles was im Vintage-Look daher kommt und überdimensional groß erscheint ist auf Platz Eins der Rangliste. Es war eine super tolle Erfahrung so nah an all den großen Designern und Herstellern zu sein und die neusten Brillentrends für das Jahr 2017 zu erkunden! Ich hoffe ich konnte euch ein paar Tipps geben, auf was ihr diese Saison beim "Nasenfahrrad-Kauf" nicht verzichten dürft! Nun wünsche ich euch aber von Herzen ein wohlverdientes schönes Wochenende! Alles Liebe, eure Maren.
Hello my lovelies! Today, I want to talk about my trip to Milano! As you know, I was recently in this wonderful city and I could travel from Frankfurt with the airline Lufthansa. When I arrived at the airport in Milan I had a very warm welcome and the team brought me to our beautiful hotel near the Cathedral of Milan – super central. My room was perfect; with its own balcony and a huge bathroom. (Hotel NH President) I was invited by MIDO, a huge trade fair of the (probably) second most beautiful accessory; The (sun) glasses! (For me, the most beautiful accessory of a woman is the handbag! 🙂 – Followed by sunglasses, shoes and of course a charming smile!) During the day we explored Milan and the MIDO exhibition, in the evening we had fantastic dinners and interesting discussions! Above all, I was completely captivated by Julia – a wonderful woman! It wasn't our last meeting! At the MIDO, we got a first look, which (sun) glasses are on the market from March 2017, and which design we have to buy for 2017; From Fendi to Balmain, from Marc Jacobs to Elie Saab – all brands were represented. We were even allowed to look over the shoulder by Elie Saab and watch closely, how the jewelery is produced on the glasses. Projection was also allowed, which is really an honor for the expensive individual pieces of Elie Saabs works of art –  which was even worn for the first time in history on the catwalks! As you notice; I need such a pair of glasses !!! #firstworldproblems #loveatfirstsight #lifegoals #livethewonder 😉 Up to date in this season are (sun) glasses in marble and wood optics. The leading materials titanium, steel and aluminum are more playful and the shapes are found with cut-out patterns and geometrical bodies. Even the mix of materials in a single pair of glasses is a topic and it is therefore not surprising that the designers also have fun with extraordinary glasses. Here you can find strass stones, but also real diamonds, artistic abstract prints, natural materials like feathers, leaves or even real flowers. Another highlight are eyeglasses made with the latest 3D technology or at least a part of the glasses. (See below) The environment is also a big topic, and some eco-friendly materials are found in some brands, such as plastic bottles and bags fished from the sea, which have been converted into eyeglass frames. Thumbs up from my side! When it comes to the colors, color blocking is still in the trend, but also nudetones in natural nuances are often found! When it comes to eyeglass frames, aviator rocks as well as the cat eye shapes and round glasses are absolutely trendy! But everything that comes in the vintage look and appears huge in size is on the top of the ranking. It was a super great experience to be so close to all the great designers and manufacturers and to explore the latest trends for the year 2017! I hope I could give you some tips on your way what you shouldn't miss this season! Now I wish you a fantastic weekend! In love, Maren.
flying to Milano with Lufthansa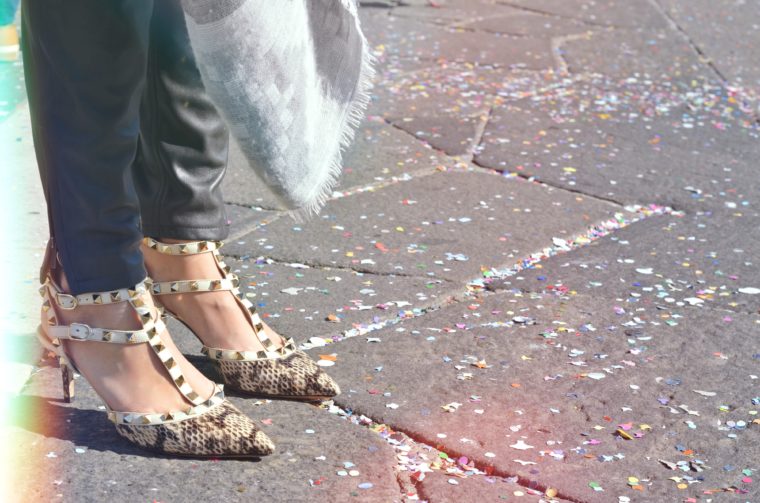 in the streets of Milan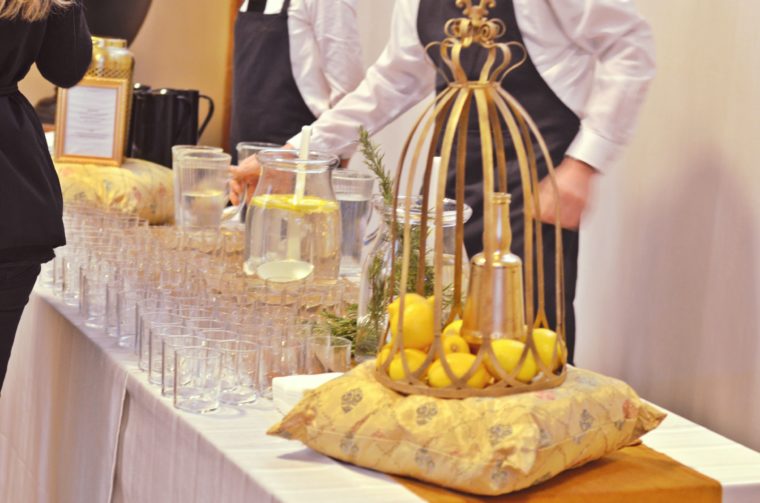 MIDO press conference in the Museum of Science and Technology – very impressive!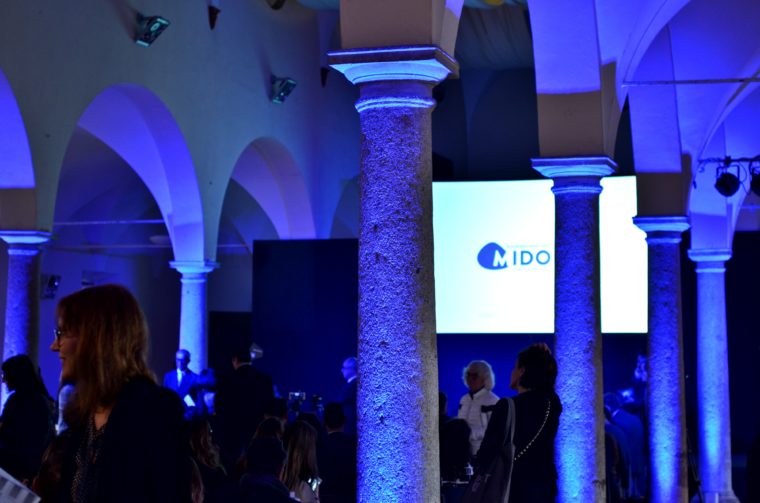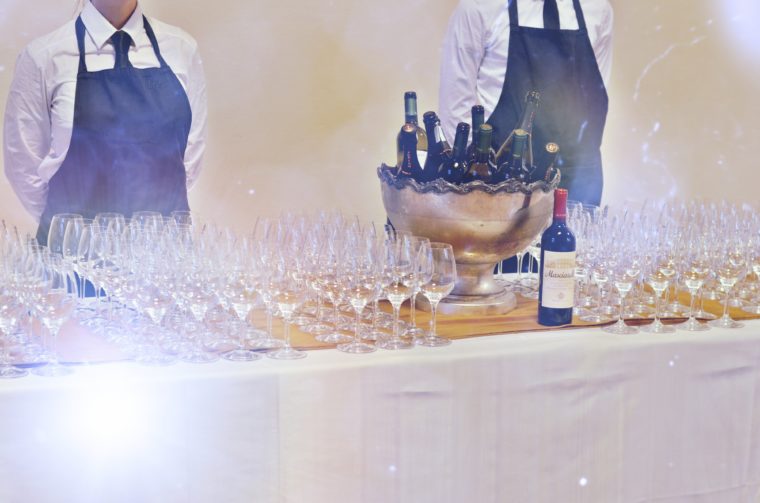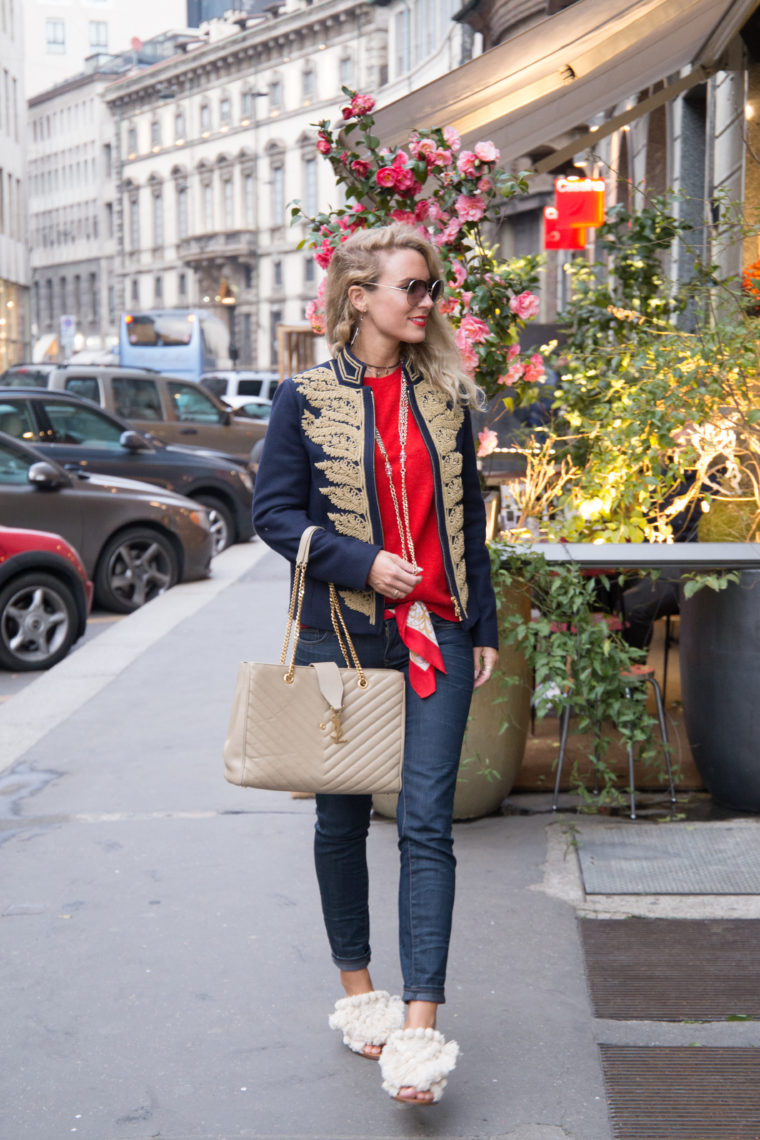 in the streets of Milan, next to our hotel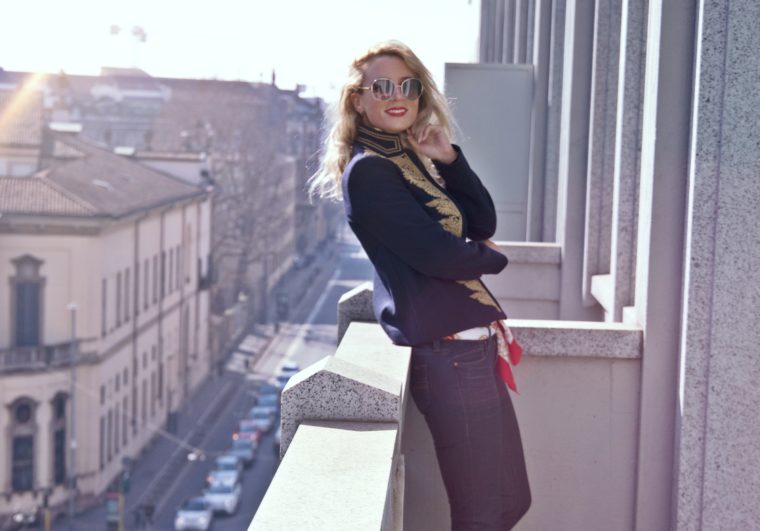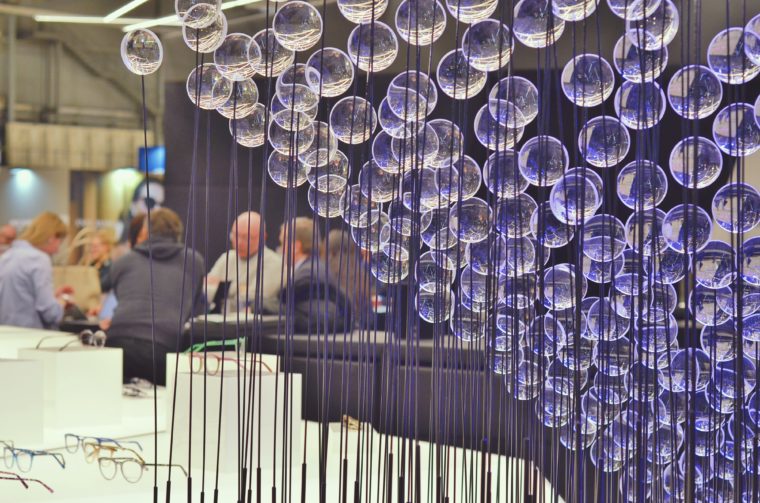 @MIDO – Made in Italy Eyewear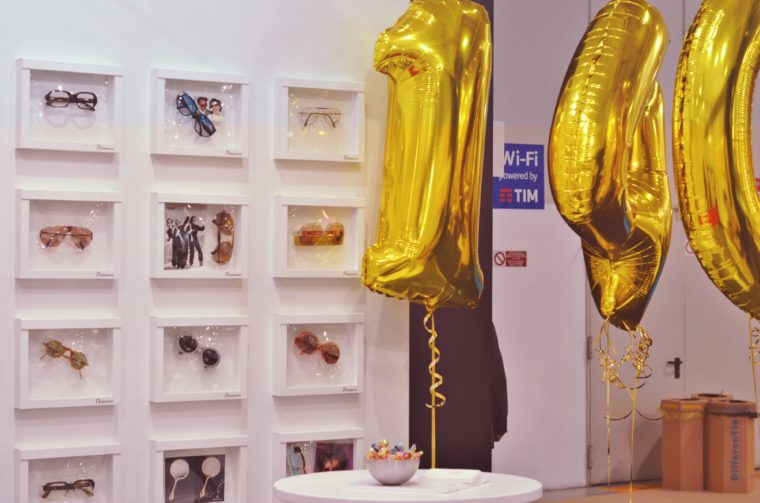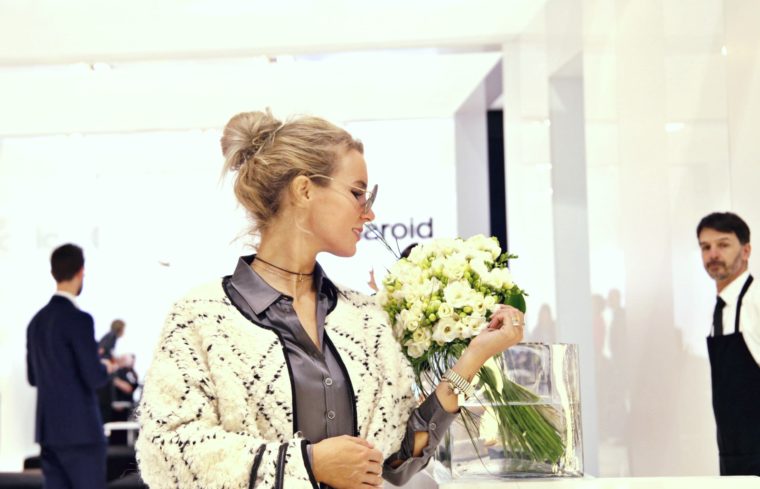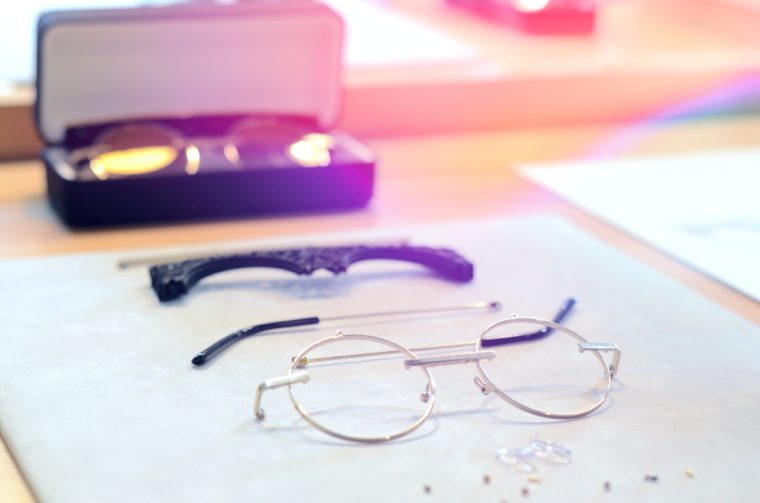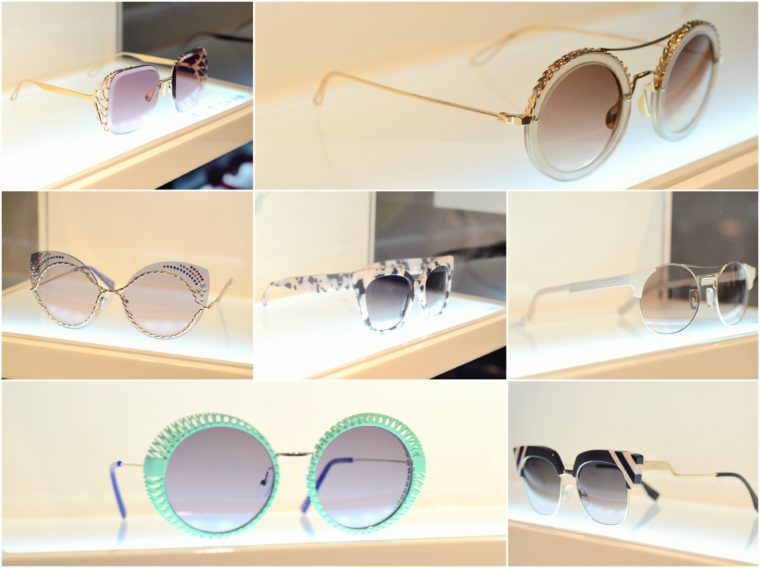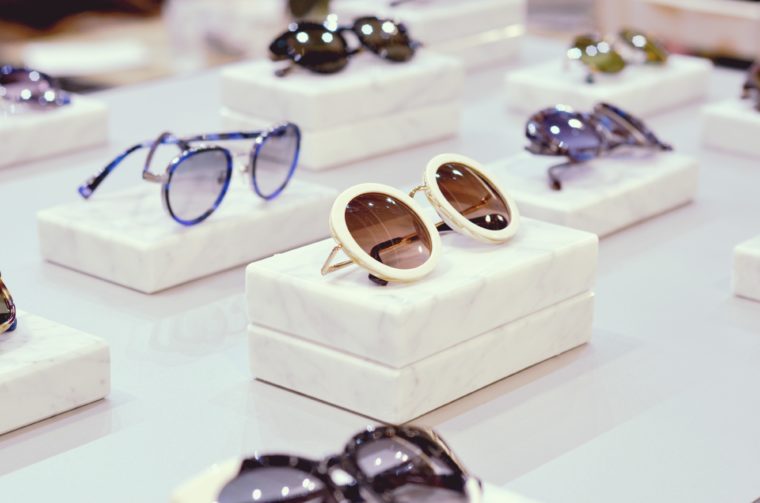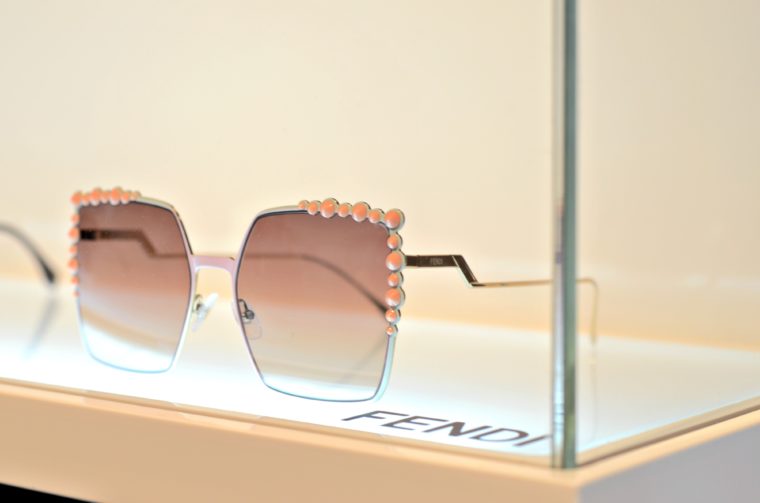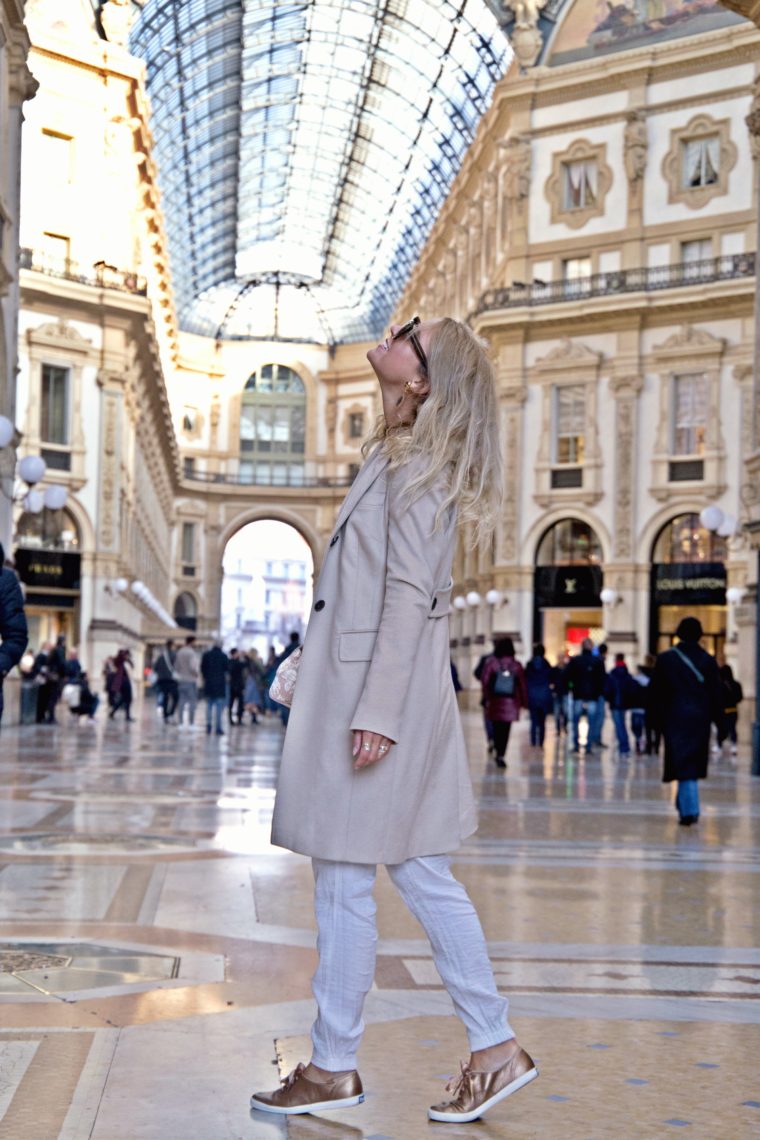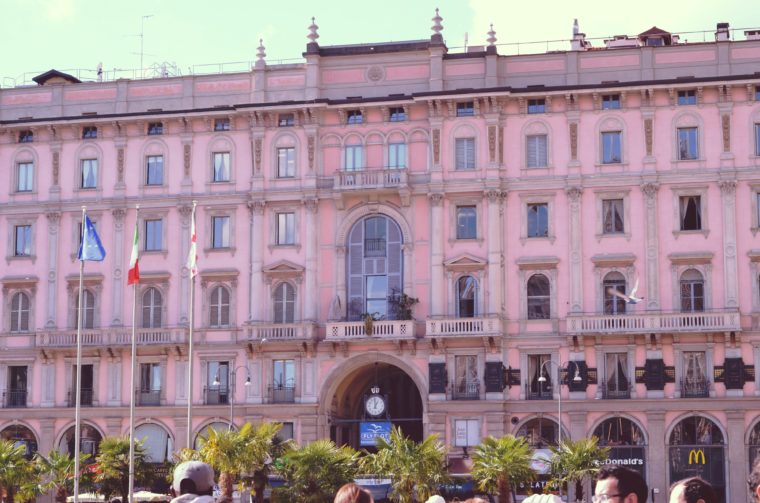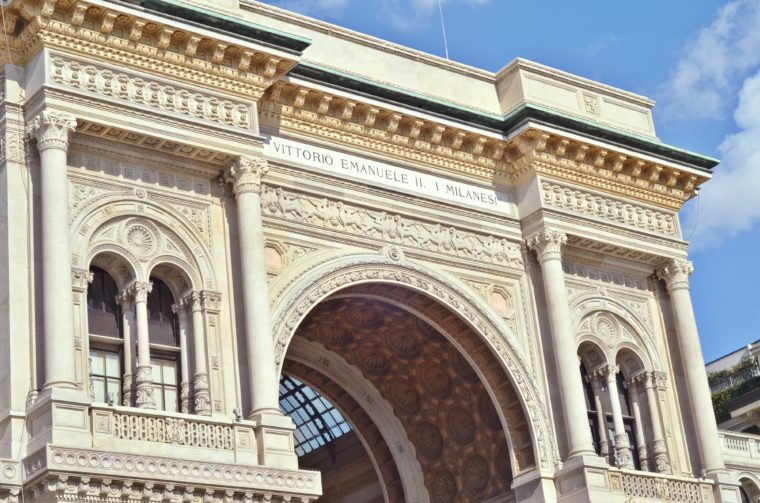 at Dolce & Gabbana in the 'Via della Spiga'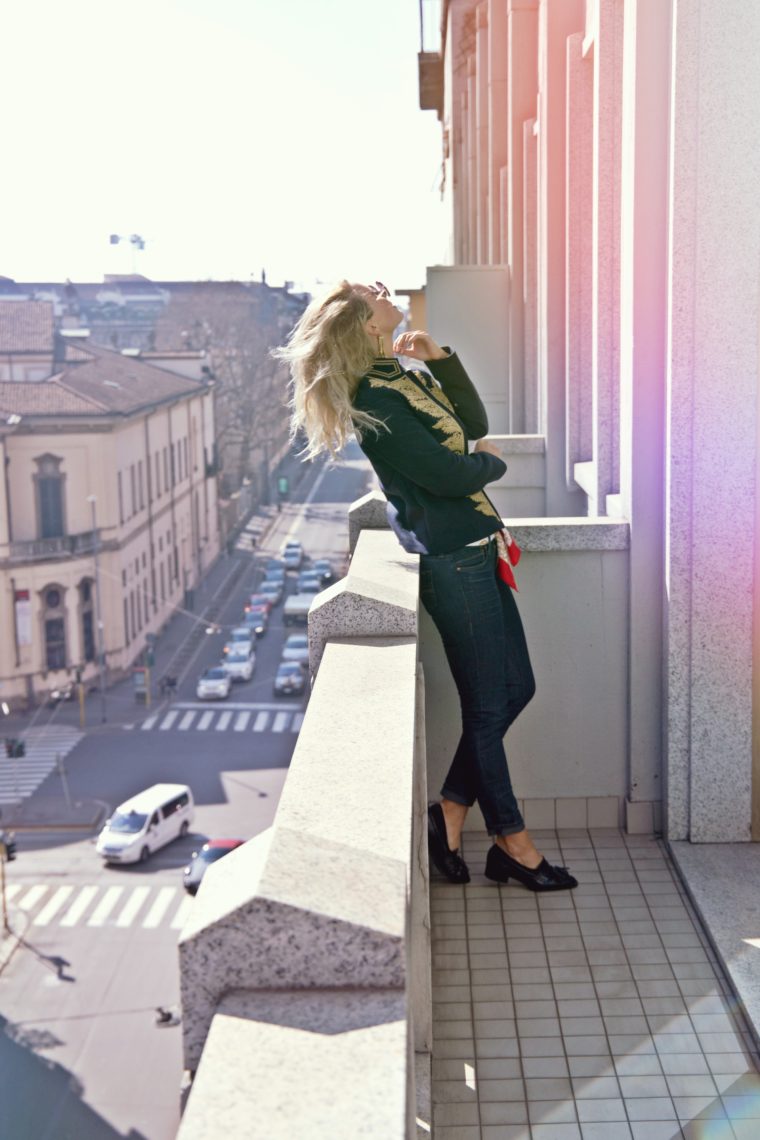 evening gala dinner!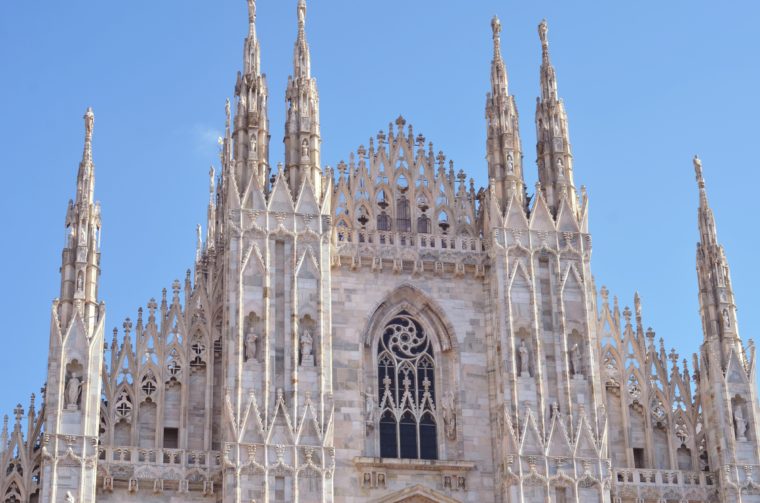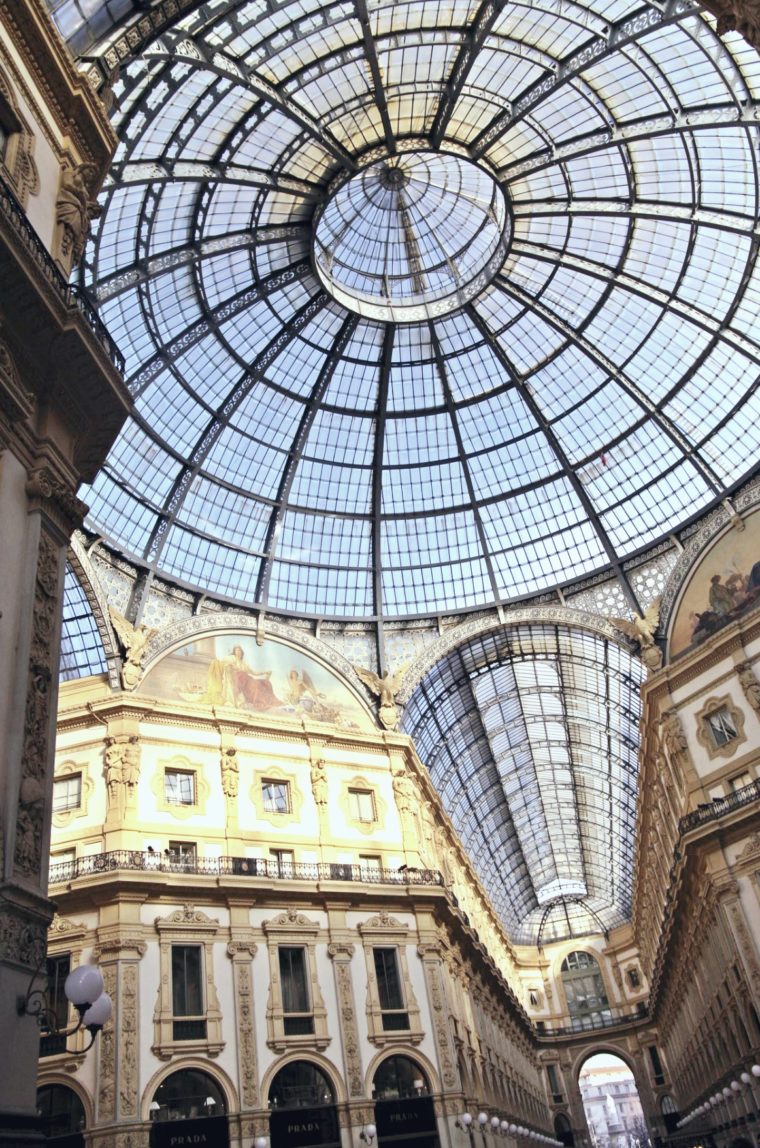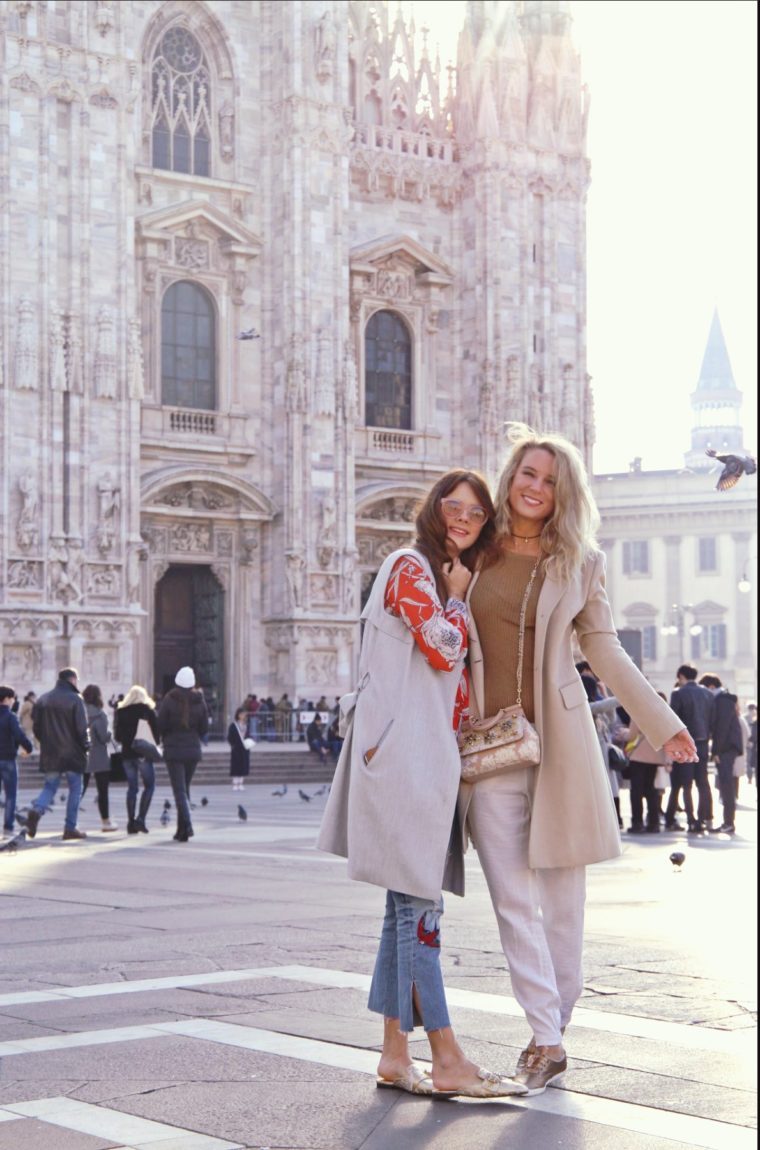 … with lovely Julia!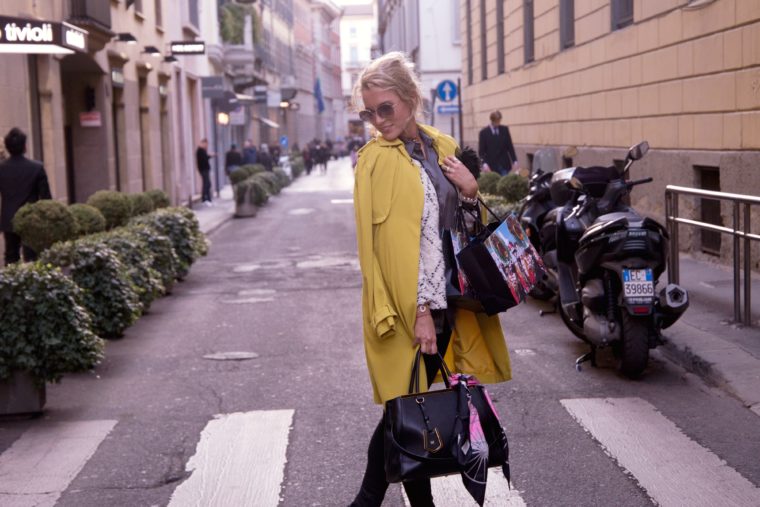 thanks so much @MIDO and the whole team for this wonderful press trip!