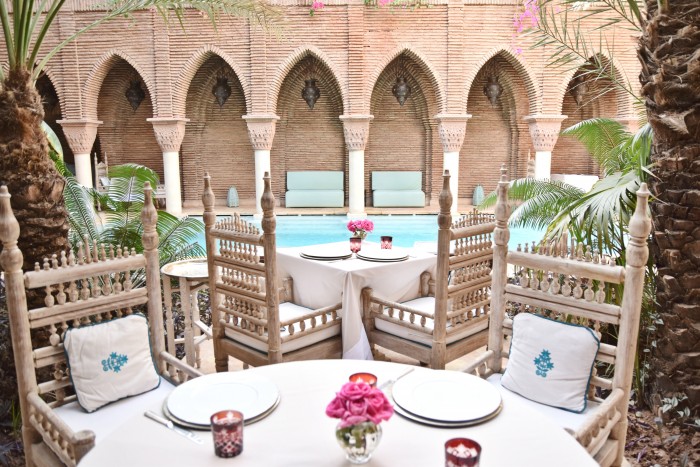 Hallo ihr Tollen! Heute möchte ich euch ein paar Impressionen eines Hotels in Marrakesch zeigen! Das Hotel befindet sich im Herzen Marrakeschs und ist nur einige Gehminuten vom bekannten Platz Jemaa el Fna enfernt; das La Sultana Hotel, ein fünf Sterne Haus mit Auszeichnungen wie "Small Luxury Hotels of the World" und "Great Hotels of the World". Schon bei der Ankunft konnte man spüren, dass dies kein gewöhnliches Hotel ist. Ich kann es schlecht beschreiben, aber von der ersten Minute an habe ich mich pudelwohl gefühlt. Es lag ein unfassbar feiner würziger Duft in der Luft – so habe ich mir immer den Geruch von Marokko vorgestellt! (btw; Ihr müsst wissen, dass ich ein absoluter Geruchsmensch bin – ich muss z.B. an allem riechen bevor ich es esse!)
Hello my lovelies! Today I want to show you some impressions of my trip to Marrakech: We had a wonderful stay in the middle of the city, in the so-called 'La Sultana Hotel'. La Sultana is a five star hotel and member of "Small Luxury Hotels of the World" and "Great Hotels of the World". It's only some minutes away from the famous place Jemaa el Fna. La Sultana is an amazing hotel! I can't say anymore! I was totally speechless when we arrived! The crew was so kind to us, showed us the hotel and gave us a welcome drink and some typical Moroccan snacks on the roof top terrace. We looked around and recognized the fantastic view over the city! Now I felt totally relaxed and home far away from home! There was a smell in the air which has given me a positive and comfy mood and I've remembered myself: it's the smell which you've missed a lot!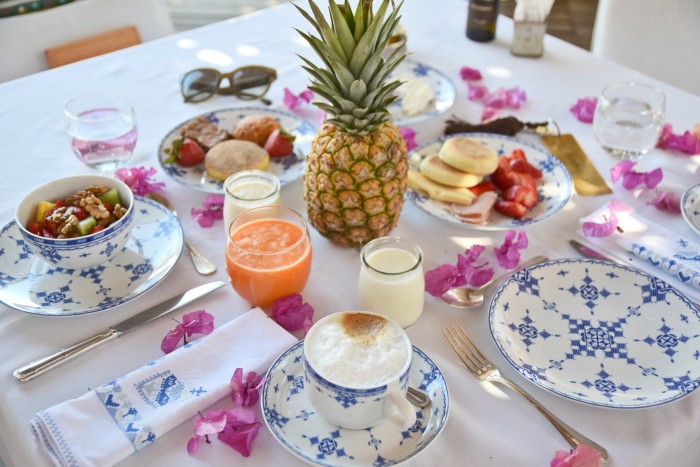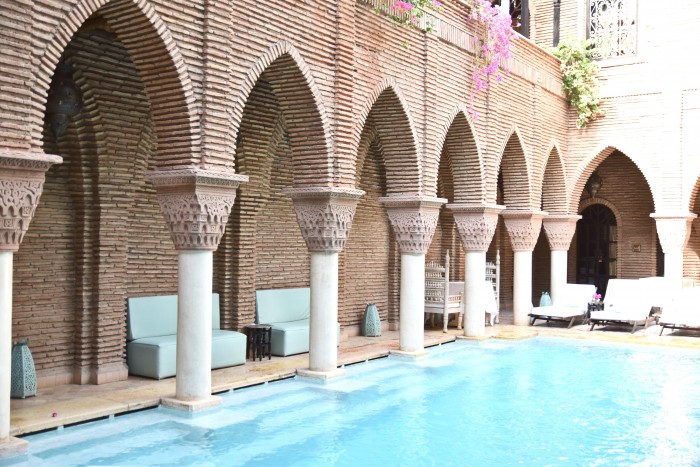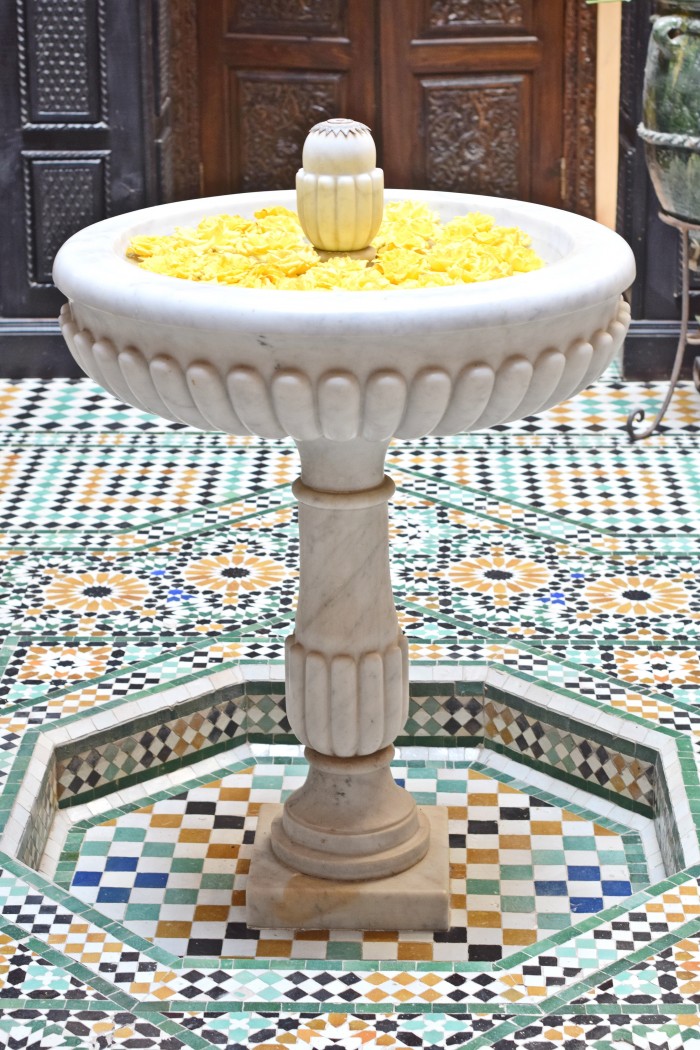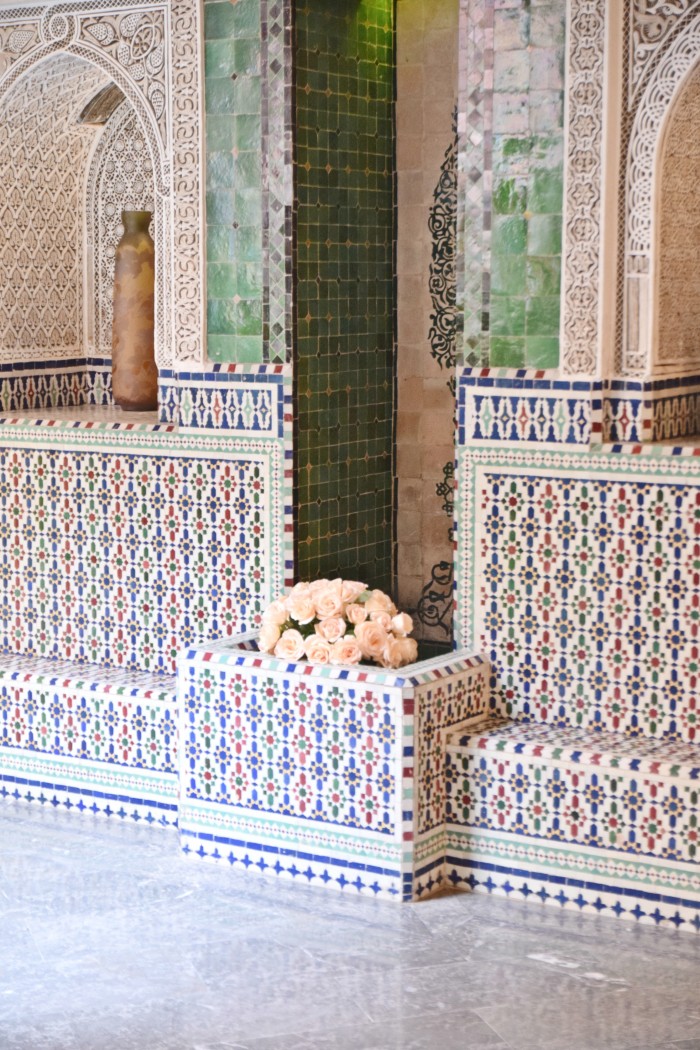 Wir wurden total herzlich empfangen und gleich auf die Dachterrasse geführt, wo wir einen feinen Welcome Drink sowie einige leckere marokkinische Spezialitäten kosten durften! Auf dem Weg zur Dachterrasse konnte man schon erahnen, dass das Hotel wirklich einzigartig ist! Verwinkelte, liebevoll gestaltete Gänge und Treppen wohin das Auge reicht – ausgestattet mit typisch marokkanischen Gegenständen und Verzierungen wie den bunten Mosaikwänden, Rosenblättern in kleinen Brunnen und Wasserläufen sowie verschnörkelten Möbeln. Von der Dachterrasse müssen wir erst gar nicht reden! Der Ausblick war gigantisch! Man hat die Möglichkeit, das pulsierende Leben der Stadt ungestört von oben zu betrachten.
During our walk to the roof top terrace we recognized the amazing design of the hotel! Small corridor rooms, super cute floors, colourful elements like artworks, furnitures and so on. Also the decoration was so lovely: swimming roses, dates and in every corner of the riads you can see some cacti. Every detail of the La Sultana is accurately chosen.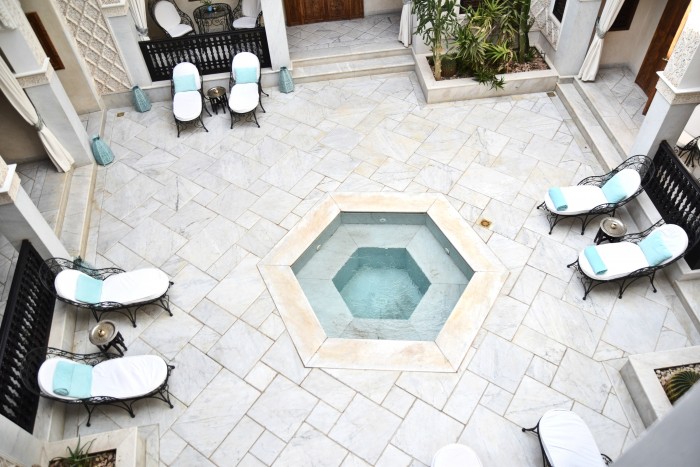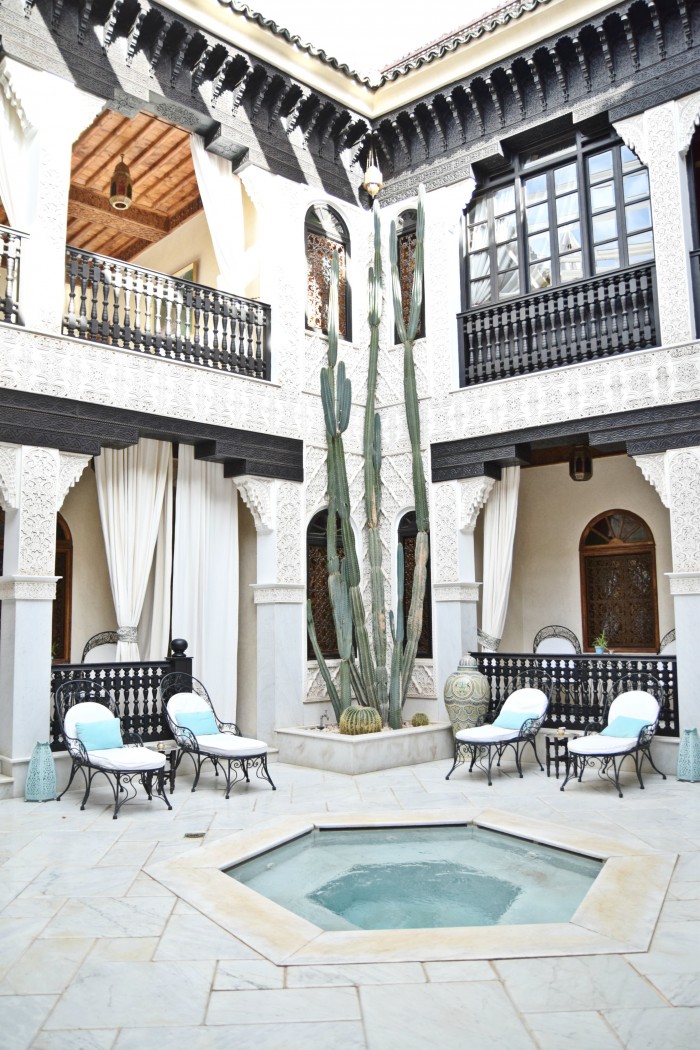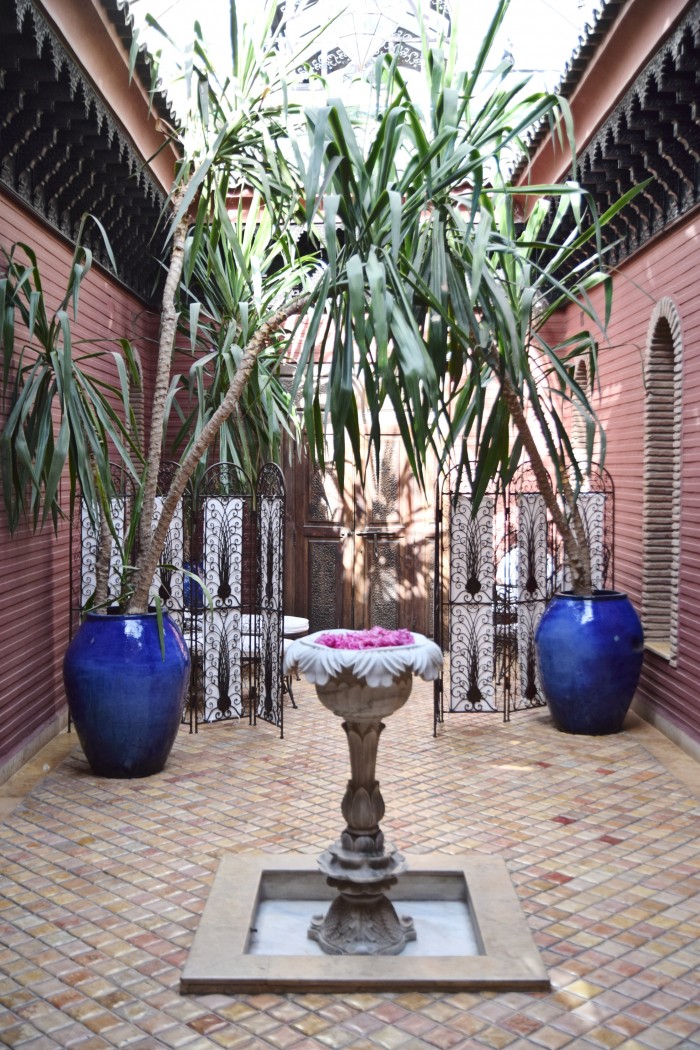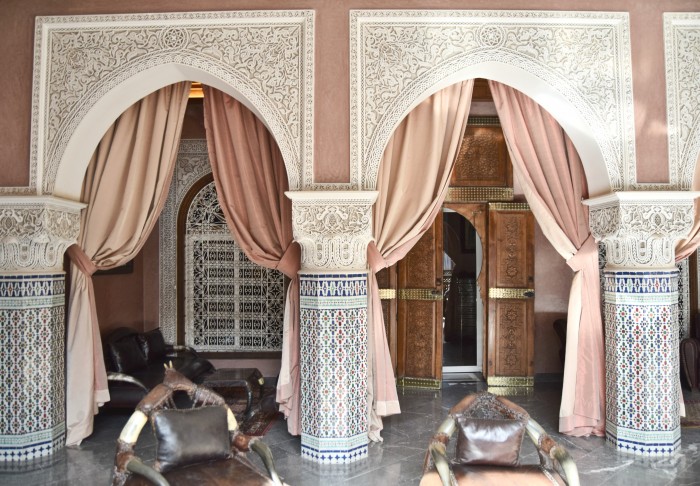 Nicht nur im Innenhof gab es einen wundervollen Outdoor-Pool, sondern eben auch auf der Dachterrasse! Daisy und ich haben uns wirklich wie Königinnen gefühlt und wurden auch so behandelt – jeder Wunsch wurde uns von den Lippen abgelesen und sogar beim Frühstück wurden uns extra weitere Deko-Utensilien für meine Lieblingsbilder, die täglichen Frühstücks-Impressionen, zur Verfügung gestellt.
Not only in the inner yard, also on the roof top terrace there was a outdoor pool! Daisy and I felt ourselves like real queens – and we were also treated like queens! Every wish was lip-read! Also at the breakfast time the friendly stuff gave us some decoration utensils for the daily breakfast impressions. A dream for me and my Instagram and Facebook breakast pictures!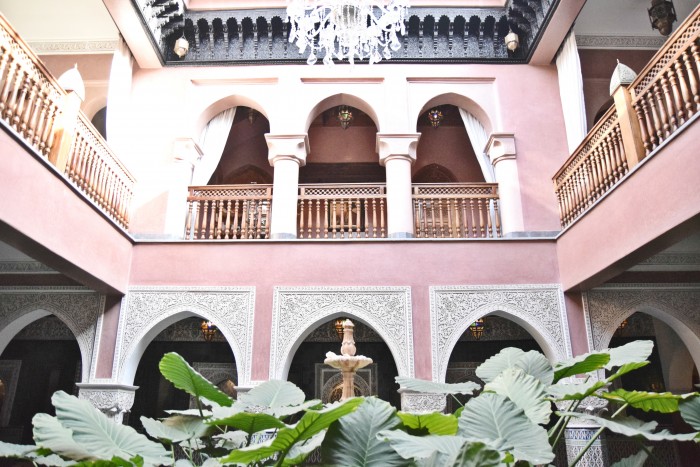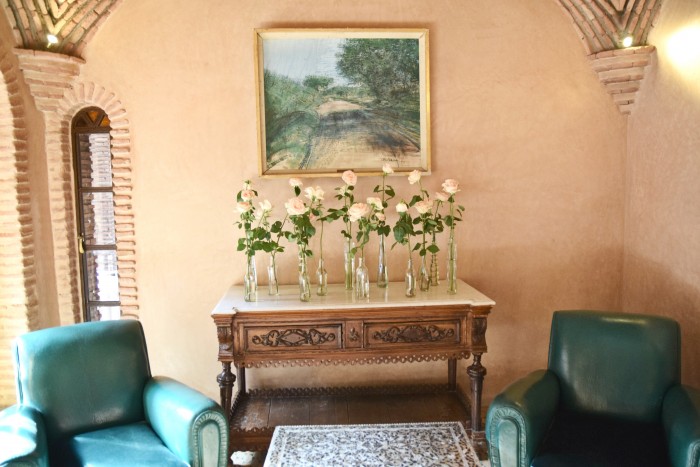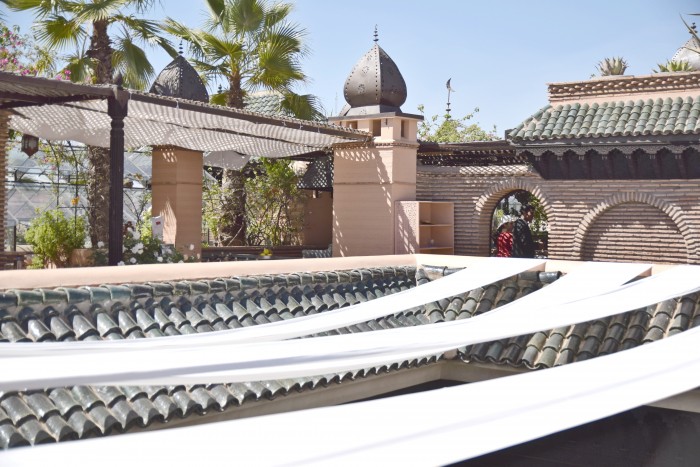 Ein weiterer Augenschmaus war natürlich unser Zimmer: großzügig geschnitten mit einem wundervollen Blick auf das weiße Riad, welches ich euch in einem anderen Artikel in Form eines Outfits vorstellen habe. Die Farben sind alle in Weiß und Türkis mit goldenen Details gehalten. Auch hier gibt es einen Jacuzzi, der herrlich zum Entspannen einlädt. Gleich nebenan gibt es einen der schönsten Spa-Tempel, die ich jemals besucht habe! Und hierbei ist Tempel Programm: hohe Säulen bis unter die Decke in warmen Farbnuancen laden wunderbar zum Relaxen und Wohlfühlen ein! Ich möchte dem La Sultana Hotel von Herzen meinen Dank aussprechen für die herrlichen Tage in Marrakesch – das ganze Team hat uns den Aufenthalt in einer der kunterbuntesten und atemberaubendsten Städte wirklich noch einmal verschönert und wir sind so begeistert, dass wir auf jeden Fall bald wieder kommen! Wenn ihr ein Hotel in Marrakesch sucht, kann ich euch dieses Sterne-Haus im Zentrum vom Marrakesch wirklich wärmstens empfehlen! Das Hotel liegt super zentral in der Nähe des bekannten Platzes Jemaa El Fna, wo sich das ganze Leben Marrakeschs abspielt! Ihr solltet unbedingt in eines der umliegenden Cafés gehen um euch dort gegen Abend einen Platz zu sichern – diesen Aufenthalt werdet ihr nie vergessen, denn; von hier oben hat man die Möglichkeit, einer der wunderschönsten Sonnenuntergänge zu erleben!
Another eye candy was our room, of course! A real paradise with Moroccan flair: huge, stylish and with every high class standard you can imagine! We had a wonderful view into the White Riad, where you have seen some outfit pictures today in the morning! All the colours were in white and light blue and everything was decorated with ornate and golden elements. In the center of the White Riad there's also a pool: a super cute jacuzzi which is perfect for some relaxing hours. Next to the White Riad you can see the amazing spa area: the most beautiful spa area I have ever seen! Warm and soft colours, pillars till the ceiling and fantastic lights everywhere! I want to say a big thank you to the whole La Sultana – team! We had an amazing stay and we enjoyed it to the fullest! We will definitely come back to this little paradise on earth! Marrakesh is such an amazing place to be and if you ever have the chance to visit it, you should stay in the center in the La Sultana 'heaven'! And btw: you only have some minutes to walk to the famous place Jemaa el Fna. Visit the little cafés there and enjoy the wonderful sunset from the roof top terrace!