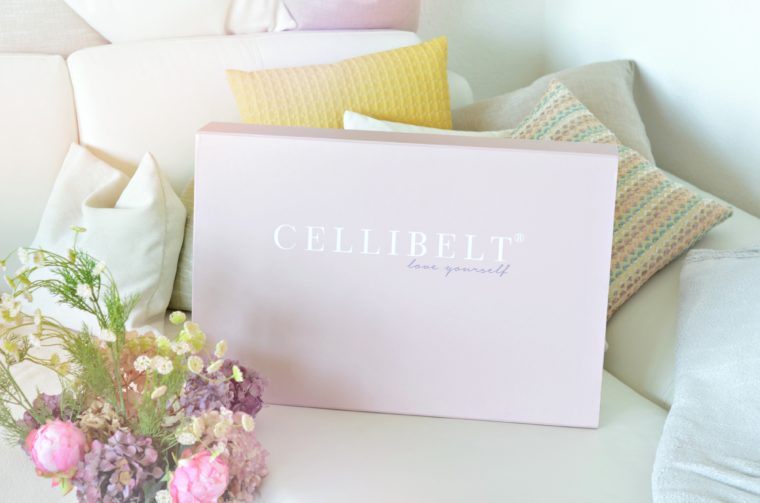 Ihr Lieben, habt ihr euch nicht auch schon immer gefragt, warum es eigentlich noch keine wirkliche Methode, Allheilmittel oder ähnliches gegen unsere "geliebte" Cellulite gibt ?!? Wir sind mit allem sooo unfassbar weit, aber hier haben wir – bis jetzt – noch nichts Wirksames gefunden. Die ganzen teuren Cremes haben bei mir recht wenig gebracht und auf Dauer sind mir diese auch einfach zu teuer. Ich mache zwar recht viel Sport, versuche mich ausgewogen zu ernähren aber dennoch ist Cellulite einfach genetisch bedingt und selbst das beste Sportprogramm und die beste Ernährung kann sie irgendwann nicht aufhalten. Die meisten von uns haben die ungeliebte Orangenhaut aber, es sind sogar ca 90% aller Frauen! Die Eine hat sie mehr, die Andere weniger! Dennoch eine super große Menge an Frauen – und das schlimmste an der Tatsache ist einfach, dass die meisten dadurch Komplexe haben oder sich nicht mehr selbstbewusst zeigen, auch und gerade wenn man ans Meer oder ins Schwimmbad geht und eigentlich den neusten Bikini präsentieren möchte.
Hello guys, haven't you wondered yourself yet why there is actually no real method, panacea or similar against our "beloved" cellulite? We are sooo incomprehensible far, but here we have found – until now – anything effective. The whole expensive creams didn't change a lot and in the long run, they are too expensive. Although I do a lot of sports, I try to balance me well, but cellulite is simply genetic and even the best sports program and the best nutrition can't stop them anyway. Most of us have the unloved orange skin – there are even about 90% of all women! The one has it more, the other less! Nevertheless, a super-large number of women – and the worst is that most of them have complexes or don't show themselves self-confident, even if you want to go to the sea or the swimming pool and actually want to present the latest bikini.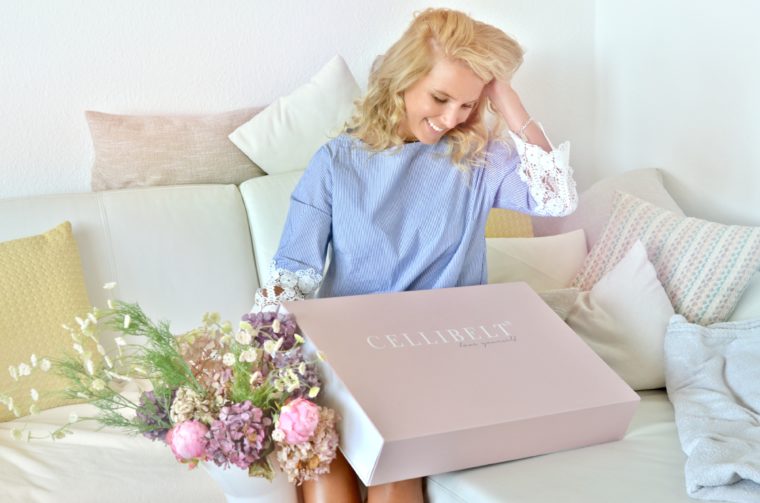 Endlich (!)  gibt es auf dem Markt CELLIBELT – ein Massagegerät, welches ganz easy an der Stelle mit der Cellulite angebracht werden kann. Mit den Gurten kann jede Frau ihre individuelle Stelle mit Cellulite behandeln. Damit ihr mal seht, wie so ein Cellibelt aufgebaut ist, habe ich euch unten stehend ein paar detaillierte Aufnahmen geknipst – meine Wenigkeit und mein neuer Freund, Cellibelt!
Finally (!) there is something on the market called CELLIBELT – a massager, which can be installed very easily at the place with your cellulite. With the straps each woman can treat her individual cellulite position. That you can see how a Cellibelt is built, I've briefed you below a few detailed shots – me and my new friend, Cellibelt!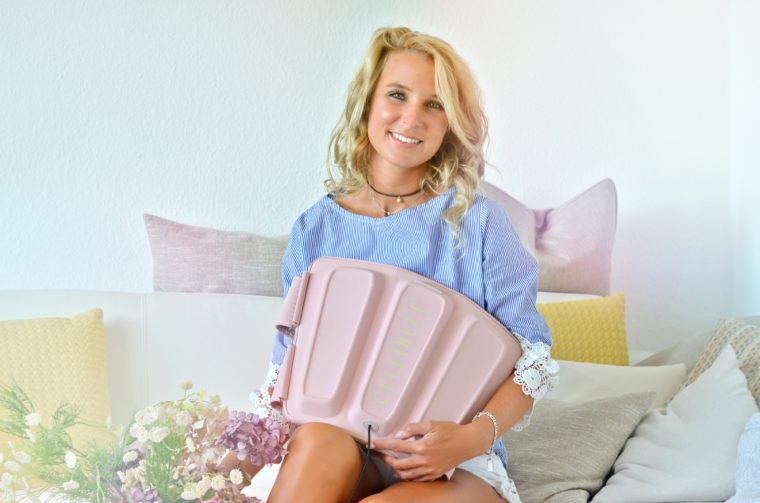 Hier seht ihr den Aufbau des Cellibelts; das Gerät beinhaltet 12 Massageknöpfe, die sich immer abwechselnd drehen und somit die Haut massieren. Mit einem Reißverschluss kann der Stoff über den rotierenden Massageknöpfen entfernt und mit 30 Grad in der Waschmaschine mitgewaschen werden. Durch die Einstellung 'Speed' kann die beliebige Schnelligkeit des Rotierens eingestellt werden – je nach Belieben. Es reicht völlig aus, wenn man Cellibelt täglich ca 20 Minuten an seiner gewünschten Stelle verwendet. Kerne auch länger oder kürzer, so lange es eben angenehm ist. Auch nach einer regelmäßigen Anwendung kann man mit dem Cellibelt problemlos ca drei Tage pausieren.
Here you can see the composition of the Cellibelt; The device contains 12 massage buttons, which always turns alternately and massages the skin. With a zipper, the fabric can be removed over and can be washed at 30 degrees in the washing machine. The setting 'speed' can be used to adjust the speed of rotation – as desired. It's completely sufficient when you use Cellibelt daily about 20 minutes in its desired place. Also shorter or longer! Even after a regular application you can make a break with the Cellibelt  for about three days.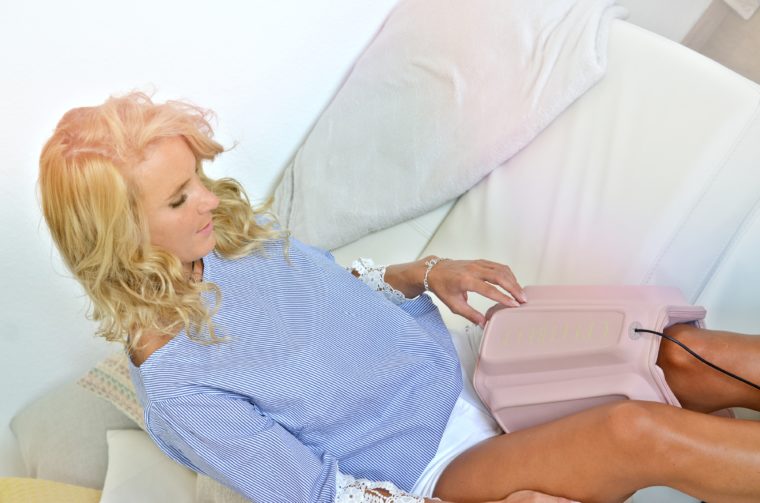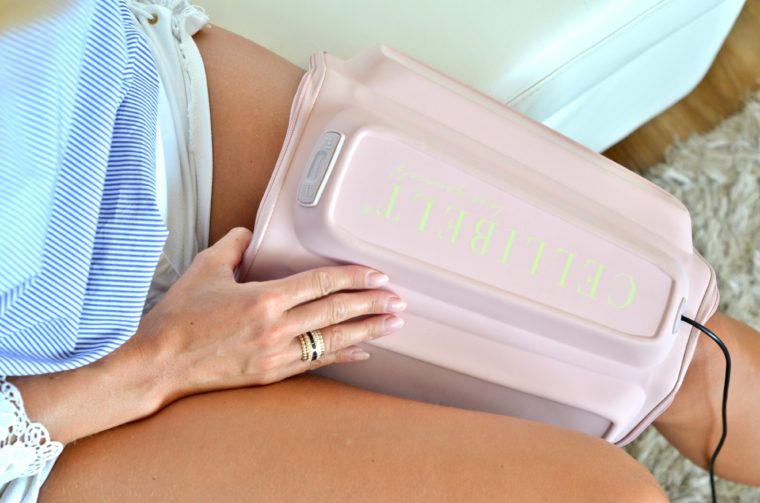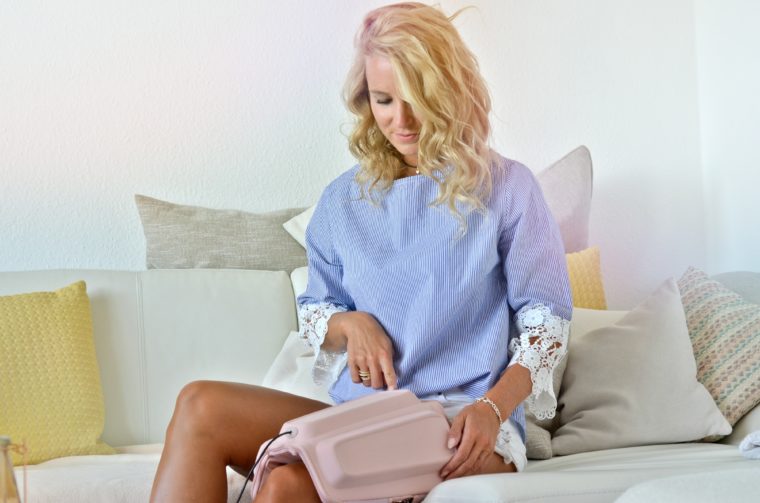 Wie ihr auf meinen Bilder sehen könnt, kann Cellibelt an jeder Körperstelle, die von Cellulite betroffen ist, angewendet werden. An den Ober- und Unterschenkeln, an den Waden, am Po und auch am Bauch. Wichtig ist nur, dass man sich nicht darauf setzt, wenn der Cellibelt am Po angewendet wird. Am besten dabei auf den Bauch legen! Das Schöne an Cellibelt ist für mich, dass ich ihn nebenbei laufen lassen kann, ohne dass er mich stört. Wenn ich zum Beispiel am PC sitze, kann er problemlos an meinen Beinen arbeiten. Das Gleiche auch beim Lesen oder TV schauen – der kleine rosafarbene Begleiter stört nicht! Das Einzige was ich in meiner Nähe brauche ist eine gewöhnliche Steckdose.
As you can see in my pictures, Cellibelt can be applied to any body that is affected by cellulite. On the upper and lower legs, on the calves, on the buttocks and also on the belly. It is important that you don't rely on the Cellibelt with your butt. It's the best to lie down on the belly! The beauty of Cellibelt for me is the fact that I can use it without its disturbes me. When I sit infront of the PC, for example, he can easily work on my legs. The same synonymous with reading or watching TV – the little pink companion doesn't bother! The only thing I need in my area is an ordinary socket.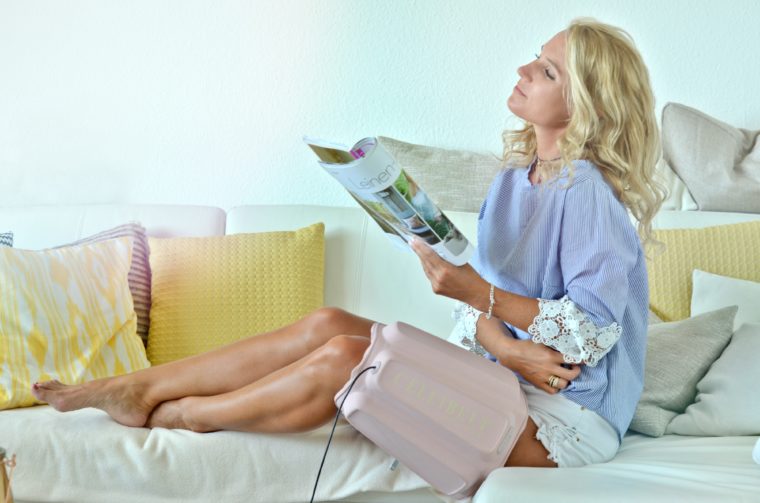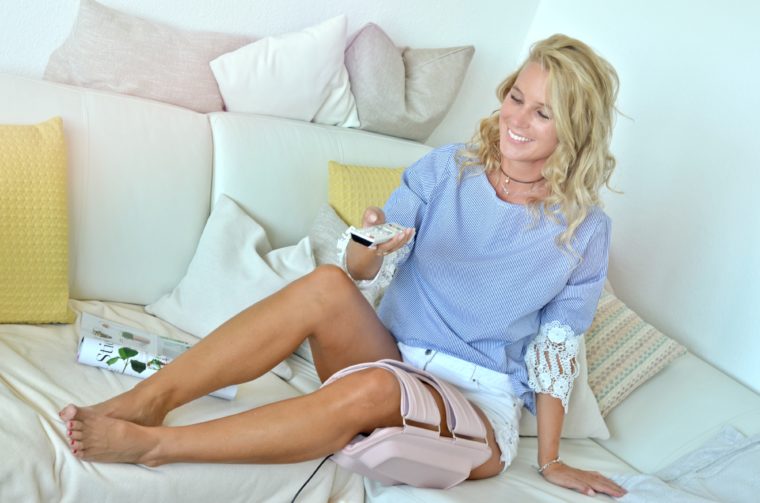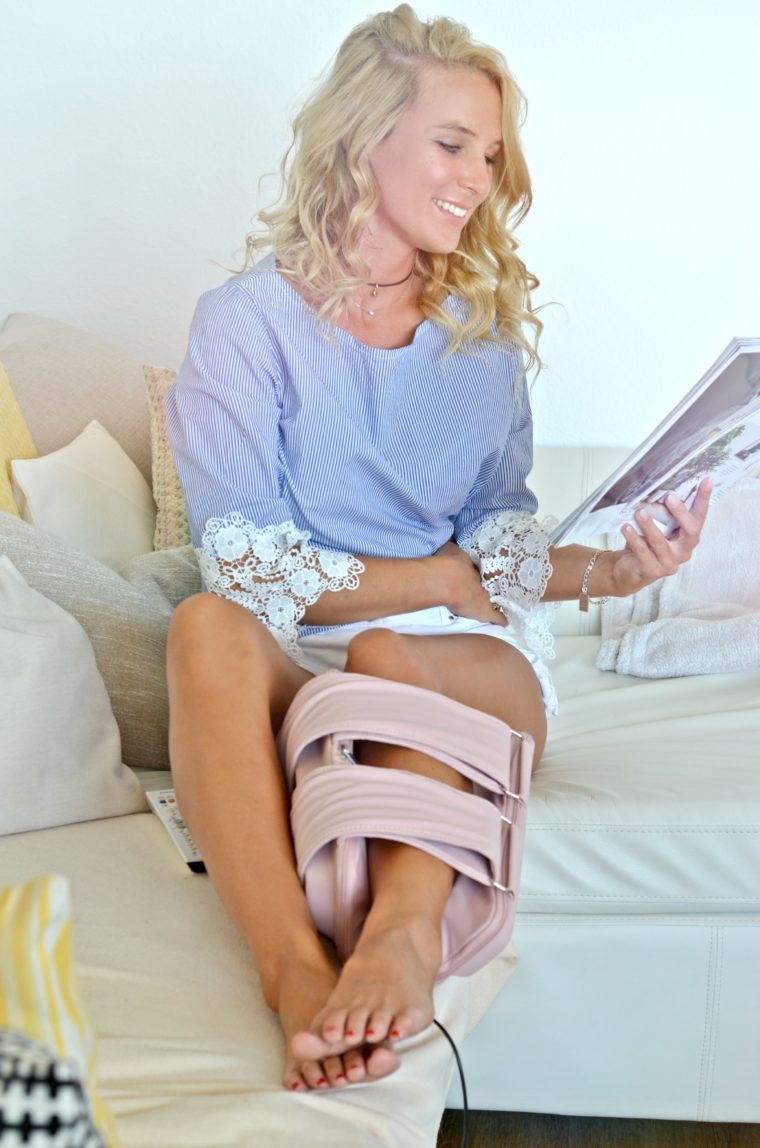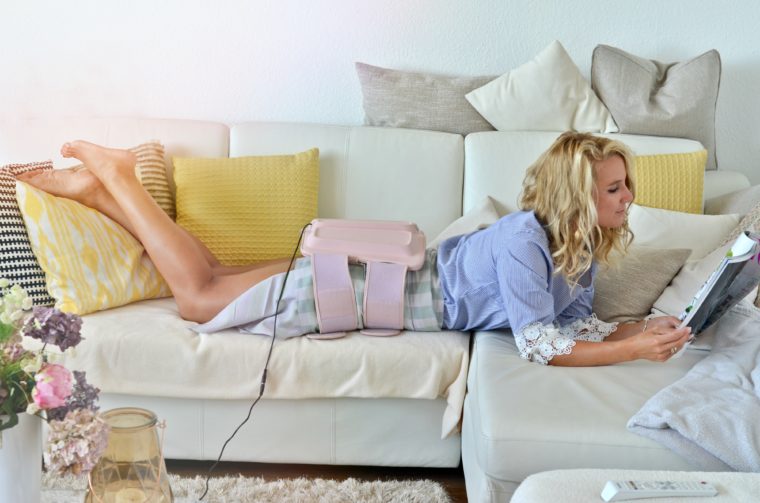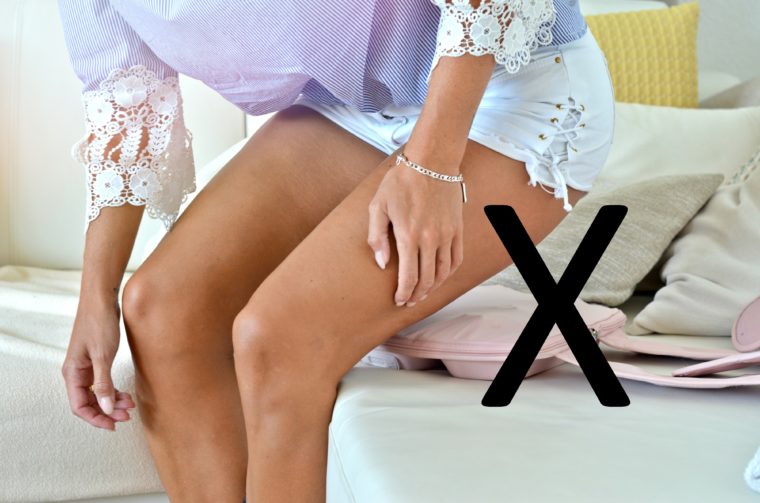 Für mich ist Cellibelt eine riesengroße Innovation! Endlich können wir uns wieder selbstbewusst und voller Energie in unseren kurzen Kleidungsstücken oder in unserem Lieblingsbikini zeigen! Ganz nach dem Motto "Love Yourself" – mit einer großen Portion Selbstbewusstsein! Ich hatte das große Glück, Anke Reiniger, die Erfinderin des Cellibelts, kennen zu lernen und es hat mir riesengroßen Spaß gemacht mich mit ihr auszutauschen! Eine tolle, inspirierende Frau mit einem wunderbaren zuverlässigen Team an ihrer Seite! Wenn ihr auch unter eurer Cellulite leidet kann ich euch den Cellibelt wärmstens empfehlen – eine Investition, die ihr nicht bereut und von der ihr auch auf lange Sicht ein tolles neues Körpergefühl bekommt! Ihr lernt euren Körper wieder lieben und schätzen! Wenn ihr den Cellibelt bestellen möchtet, könnt ihr das hier auf der Website machen. Allerdings müsst ihr mit bis zu 6-8 Wochen Lieferzeit rechnen – der Cellibelt wird sehr aufwendig mit hochwertigen Materialen per Hand produziert und ist jetzt seit erst knapp 2 Wochen auf dem Markt erhältlich. Aufgrund der hohen Nachfrage und des Produktionsaufwands muss man hier ein bisschen länger auf seinen geliebten rosafarbenen Freund warten – aber das Warten lohnt sich!
For me Cellibelt is a huge innovation! Finally, we can show ourselves confidently and energetically in our short clothes or in our favorite bikini again! According to the slogan "Love Yourself" – with a large portion of self-confidence! I was very lucky to meet Anke Reiniger, the inventor, and I was very happy to exchange views with her! A great, inspiring woman with a wonderful reliable team by her side! If you also suffer from your cellulite, I can warmly recommend you the Cellibelt – an investment which you don't regret and which will give you also a great new body feeling in the long run! You learn to love and appreciate your body again! If you want to order the Cellibelt, you can do this on the website. However, you have to expect up between 6-8 weeks delivery time – the Cellibelt is very elaborately produced with high-quality materials by hand and is now available for almost 2 weeks. Due to the high demand and the production effort you have to wait a little longer for your beloved pink friend – but the wait is totally worth it!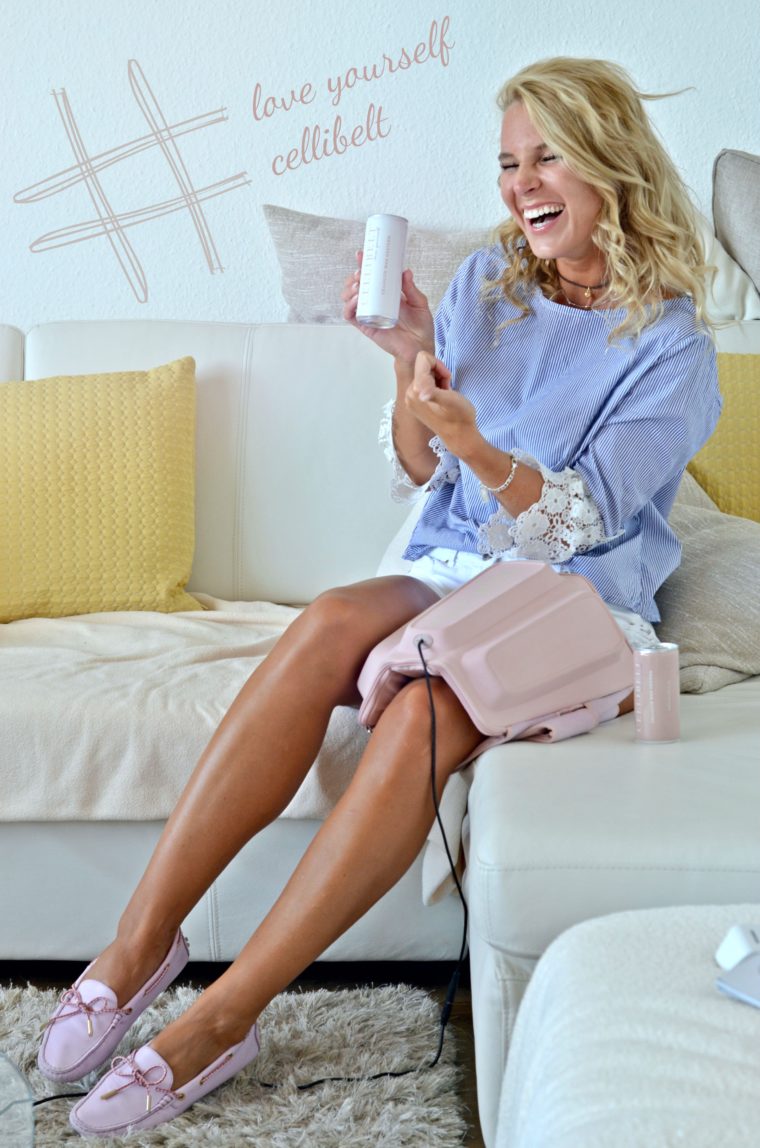 (Mit freundlicher Unterstützung von Cellibelt)