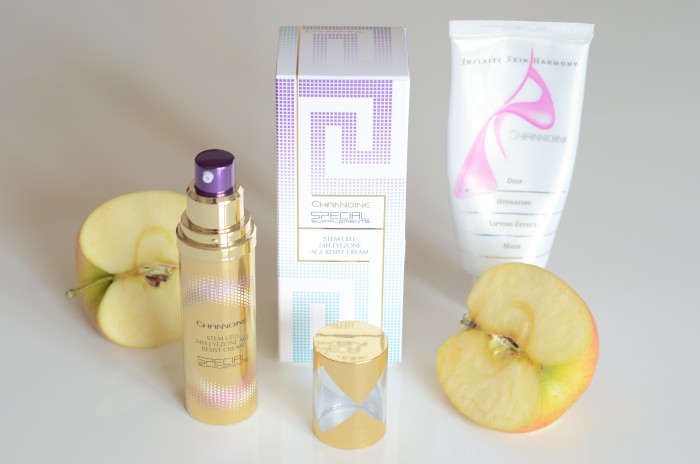 Heute sind neue Beautyprodukte bei mir eingezogen. Da ich euch so gute Produkte nicht vorenthalten möchte, werde ich sie euch gleich präsentieren. Ein paar davon benutze ich schon seit Jahren, andere wiederum erst seit kurzem. Im ersten Bild seht ihr Pflegeprodukte für das Gesicht von Channoine, die ich schon Jahre verwende! Die 'Deep Hydratin Mask Lifting Effect' Gesichtsmaske und die 'System Cell 24H Eyezone Age Resist Cream', eine Augencreme, die wirklich hält was sie verspricht – Feuchtigkeit 24 Stunden lang und vor allem mildernde Augenfältchen, die man auch vom Abschminken des Augen-MakeUP's bekommt. Die Gesichtsmaske verwende ich in der Regel 1x wöchentlich vor dem Schlafengehen und lasse sie ca. 20 Minuten einwirken.
Hello my lovelies! Today I want to show you some beauty products for my daily skin care, which I use since ages or which are totally new. In the first picture you can see products for my face of the brand Channoine. For me, the best products of this company are the 'System Cell 24H Eyezone Age Resist Cream' and the 'Deep Hydratin Mask Lifting Effect'. They give your skin so much moisture, 24 hours a day and for me, the eyecream is the best you can use!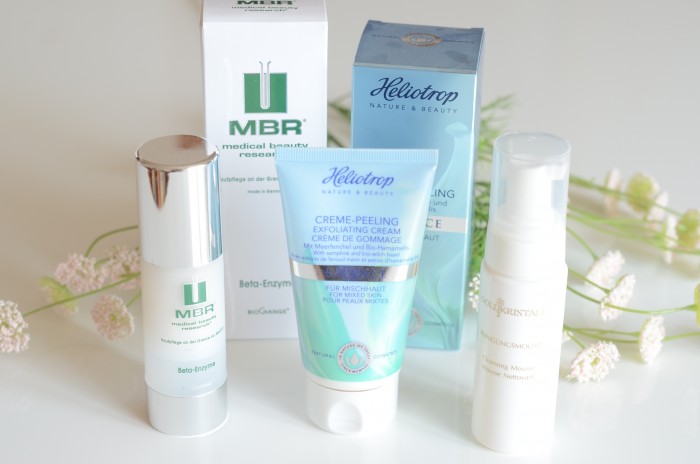 Hier ein paar Produkte, die ich hauptsächlich zum Reinigen meines Gesichts verwende: Reinigungsmousse von der Firma Goldkristall (hier wird wirklich jeder Schmutz entfernt – auch perfekt auf langen Reisen), das Creme-Peeling von der Marke Heliotrop (gibt es in Bio-Läden, Reformhäusern & Co) und das Haut-Gel der Marke MBR mit Beta-Enzymen. Nach der Reinigung wird es 1x täglich angewendet, am besten abends auf das gereinigte Gesicht auftragen und 15 Minuten einwirken lassen. Anschließend sollte man das Gesicht sehr gründlich mit handwarmen Wasser abspülen. Ein Pumpstoß genügt – das Produkt hält ewig! Das Peeling habe ich erst eine Woche und bin total begeistert – benutze ich meistens unter der Dusche, sporadisch, wenn mir eben danach ist und ich das Gefühl habe, meine Haut müsste von altem 'Ballast' befreit werden 🙂 Das Reinigungsmousse ist perfekt für mich, das ich es nicht leiden kann, wenn das Produkt zum Abschminken nicht schäumt oder das Tages-MakeUP nicht richtig entfernt wird und ich es mehrere Male benutzen muss – hier reicht eine kleine Menge aus um mein Gesicht komplett abzuschminken.. Was benutzt ihr so für Pflegeprodukte für eure tägliche Gesichtsreinigung? Lasst es mich gerne wissen!
For the facial cleaning I use different products: a cleaning mousse from Goldkristall, a organic skin peeling from Heliotrop and a beta-enzym application of the brand MBR – one of the best brands for face products! (you can see them below) After cleansing your face in the evening, apply once daily, to face and let it penetrate for 15 minutes. Then, rinse thoroughly several times with luke-warm water and apply the appropriate product. The peeling I use under the shower once a week and the cleaning mousse is just perfect to remove your daily makeup! What are your favourite products for your skin? Let me know!