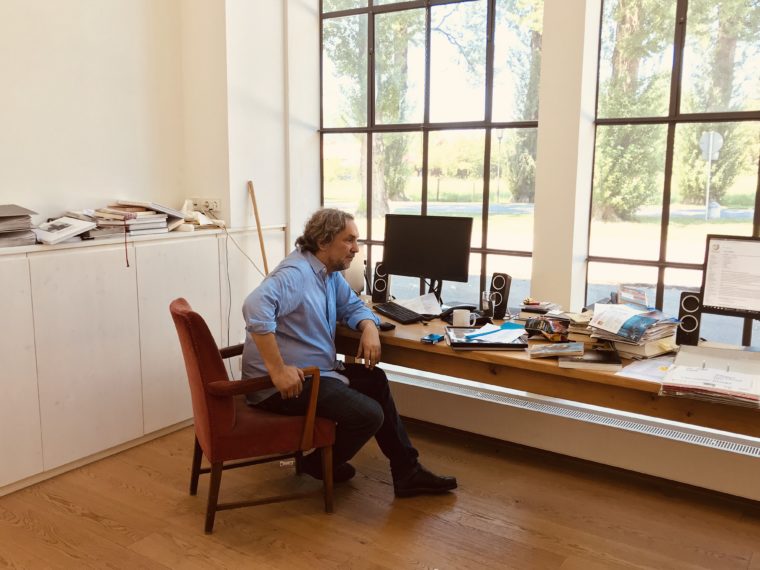 Passionsspiele Oberammergau – schon immer hatte ich auf meiner Agenda, eines Tages die berühmt berüchtigten Passionsspiele zu besuchen! Circa eine Stunde von München entfernt befindet sich das idyllische Örtchen Oberammergau! Ein Traum! Umringt von Bergen, grünen Almwiesen, netten Gässchen und Hotels kommt hier das voralpine Flair richtig zur Geltung! Wie ein kleines Kind habe ich mich auf die Aufführung gefreut, die am zweiten Tag der Pressereise am Abend fußläufig von unserem Hotel statt fand. Am ersten Abend hatten wir die Ehre, die Presse- und Kommunikationsmitarbeiter der Passionsspiele kennen zu lernen; Frederik Mayet und Franziska Zankl. Die beiden haben mit uns ein wunderbares Dinner auf der Hotelterrasse verbracht, sie haben uns alles rund um die Passionsspiele und Oberammergau wissen lassen und wir konnten natürlich alles fragen, was uns so auf dem Herzen lag. Ob dies nun bzgl der Schauspieler, der Geschichte oder des Stückes war, welches wir am Folgetag besuchen würden. Frederik Mayet ist übrigens einer der zwei Jesusdarsteller der Passionsspiele, die nächstes Jahr, 2020, statt finden werden. Passt meiner Meinung nach perfekt und der Herr ist nicht nur prädestiniert für diese Rolle, sondern auch noch super herzlich und sympathisch! Am nächsten Tag hatten wir die Ehre, Christian Stückl zu treffen! Christian Stückl ist der Spielleiter der Passionsspiele und Intendant des Münchner Volkstheaters. Er hat uns wortwörtlich einen 'Blick hinter den Vorhang' gezeigt und uns in alle Räumlichkeiten vor und hinter der Bühne Einsicht verschafft. Super interessant! Ich kam aus dem Staunen nicht mehr heraus, welch ein Aufwand, Fingerspitzengefühl, Organisationstalent und vor allem; WIE viele Menschen denn bei allem Mitwirken! Fast die ganze Bevölkerung von Oberammergau ist bei den Passionsspielen involviert. Ob es als Schauspieler oder irgendwo hinter der Bühne ist oder es mit der Technik zu tun hat. Und noch ein paar interessante Fakten; die beliebteste Rolle in den Passionsspielen ist Judas und nicht Jesus, mehrere Monate vor den Spielen ist es den Männern untersagt, die Bärte zu stutzen oder sich zu rasieren, alle müssen sich die Haare wachsend lassen, 1634 war das erste Passionsspiel und man darf nur an den Passionsspielen mitwirken, wenn man entweder in Oberammergau geboren ist oder schon 20 Jahre hier lebt. Die Passionsspiele haben keine Sponsoren – alles trägt die Gemeinde Oberammergau aus den Eintrittsgeldern.
Am Abend war es dann endlich so weit; wir konnten uns die Premiere des Stückes "Die Pest- das Spiel vom Oberammergauer Passionsgelöbnis" anschauen! Wir hatten super Plätze und voller Vorfreude konnte ich mich nun auf das Stück einlassen! Es erzählt die Geschichte des Tagelöhners Kaspar Schisler, der 1633 (im Dreißigjährigen Krieg) den schwarzen Tod nach Oberammergau brachte, was schließlich zum Gelöbnis führte! Somit war die Geburtsstunde der Passionsspiele geschaffen. Die Schauspieler waren wirklich beeindruckend und haben ihre Rollen einwandfrei und authentisch vermittelt. Man merkt, dass jeder einzelne Mitwirkende mit Herzblut dabei ist und alle an einem Strang ziehen, die Passionsspiele im Allgemeinen in Oberammergau in die Geschichte eingehen zu lassen. Das Stück ging knapp drei Stunden mit Pause, wobei ich dies nicht wahrgenommen habe. Die ganze Atmosphäre, die Schauspieler, die authentische Bühnenkulisse – alles in allem habe ich das Stück komplett mitgelebt und war richtig traurig am Ende, dass es schon vorbei war! Ein gutes Zeichen, denn ich werde definitiv wieder nach Oberammergau kommen! Und auch so ist der bekannte und traditionelle Holzschnitzort immer einen Besuch wert! Perfekt zum Wandern, Radeln oder um die feine Kulinarik zu genießen – der Naturpark Ammergauer Alpen ist immer eine Reise wert!
Passionplays Oberammergau – I always had them my agenda, one day I wanted to visit the famous Passionplays! One hour away from Munich is the idyllic village Oberammergau! A dream! Surrounded by mountains, green alpine meadows, nice alleyways and hotels, the pre-alpine flair comes into its own! Like a small child, I was looking forward to the performance which took place on the second day of the press trip in the evening. At the first evening we had the honor to meet the press and communication staff of the Passion Play; Frederik Mayet and Franziska Zankl. The two spent a wonderful dinner with us on the hotel terrace, they let us know everything about the Passion Play and Oberammergau and of course we could ask everything. Whether this was about the actors, the story or the play we would attend the following day. Incidentally, Frederik Mayet is one of the two Jesus performers of the Passion Play which will take place next year, 2020. Fits perfectly and the gentleman is not only predestined for this role, but also super warm and sympathetic! The next day we had the honor to meet Christian Stückl! Christian Stückl is the director of the Passion Play and artistic director of the Munich Volkstheater. He literally showed us a 'look behind the curtain' and gave us insights into all the spaces in front of and behind the stage. Super interesting! I couldn't stand out of amazement, what an effort, tact, organizational talent and above all; HOW many people participate in everything! Almost the entire population of Oberammergau is involved in the Passion Play. Whether it's as an actor or somewhere behind the stage. And a few interesting facts; the most popular role in the Passion Plays is Judas and not Jesus, several months before the games men are forbidden to trim their beards or shave, they all have to keep their hair growing, 1634 was the first Passion Play and one can only play Participate in the Passion Play if you are either born in Oberammergau or have been living here for 20 years. The Passion plays have no sponsors – everything carries the municipality Oberammergau from the entrance fees. In the evening it was finally time; we were able to watch the premiere of the play "Die Pest – das Spiel vom Oberammergauer Passionsgelöbnis"! We had great seats and full of anticipation I could now get involved into the play! It tells the story of Kaspar Schisler who brought the black death to Oberammergau in 1633 (in the Thirty Years' War) which finally led to the vow! Thus, the birth of the Passion Plays was created. The actors were really impressive and gave their roles impeccable and authentic. One notices that every single contributor is passionately involved and everyone pulls together to make the Passion Play in general in Oberammergau go down in history. The play went for about three hours with a break. The whole atmosphere, the actors, the authentic stage scenery – all in all, I completely lived with the piece and I was really sad in the end, that it was already over! A good sign, because I will definitely come back to Oberammergau! And even so, the well-known and traditional wood carving village is always worth a visit! Perfect for hiking, cycling or enjoying the fine cuisine – the Ammergauer Alpen Nature Park is always worth a visit!