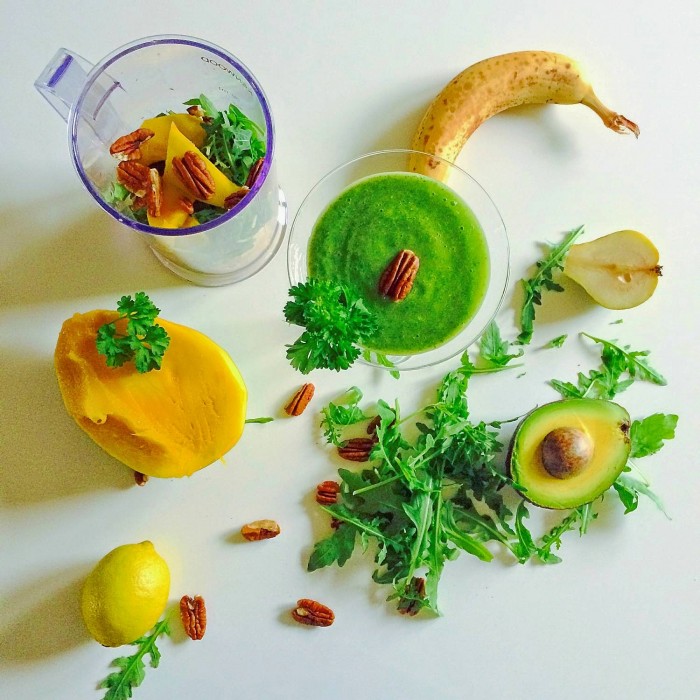 Guten Morgen aus Berlin! Bevor ich mich nun nach einem ausgiebigen Hotelfrühstück auf den Weg in die Mitte der großen Hauptstadt mache, möchte ich euch noch mein Smoothie-Rezept präsentieren, welches ich euch gestern bei Instagram angekündigt habe. Allerdings muss ich euch warnen: der Shake ist wirklich sehr gemüselastig vom Geschmack her – also nichts für Liebhaber von süßen Obstshakes! Alles was ihr hierfür braucht seht ihr unten aufgelistet – einfach in den Mixer und fertig! In kleinen Fläschchen abgefüllt hält sich dieser mehrere Tage und ist ein prima Start in den Tag, wenn es morgens mal etwas schneller gehen soll und keine Zeit fürs Frühstücken bleibt.
– eine Zitrone // one lemon
– Nüsse (je nach Gusto) // nuts
– etwas Petersilie // some parsley
– eine reife Mango // mango
– eine Banane // banana
– eine Avocado // avocado
– etwas Rucolasalat // some rocket salad
Good morning from Berlin! Before I'll start my day in Berlin I'm going to have a huge hotel breakfast here- I really love it sometimes when somebody else did my morning ritual for me 😉 Because I've promised you yesterday at my Instagram account a new receipe, I want to show you my personal green smoothie à la Maren Anita. But I have to say: it's nothing for people which love sweet smoothies! Its taste is really special! Above you can see all the things you have to mix – it's very easy! In the fridge it extends more than five days. Hope you like it!