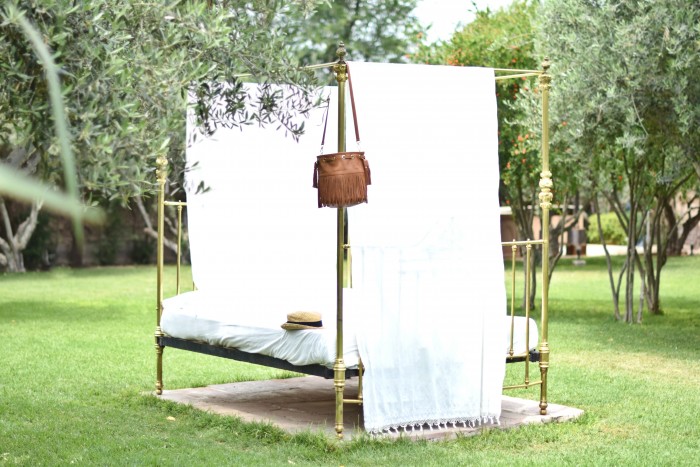 Das 'Les Deux Tours' in Marrakesch! Ein einzigartiges Hotel in einer grünen Oase! Als wir ankamen, waren wir sprachlos! Der Empfang war super herzlich – uns wurden die Koffer abgenommen und wir folgtem dem Mitarbeiter durch kleine Schleichwege. Schon auf dem Weg zu unserem Zimmer kam ich aus dem Staunen nicht mehr heraus: überall saftiges Grün – so weit das Auge reicht! Ich konnte Sträucher und Bäume mit saftigen Früchten entdecken, ein Restaurant versteckt unter Palmen, Tagesbetten, die mitten auf der Wiese stehen und ein Garten, in dem das Hotel seine eigenen frischen Produkte anbaut – organic versteht sich! Von dem riesigen Pool brauche ich erst gar nichts erzählen, ich denke da sprechen die Bilder für sich! Begeistert war ich auch von der Liebe zum Detail: überall konnte man Blumen in den schrillsten Farben entdecken sowie kleine Wasserspiele und Bäche, in denen sogar  Wasserschildkröten leben. Auf dem drei Hektar großen Gelände gibt es jedenfalls Einiges zu entdecken!
'Les Deux Tours', a wonderful five star hotel in Marrakech! It' a unique hotel in a green oasis! When we arrived, we were really speechless! The welcome was so friendly and the hotel crew showed us our room through super cute small secret paths. During the way to our hotel room, I was so excited and amazed of the beauty of this three hectare big hotel area! Everywhere I recognized green; I could see trees and bushes with juicy fruits, a hidden restaurant behind palm trees, day beds in the middle of the meadows and a garden, where the hotel crew cultivates vegetables and fruits – organic, of course! And don't mention the huge pool; it was a dream – but I think the pictures speak for themselves! I was also excited about the passion of the details; everywhere I could see flowers in different colours and shapes, also turtles and small trick fountains.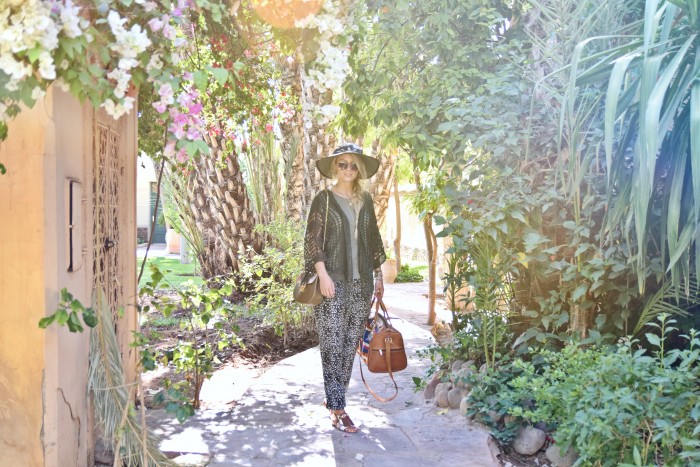 Als wir dem Hotelmitarbeiter in unser Zimmer folgten, wussten wir noch nicht was uns erwarten würde. Natürlich war mir von Anfang an klar, dass es bei einem fünf Sterne Haus eine gewisse Exklusivität haben muss – dass es aber SO exklusiv war, hatte ich mir nicht vorgestellt! Wir wurden in unsere eigene Suite geführt, Residenz 37! Ein riesiger Innenhof gestaltet im sogenannten Shabby Chic – mit eigenen Palmen, riesengroßer Terrasse, einem wundervollem Schlafbereich sowie einem eigenen Jacuzzi (!). Ein Traum! Am meisten haben wir uns auf den Tagesbetten auf unserer eigenen Terrasse aufgehalten – ein fantastischer Platz zum Lümmeln mit Laptop, einem guten Buch,einem Glas Wein oder einfach nur um das Rauschen der Palmenblätter auf sich wirken zu lassen.
When the hotel crew showed us our personal room for our stay, we didn't know before which category it was! Of course we thought about something special because it is a five star hotel but we haven't dreamed about this high class exclusiveness: we had a own residence, residence 37! It is like a huge suite with your own terrace, a big patio with palm trees, daybeds, a wonderful sleeping area and a jacuzzi (!). A dream! The most time we have relaxed on our private terrace on the daybeds with some good literature and a glass of wine. And we have listen to the palm trees which whoosed because of the wind.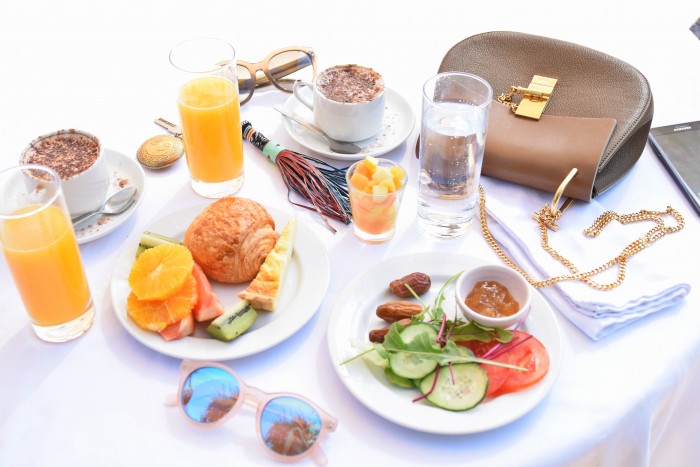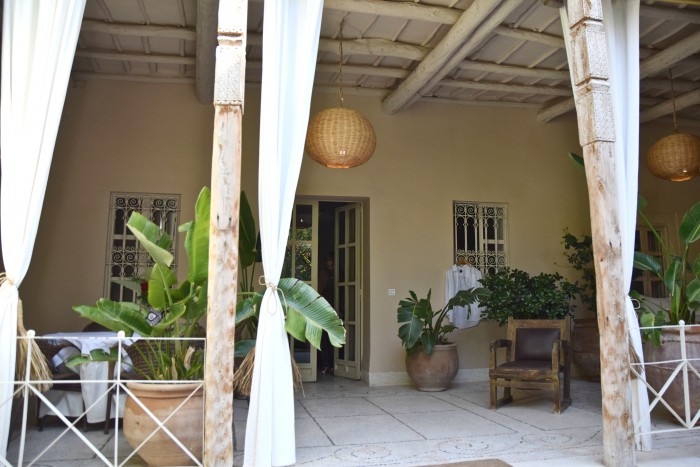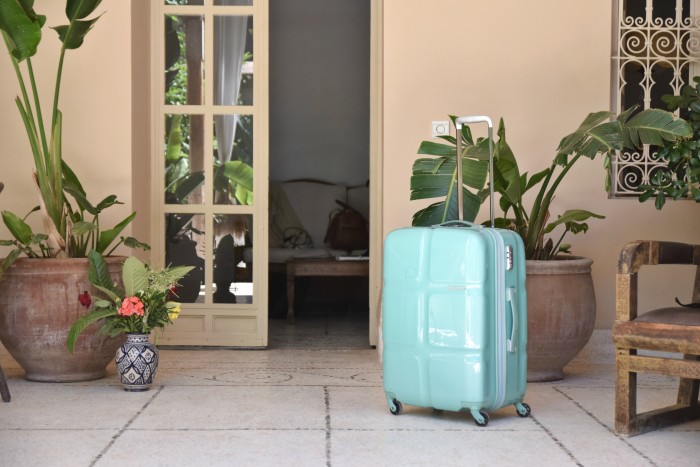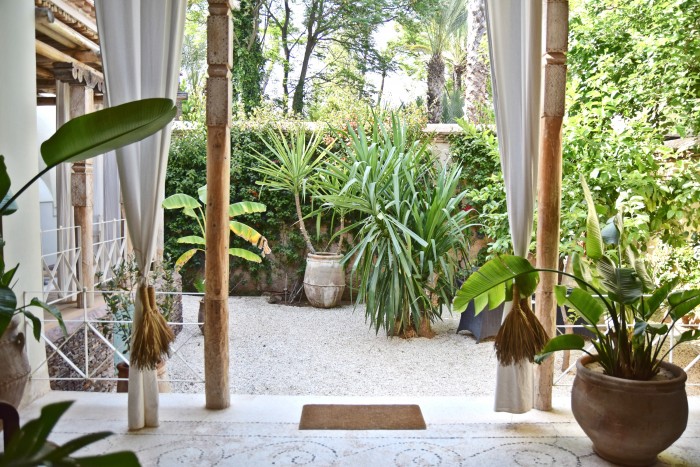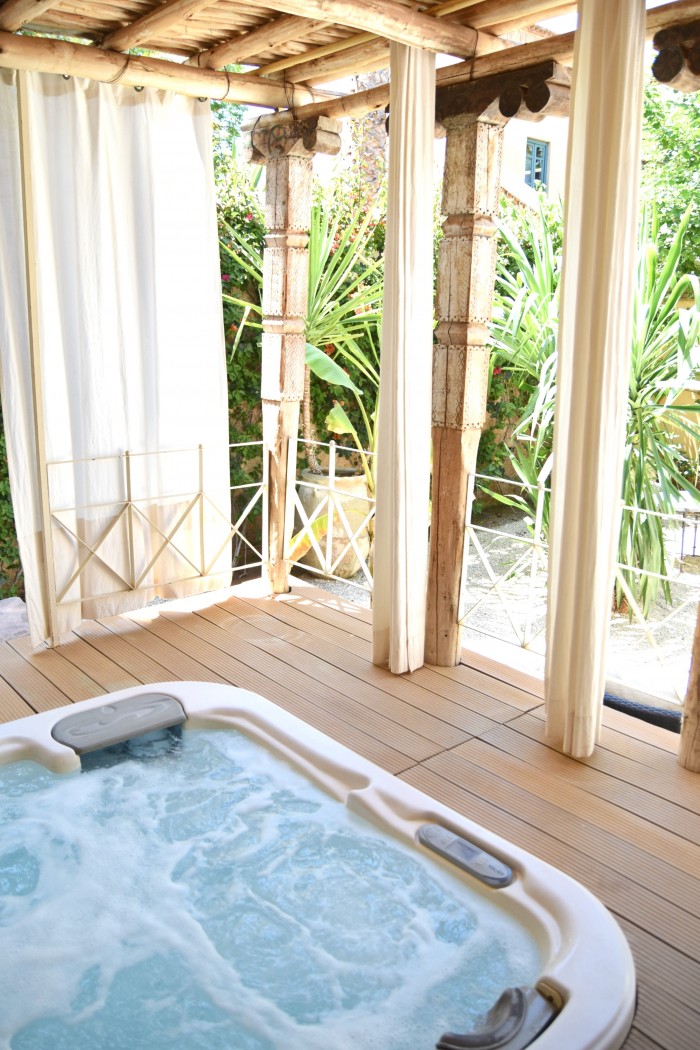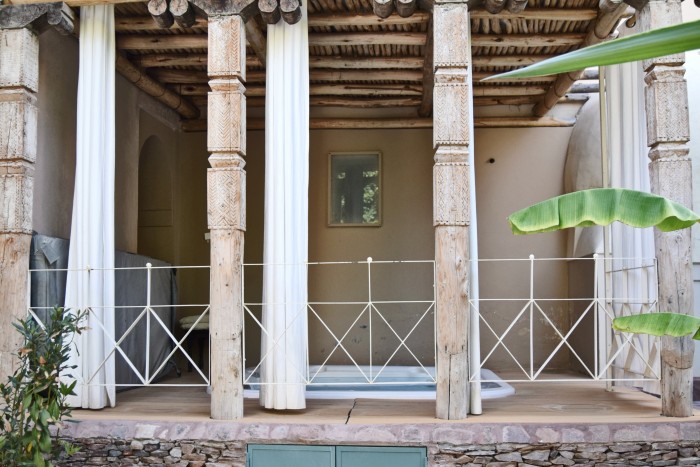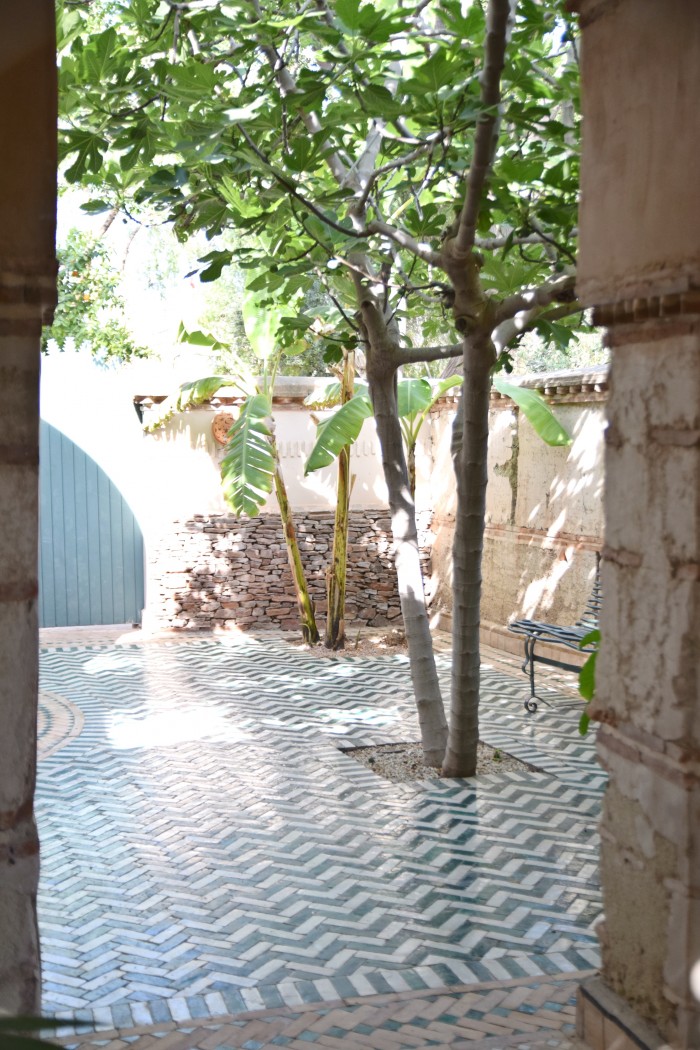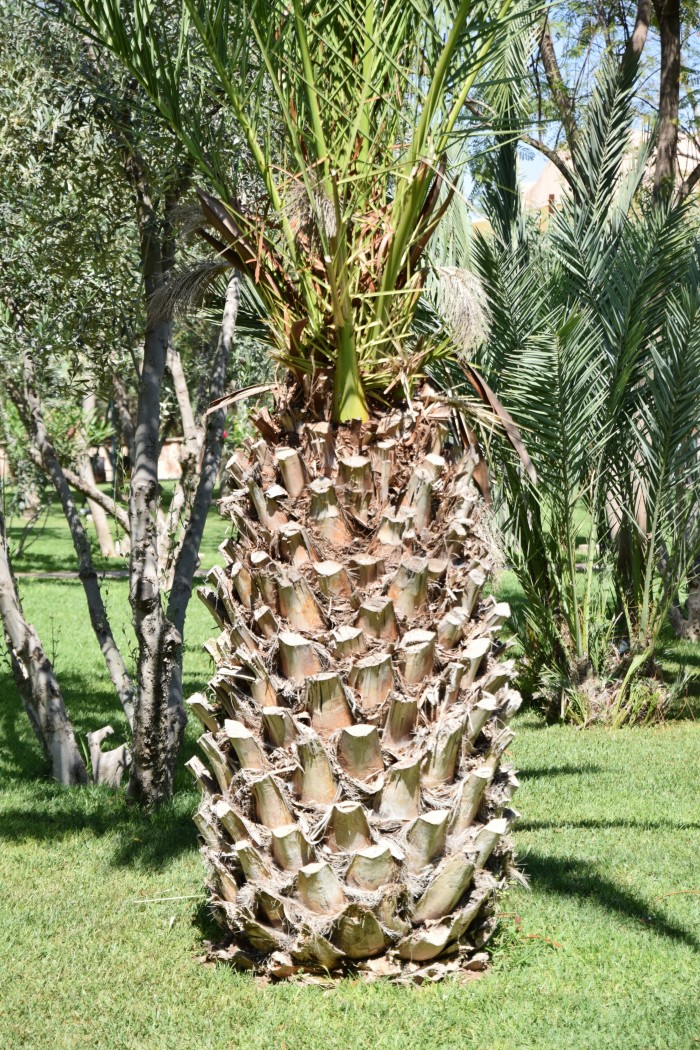 Kommen wir zum kulinarischen Teil: Das Restaurant des Les Deux Tours bietet eine Küche auf sehr hohem Niveau! Die Teller sind trapiert wie kleine Kunstwerke und in Begleitung mit marokkanischer Live-Musik hat man einen Blick in die schöne Anlage des Hotels. Unter anderem findet man viele Produkte auf der Karte, die das Les Deux Tours selbst im Garten anbaut. Alles frisch, super Qualität und eben Bio! Auch vom Frühstück war ich natürlich sehr angetan. Das reichhaltige Buffet findet sich im Innern und man kann sich seinen Platz selbst suchen – natürlich auch gerne auf der Terrasse! Ein separater Bereich auf der Terrasse bietet frische Eierspeisen an, die dann je nach Wunsch frisch und innerhalb von zwei Minuten zubereitet werden.
Let's talk about the culinary art: The restaurant in the hotel Les Deux Tours provides high class culinary! The dishes are presented like small artworks and you can enjoy the Morroccan live music while eating and watching to the garden area – where you can also see the part of the planted vegetables and fruits. Some of the organic food you can discover at your different dishes as well. Everything is by good quality, fresh and organic! Also the breakfast was super delicious! You can also choose your favourite egg dish and after two minutes of waiting you get it on your table – so fresh!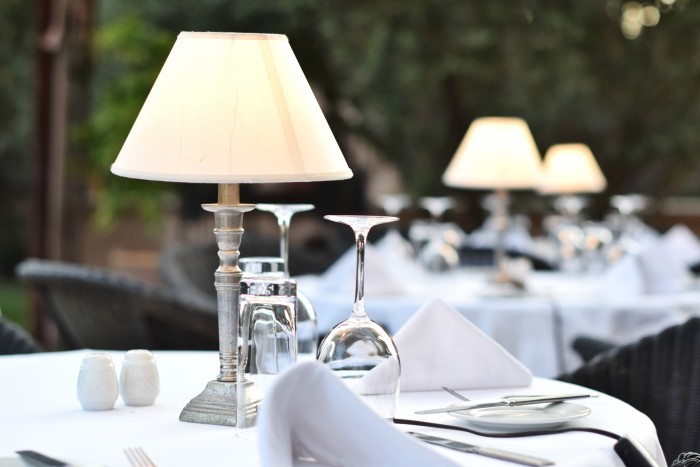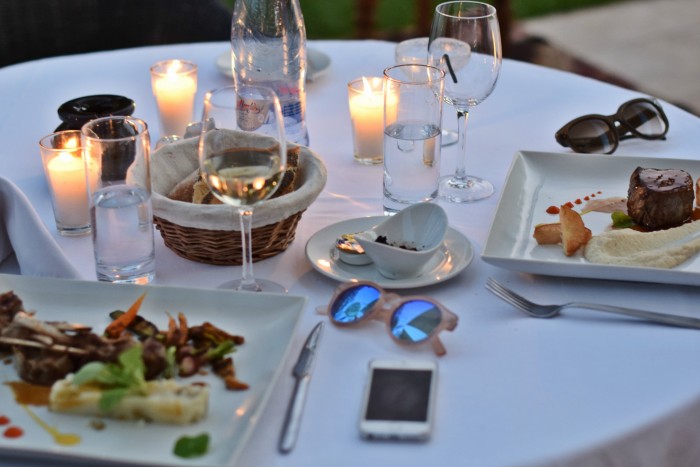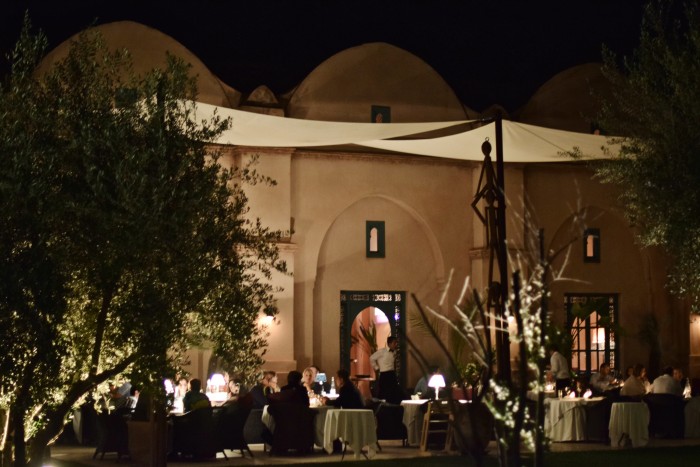 Über die Gestaltung und das Ambiente brauche ich euch wahrscheinlich nicht allzu viel zu erzählen! Es ist ein Traum! (Ich denke ihr könnt es auf den Aufnehmen sehen!) Alles ist so liebevoll gestaltet und ich habe mich so wohl gefühlt, dass mir der Abschied wirklich schwer fiel! Nicht zuletzt wegen unserer großzügigen Residenz und dem Jacuzzi mit den Daybetten – auch das Personal war super zuvorkommend und hat uns jeden Wunsch erfüllt!
About the atmosphere and the interior design I haven't to talk – look at these pictures! It's a dream! Everything is presented with lots of love, kindness and accuracy. I felt myself so comfy and salvaged so the leave was very hard for me! Not only of our huge residence with our own jacuzzi and the daybed, also the hotel stuff was excellent and very kind!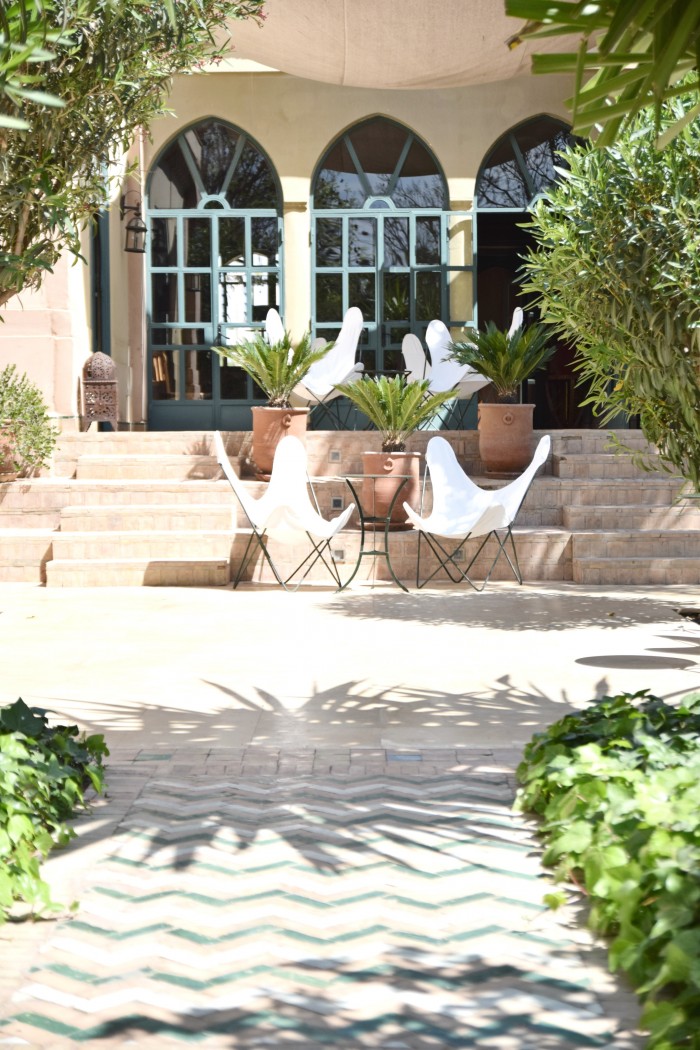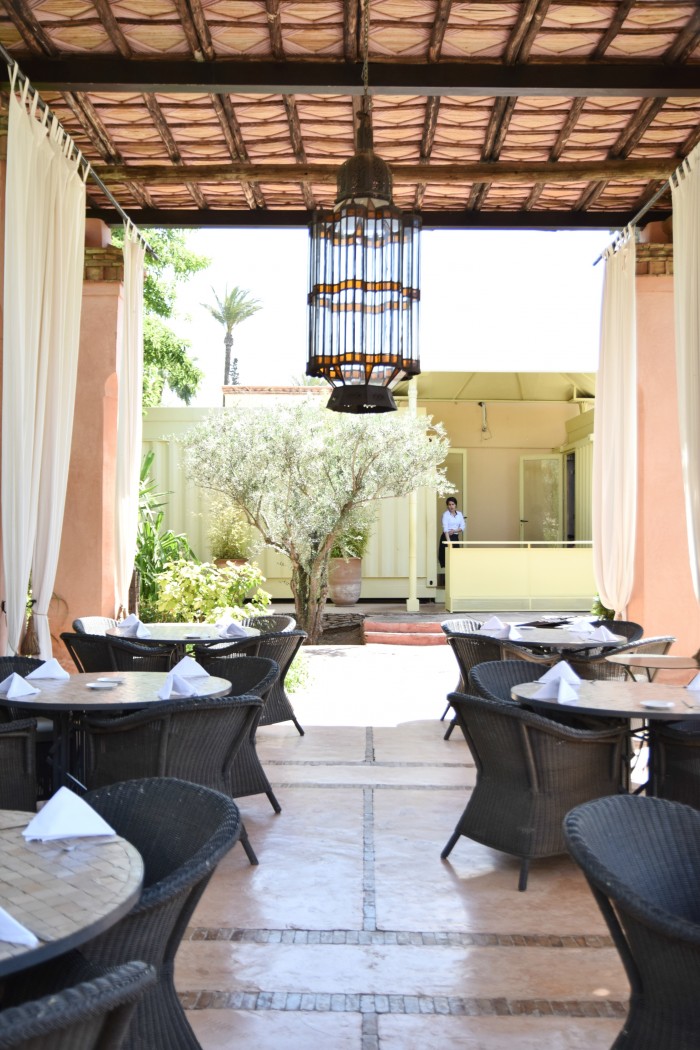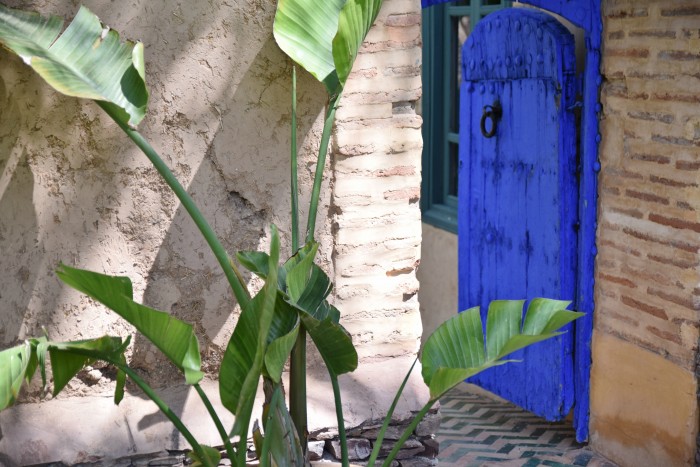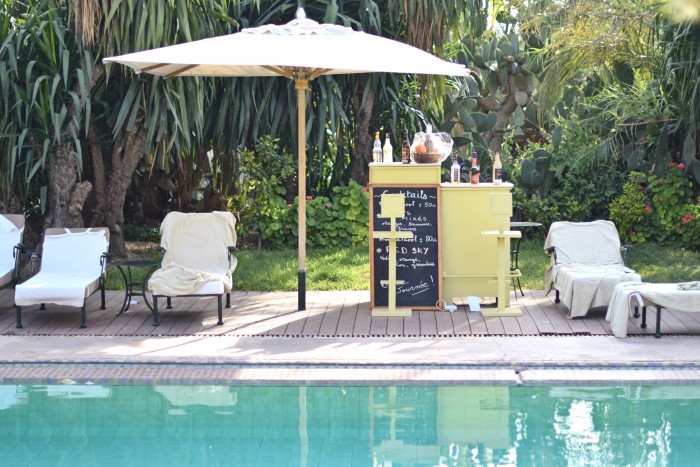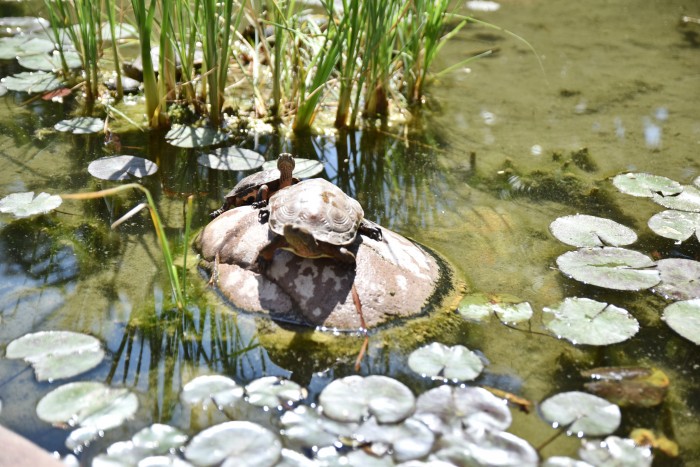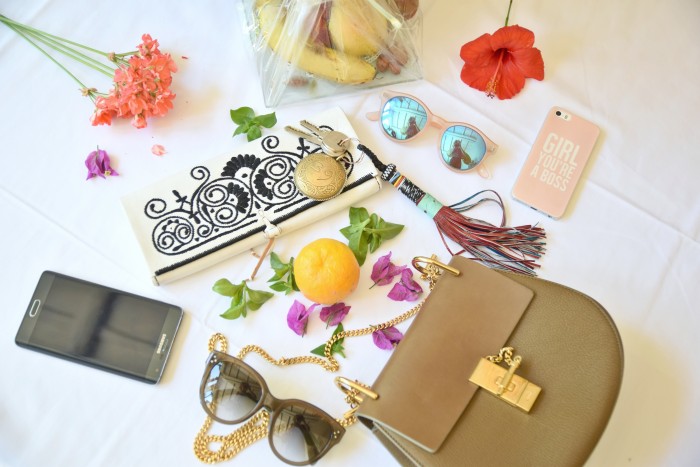 Es fahren mehrmals am Tag hoteleigene Shuttle ins Zentrum von Marrakesch. Hier braucht man ungefähr 15 Minuten. Für den Rückweg hat man die Möglichkeit, zwischen mehren Zeiten zu wählen – je nachdem wo man eben zu Abend speisen möchte! Natürlich ist auch hier wieder bekannte Platz Jemaa el Fna zu empfehlen! Wirklich ein Erlebnis! Und wer noch nicht dort war, sollte unbedingt einen Abstecher in die Souks machen! Aber Vorsicht – es ist teilweise wie ein Labyrinth und man sollte sich seine Wege gut merken. Außerdem immer mit den Verkäufern handeln  – die Preise sind teilweise viel zu hoch angesetzt! Wenn ihr also ein Hotel in Marrakesh sucht, welches aber nicht direkt im Trubel ist und in einer grünen Ruheoase liegt, kann ich euch dieses fünf Sterne Haus wärmstens empfehlen! Ein riesengroßes Dankeschön an das ganze Team des Hotels Les Deux Tours! Wir haben uns super wohl gefühlt und kommen bestimmt bald wieder!
Every day there are some shuttle cars to the inner town where you can visit the souks and the market or to stroll around the popular place Jemaa el Fna. From the hotel to this place you only need 15 minutes by car. There are different possibilities for the time of the day you want to leave the inner city and to come back to your hotel. If you want to visit the souks be careful – they are like a labyrinth! And you have to deal with the salesman, the prices are sometimes too high – only a little tip 🙂 When you are looking for a wonderful hotel in Marrakesh, where you can totally relax and enjoy your holiday, I can really recommend you the Les Deux Tours – one of the best five star hotels, in my opinion! A big thanks for the whole team of the hotel – it was amazing and memorable! We will definitely come back!