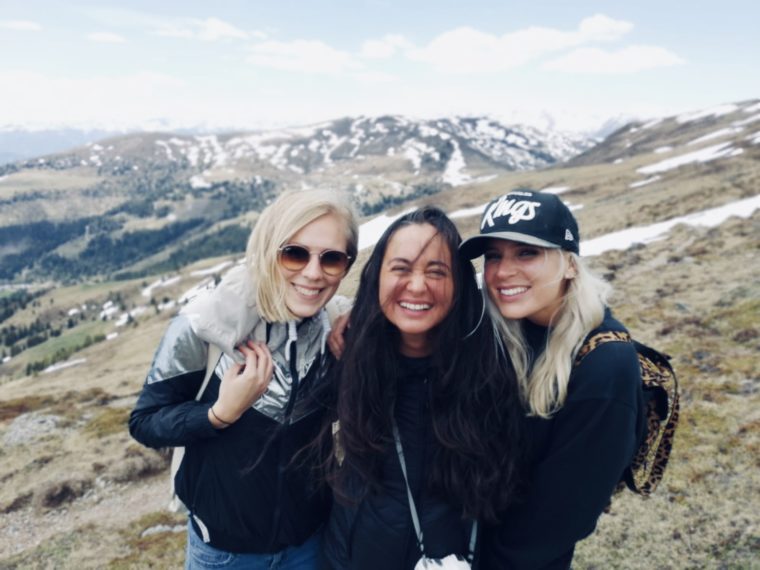 Der Millstätter See in Kärnten – welch ein Panorama! Ich liebe Österreich! Die Berge sind immer eine Reise wert und wenn auch Wasser in der Nähe ist, sage ich natürlich nicht nein. Umso mehr habe ich mich gefreut, mit meiner liebsten Franzi die Pressereise auf "dem Weg der Liebe", "Zeit zu zweit" am Millstätter See anzutreten.
Nach einer entspannten Anreise am Donnerstag mit dem Auto bequem von Würzburg aus, haben sich alle Teilnehmer mit ihren Partnern im Garten des Hotels Villa Postillion in Millstatt getroffen, um ein gemeinsames "Get Together" zu zelebrieren. Wir haben zwar die restlichen Nächte in der wunderschönen Villa Postillion direkt am Seeufer verbracht, jedoch war die erste Nacht in Kärnten ein wirkliches Highlight! Rund um den See gibt es 7 Biwaks, die man zu zweit für jeweils eine Nacht mieten kann – dies war selbstverständlich auf der Agenda der Reise! Unser Biwak war im drei Kilometer entfernten Döbriach und gehört zum Hotel Post. Es heißt 'Biwak Schilf- canna pulustre'. Das Prinzip ist ganz simpel; die Natur auf sich wirken lassen, ohne dass man von Smartphone, TV oder anderen Menschen abgelenkt wird. Die "Zeit zu Zweit" miteinander völlig ausschöpfen und genießen und ganz der Natur lauschen. Unser Biwak befand sich wie gesagt direkt am Schilfufer des Millstätter Sees, der sich ganz ruhig und malerisch umringt von der Bergwelt sensationell in das ganze Panorama einfügt. Auch kulinarisch wird man im Biwak bestens versorgt. Am Abend gab es eine große vielseitige Jause mit Sekt, frischen regionalen Produkten, Gemüse, Obst, Säften, Wasser und natürlich frischem Bauernbrot und Semmeln. Das Dach ist teilweise aus Glas gehalten, sodass wir beim Einschlafen auch das Glück hatten, den Sternenhimmel zu beobachten. Auch am nächsten Morgen wurden wir mit einem großen Picknickkorb für das Frühstück verwöhnt – ganz besonders haben wir uns auf den frisch aufgebrühten Kaffee gefreut. Im Bett haben wir dann den Tag mit Sonnenschein und einem fantastischen Blick auf das Wasser begonnen! Einfach atemberaubend schön, der Natur zu lauschen und dem Ursprung so nah zu sein. Diese Erfahrung kann ich jedem nur wärmstens empfehlen! Selbstverständlich kann man im Millstätter See auch super gut baden! Nach einem fabelhaften Start ging es zurück in unser riesengroßes Seeblick Zimmer der Villa Postillion. Unser erster Programmpunkt war eine Wanderung: "Weg der Liebe. Sentiero dell'Amore"; 7 Stationen, 7 Bücher – und ganz viele Gedanken. Das Gipfelbuch mal anders! Die Wanderung war sehr abwechslungsreich und führte uns neben schönen Almwiesen- und Hütten an tolle Wasserquellen und Rastbänke, die uns immer Fragen über unsere 'Liebe' stellten, wie z.B. "Wie habt ihr euch kennen gelernt?". Neben den Bänken befanden sich immer Bücher, in denen man sich verewigen konnte, seine Liebes-Story aufschreiben oder die der anderen Wanderer lesen konnte. Eine unheimlich tolle Idee! Unser Ziel der Wanderung war das Granattor, der 2000er, ein mächtiger Durchgang am Grat der Millstätter Alpe. Eine Wanderstunde oberhalb der Lammersdorfer Hütte erhebt sich das Tor, dessen Pfeiler mit tausenden von Edelsteinen befüllt sind. Das beliebteste Reiseziel des Millstätter Sees kann ich euch wirklich ans Herz legen – die Aussicht auf die Bergwelt und den See im Tal muss man gesehen haben! Ein riesengroßes Dankeschön an unseren herzlichen und tollen Wanderführer Rudolf, der uns auf der ganzen Wanderung begleitet und super über die Kärntner Bergwelt unterhalten hat. Wer möchte kann sich im Anschluss im Tal im 1. Kärntner Badehaus verwöhnen lassen- direkt am See, mit Saunalandschaft und Außenpool. Den Abend haben wir dann bei einem vier Gänge Menü gemütlich im Hotel ausklingen lassen. Das Essen war fantastisch und ließ keine Wünsche offen – siehe Bilder! Am nächsten Morgen waren wir schon um acht Uhr sportlich unterwegs; Rudern auf dem See! Wir haben die schönsten Buchten in Zweier-Holzbooten erkundet und waren somit der Natur ganz nah – es hat riesengroßen Spaß gemacht, wobei ich etwas gebraucht habe, bis ich den richtigen Dreh beim Rudern raus hatte – gar nicht sooo einfach! 🙂 Im Anschluss ging es mit den E-Bikes um den See, was wirklich ebenfalls eine wunderbare Möglichkeit ist, den See mit all seinen tollen Plätzen zu erkunden. Den restlichen Tag hatten wir zur freien Verfügung, man konnte entweder das Abendessen wortwörtlich 'fischen', oder die Außenanlage des Hotels genießen – das hoteleigene Seeufer ist wirklich traumhaft schön! Der Millstätter See in Kärnten ist wirklich eine Reise wert und ich freue mich jetzt schon, ihn auch im Herbst erkunden zu können! Ein riesengroßes Dankeschön auch an Judith, Andrea, Denise, Peter und natürlich an meine liebste Franzi, für die tolle Zweisamkeit! 🙂
The Millstätter See in Carinthia – what an area! I love Austria! The mountains are always worth a trip and although water is nearby, of course I don't say "no". I was happy to compete with my dear Franzi for the press trip on "the path of love", "time for two" at the Millstätter See.
After a relaxing journey on Thursday from Würzburg by car, all participants have met each in the garden of the Villa Postillion Hotel in Millstatt to celebrate a "Get Together". Although we spent the remaining nights in the beautiful Villa Postillion directly at the lake, the first night in Carinthia was a real highlight! Around the lake there are 7 bivouacs which can be rented in for one night – this was of course on the agenda of the trip! Our bivouac was in Döbriach, three kilometers away, and belongs to the Hotel Post. It's called 'bivouac Reed Canna pulustre'. The principle is very simple; let nature work on you without being distracted by smartphones, TV or other people. The "time for two" to fully exploit and enjoy each other and listen to nature. As already mentioned, our bivouac was located directly atcLake Millstatt which fits into the whole panorama in a very quiet and picturesque surrounding of the mountains. Also culinary was a hightlight in the bivouac. In the evening there was a large and varied snack with sparkling wine, fresh local food, vegetables, fruit, juices, water and of course fresh farmhouse bread and rolls. The roof is partially made of glass, so you can fell asleep by watching the starry sky. Also in the next morning we were spoiled with a large picnic basket for breakfast – especially we were looking forward to the freshly brewed coffee. In the bed we started the day with sunshine and a fantastic view to the water! Simply breathtakingly beautiful, listening to nature and being so close to the origin. I can highly recommend this experience to everyone! Of course you can swim in the lake Millstätter btw! After a fabulous start we went back to our huge lake view room of Villa Postillion. Our first program point was a hike: "Path of love. Sentiero dell'Amore "; 7 stations, 7 books – and many thoughts. The summit register with a difference! The hike was very varied and let us see a wonderful panorama next to beautiful alpine meadows and huts to great water sources and break benchs, which always asked us questions about our 'love', like "How did you met each other?". Next to the benches there were always books in which you could perpetuate, write down your love story or read the story of the other hikers. A very great idea! Our destination for the hike was the Granattor, the 2000s, a mighty passage on the ridge of the Millstätter Alpe. A walking hour above the Lammersdorfer Hütte rises the gate, whose pillars are filled with thousands of gemstones. I can really recommend the most popular destination of the Millstätter See – the view of the mountains and the lake in the valley must be seen! A big thank you to our warm and great hiking guide Rudolf who accompanied us on the whole hike and had a great chat about the Carinthian mountains. If you like to be pampered afterwards in the valley in the first Carinthian bathhouse – right at the lake with sauna area and outdoor pool. We ended the evening comfortably with a four-course meal in the hotel. The food was fantastic – have a look at the pictures! The next morning we were already on the road at eight o'clock; Rowing on the lake! We explored the most beautiful bays in two-person wooden boats and were thus close to nature – it was a lot of fun, but I needed a while till I had the right turn when rowing out – not so easy! 🙂 Afterwards we went with the e-bikes around the lake which is also a wonderful way to explore the lake with all its great hidden places where you can't see by street. The rest of the day we were free, so you could either literally fish 'dine', or enjoy the hotel grounds – the hotel's own lakefront is really gorgeous btw! The Millstätter See in Carinthia is really worth a trip and I'm looking forward to exploring it in autumn! A big "thank you" also to Judith, Andrea, Denise, Peter and of course to my dear Franzi, for the great togetherness!