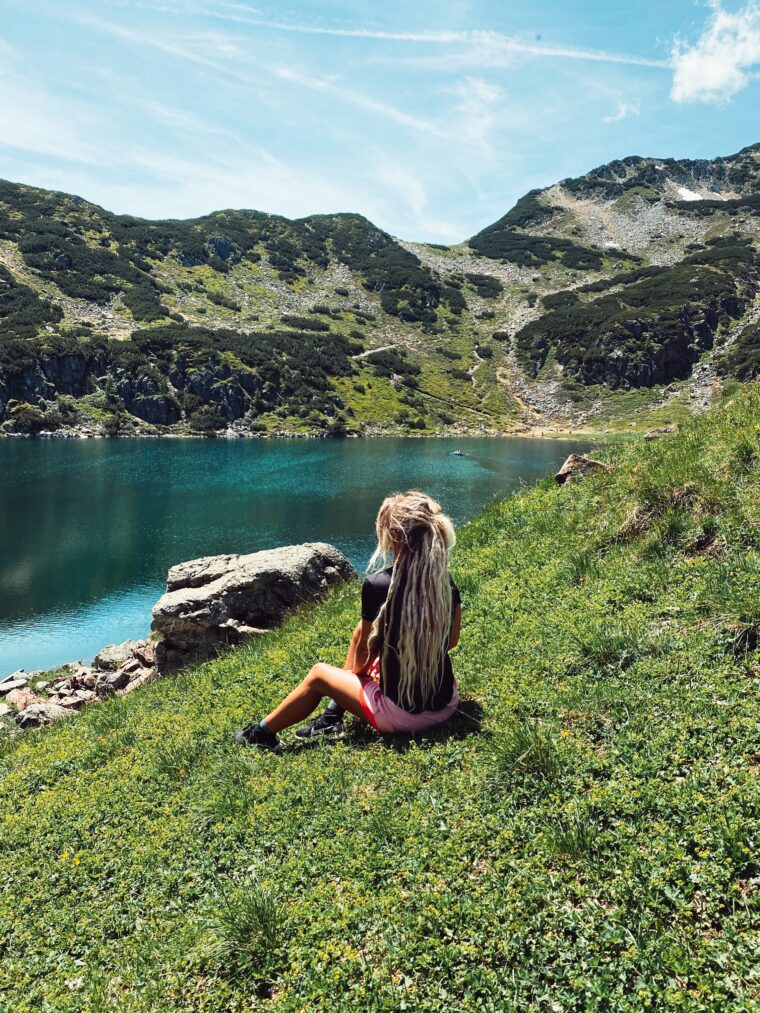 Das Pillerseetal – ich liebe es so sehr! Etliche Male war ich schon in dieser wunderschönen Berglandschaft, aber ich komme immer wieder aus dem Staunen nicht heraus. Einer meiner Lieblingsorte ist und bleibt Fieberbrunn. Nicht zuletzt deswegen, weil sich hier über die letzten Jahre Freundschaften entwickelt haben, die ich nicht missen möchte. Es ist toll wieder in eine neue alte Umgebung zu kommen, einen Platz, an dem man sich ganz zu Hause fühlt- wie in dem einzigartigen Hotel Grosslehen. Am Berg in Fieberbrunn gelegen hat man hier einen fantastischen Blick auf die Bergwelt, die grünen saftigen Wiesen und die wunderschöne Landschaft. Das Hotel bietet neben seinen Hotelzimmern auch sechs Chalets an. Ich durfte schon vor zwei Jahren hier nächtigen, allerdings im Haupthaus in einem Doppelzimmer.
The Pillerseetal – I love it so much! Several times I've been in this beautiful mountain landscape, but I always can't get out of the amazement. One of my favorite places is the village Fieberbrunn. Not at least because friendships have developed here over the last few years that I wouldn't want to miss. It's great to come back to a new old environment, a place where you feel completely at home- like in the unique Hotel Grosslehen. Located on the mountain in Fieberbrunn, you have a fantastic view of the mountains, the green lush meadows and the beautiful landscape. In addition to its hotel rooms, the hotel also offers six chalets. I was allowed to stay here two years ago, but in the main house in a double room.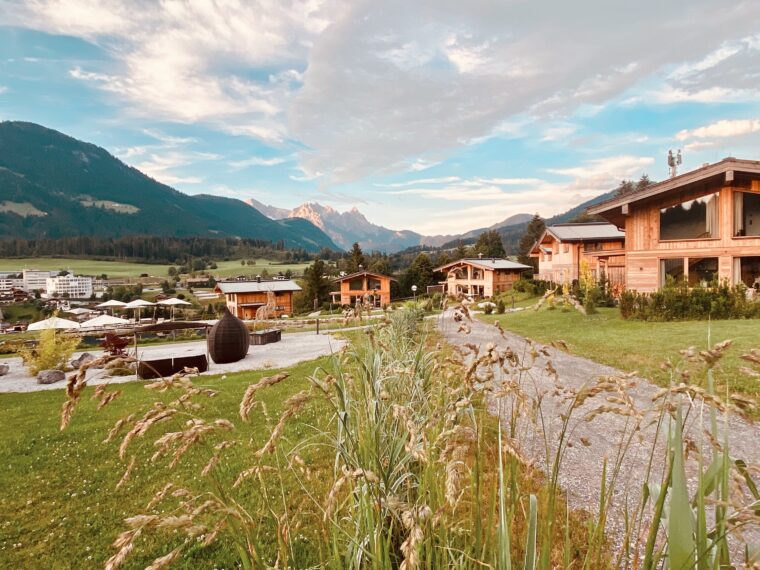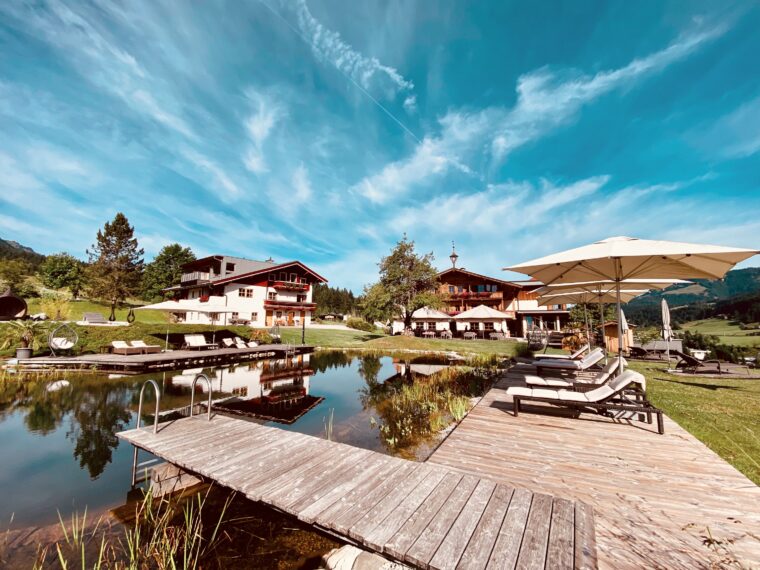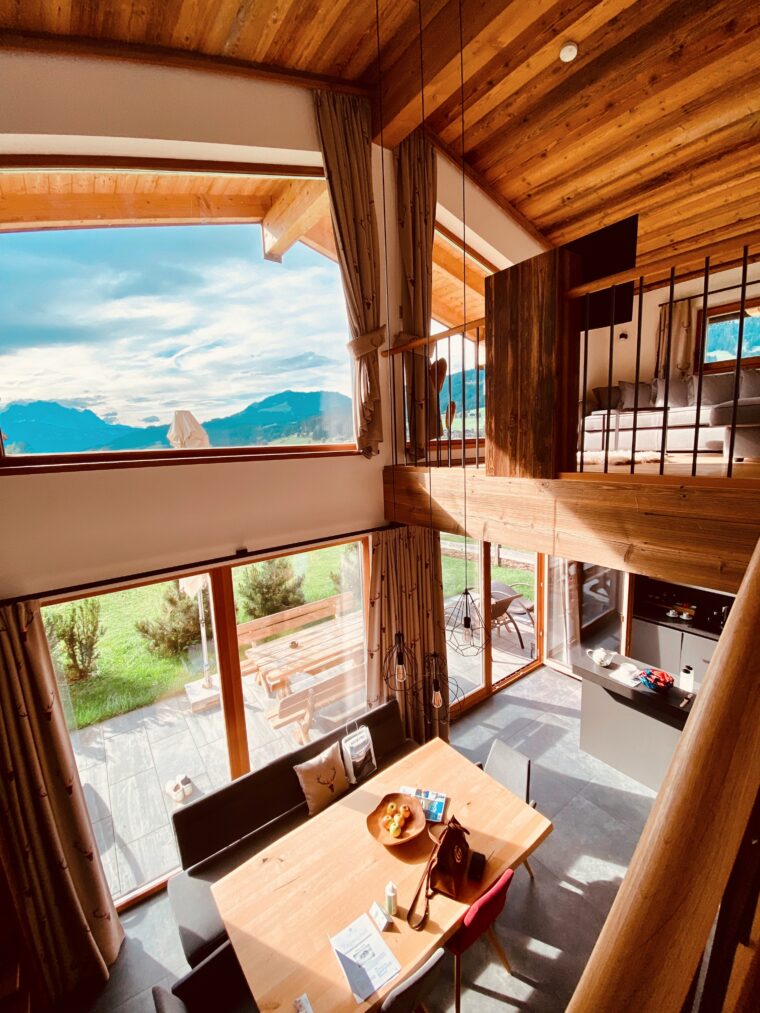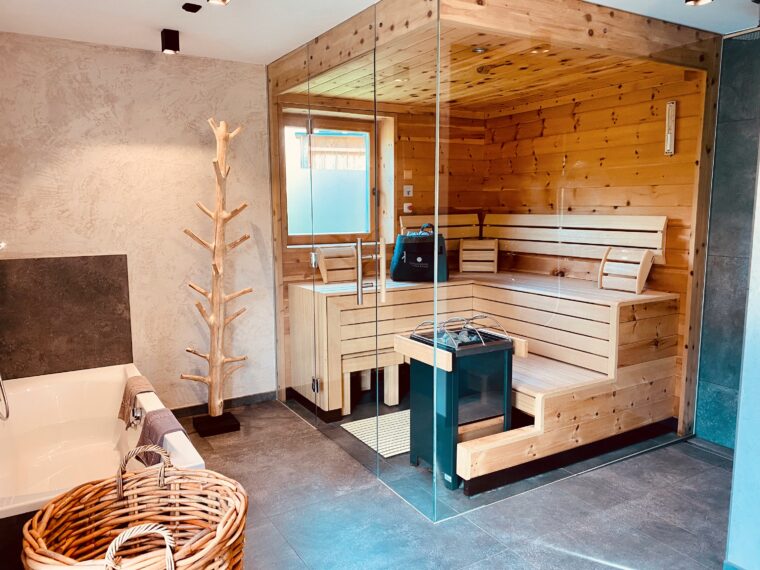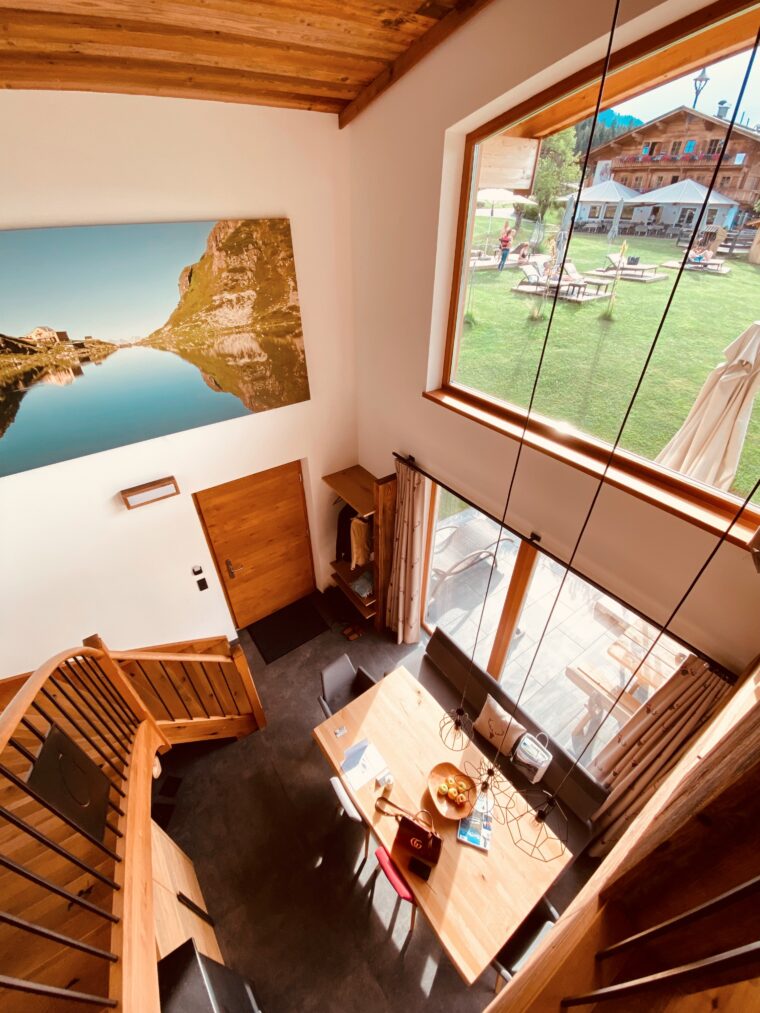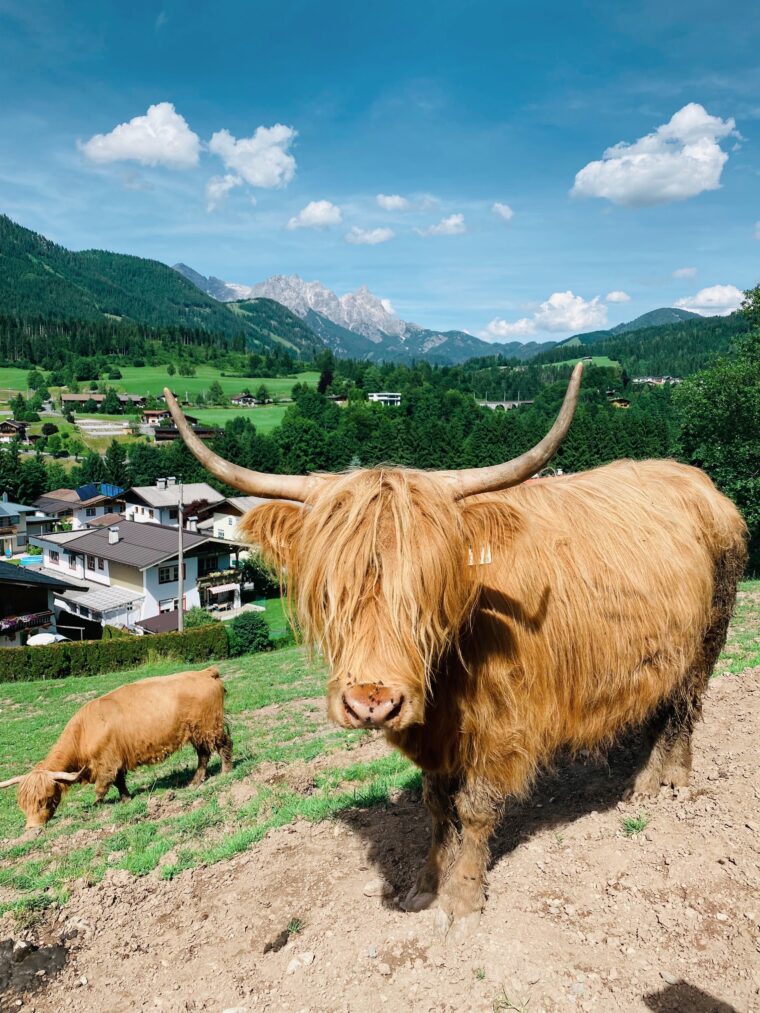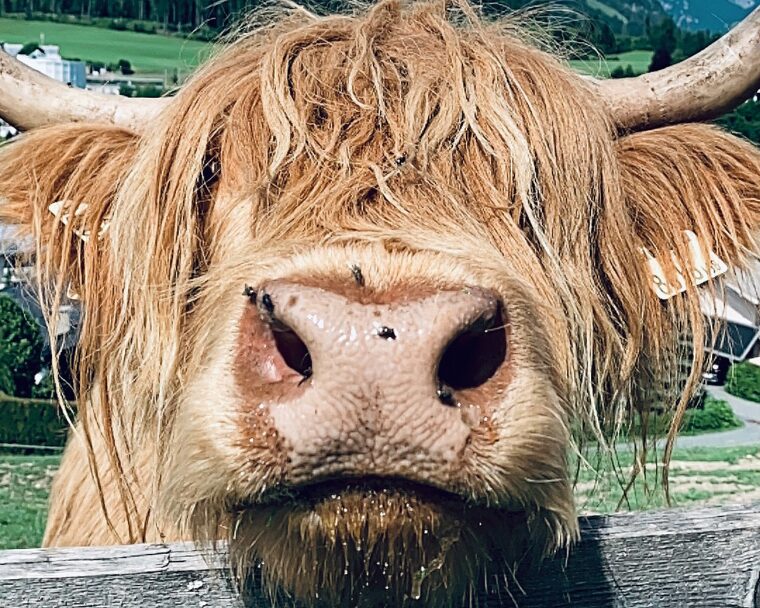 Schottische Hochlandrinder, die sich neben den Chalets befinden – was für wunderbare süße Geschöpfe!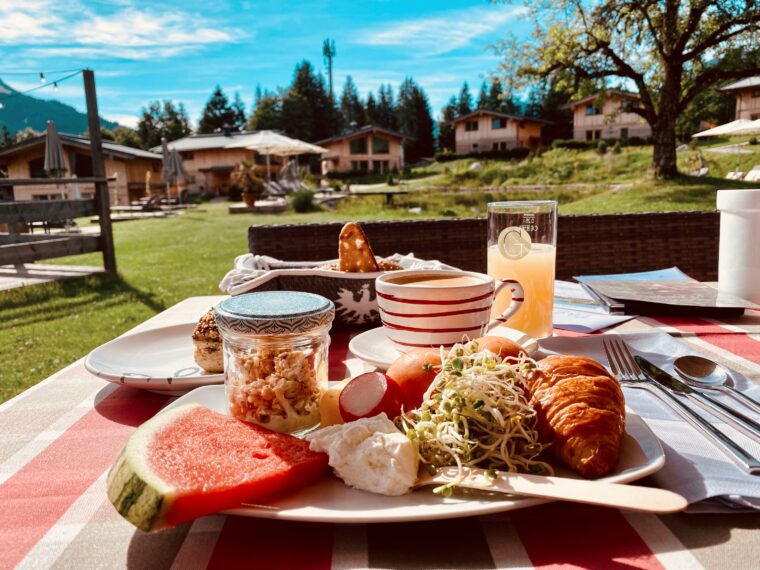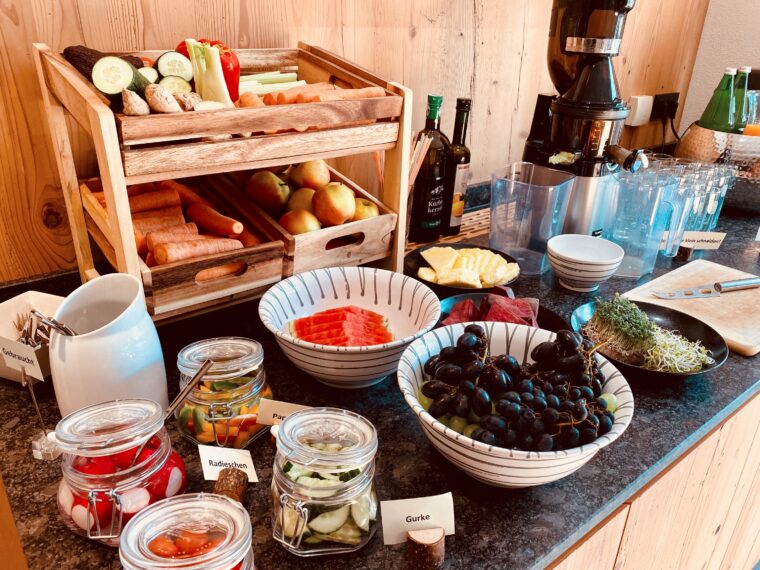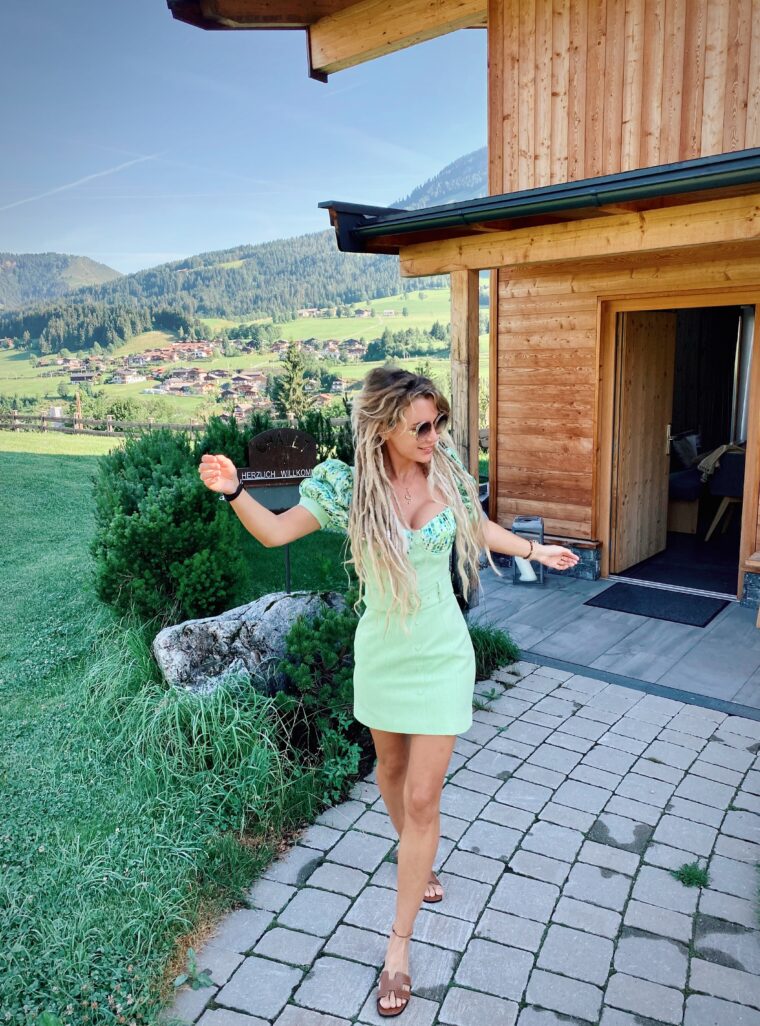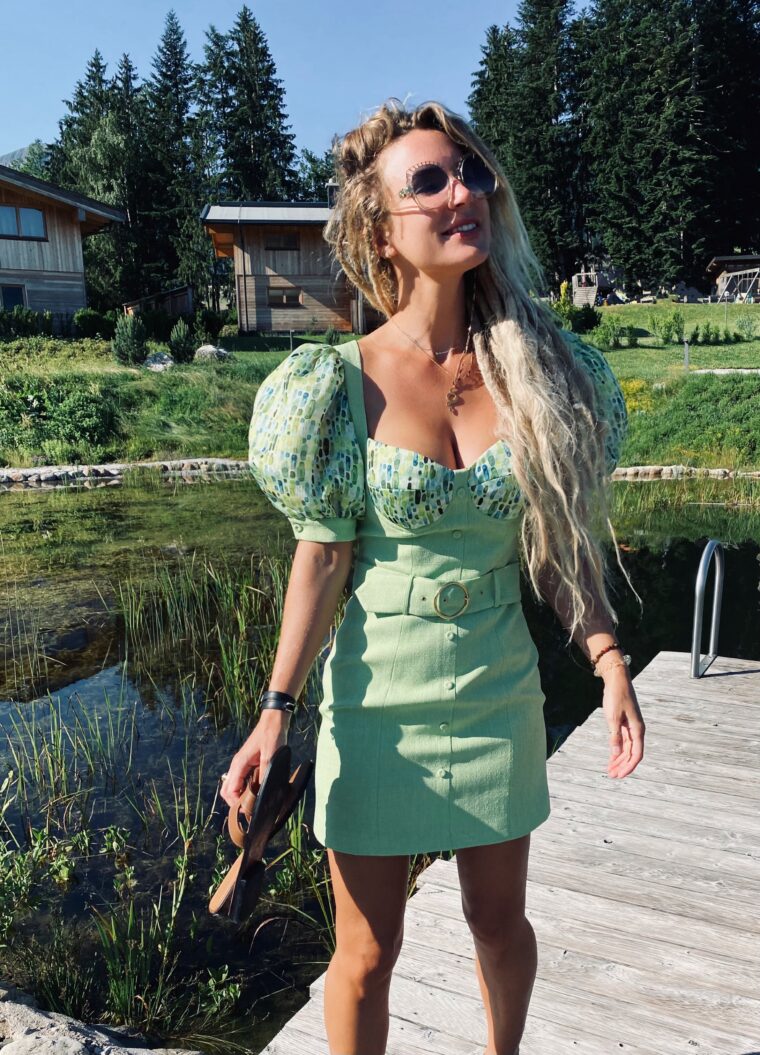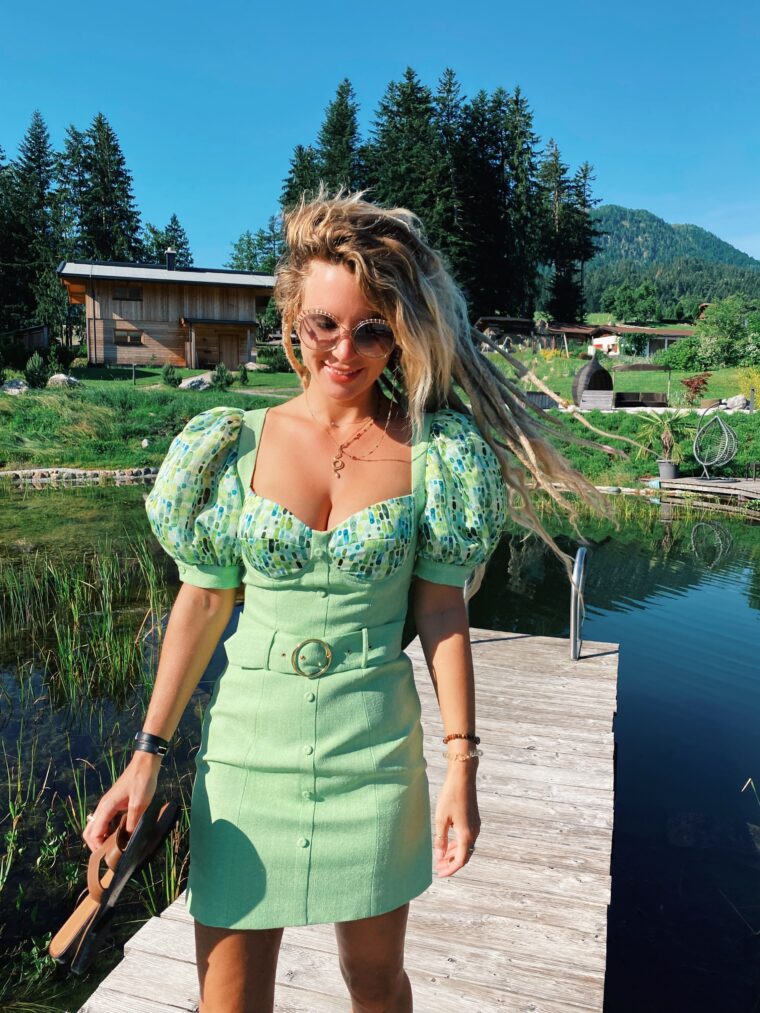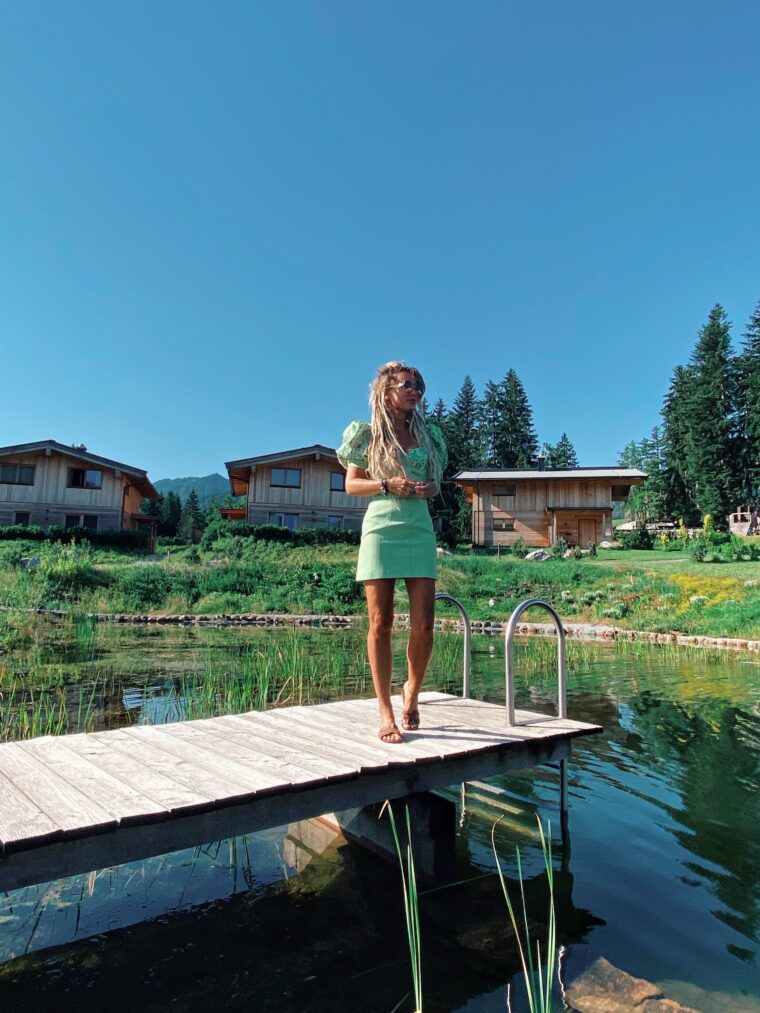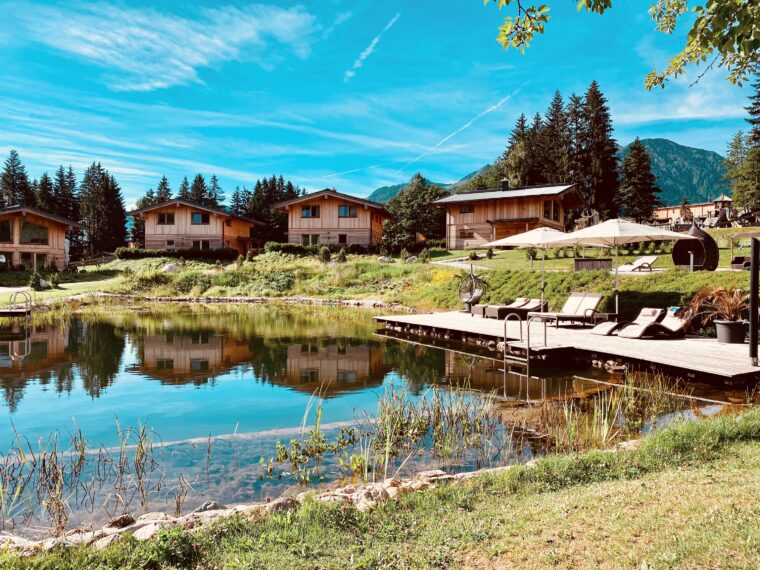 Dieses Mal war für meine bessere Hälfte und mich ein Chalet vorgesehen – Chalet Nummer 1. Ein richtig schönes Holzhaus, welches sich auf dem Grundstück des Grosslehens befindet. Die sechs Chalet umranden den Badesee, der das Herzstück des Hotels ist. Neben den Gästen baden hier auch Laufenten und nachts kann man das ein oder andere Quaken der Frösche vernehmen- Natur pur! Unser Chalet war wirklich klasse; eigene Küche, 2 Schlafzimmer, ein Kinderzimmer, 3 Bäder sowie Wohnbereich mit Galerie, in der sich oben ein kuscheliges Wohnzimmer befindet. Jedes Schlafzimmer ist mit TV und eigenem Bad ausgestattet. Mein Highlight war aber die eigene private Sauna im Badezimmer. Es ist schon verrückt, die Annehmlichkeiten eines richtig guten Hotels zu genießen, aber trotzdem seine Privatsphäre zu haben. Und wenn einem nach Gesellschaft ist, kann man einfach über die Wiese zur Hotelterrasse laufen und dort sein Essen einnehmen. Selbstverständlich kann man sich aber auch alles in das eigene Chalet bringen lassen. Wir haben allerdings auf der Hotelterrasse unser Frühstück und Dinner eingenommen, da uns der Blick und das Ambiente, aber auch die Küche und das supernette Personal wirklich beeindruckt hat. Das Grosslehen ist ein Familienbetrieb, welcher wirklich etwas von Gastfreundschaft, Aufmerksamkeit und kulinarischen Köstlichkeiten versteht- wir waren beide mal wieder hin und weg! Hier fühlt man sich wirklich rundum wohl. Die Küche des Grosslehen setzt auf regionale frische Bio-Zutaten, ob beim Brot, beim Käse oder anderen Lebensmitteln – das Pillerseetal ist überall vertreten. Und dies kann man auch absolut schmecken!
This time my better half and I were in a chalet – chalet number 1. A really nice wooden house which is located on the property of the Grosslehens. The six chalets surround the swimming lake, which is the heart of the hotel. In addition to the guests, running ducks also bath here and at night you can hear the one or other croaking of the frogs – pure nature! Our chalet was really great; own kitchen, 2 bedrooms, a children's room, 3 bathrooms as well as living area with gallery, where a cozy living room is upstairs. Each bedroom is equipped with a TV and private bathroom. But my highlight was my own private sauna in the bathroom. It's crazy to enjoy the amenities of a really good hotel, but still have your privacy. And if you feel like you need company, you can just walk across the lawn to the hotel terrace and have your meal there. Of course, you can also have everything brought to your own chalet. However, we took our breakfast and dinner on the hotel terrace, because we were really impressed by the view and the ambience, but also the cuisine and the super-nice staff. The Grosslehen is a family business, which really understands hospitality, attention and culinary delights – we were both once again blown away! Here you really feel completely at home. The kitchen of the Grosslehen relies on regional fresh organic ingredients, whether in bread, cheese or other foods – the Pillerseetal is represented everywhere. And you can absolutely taste this!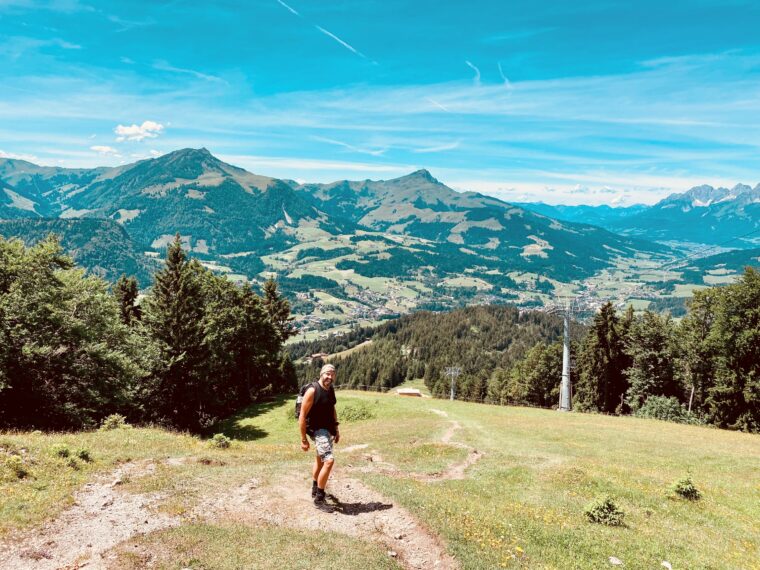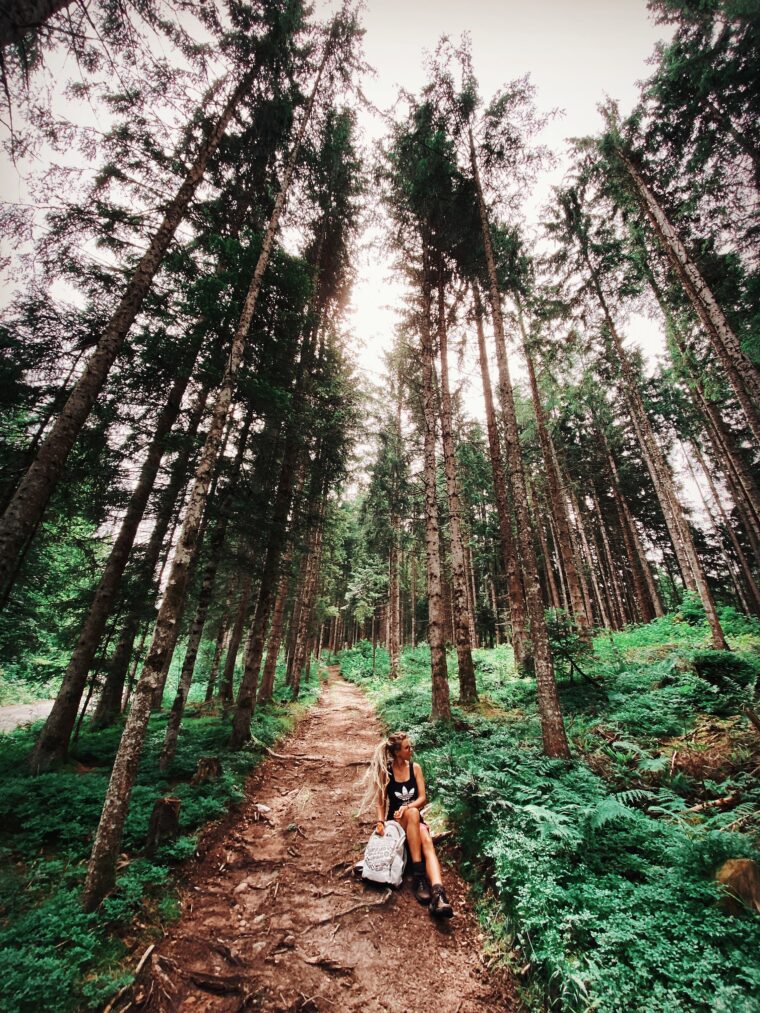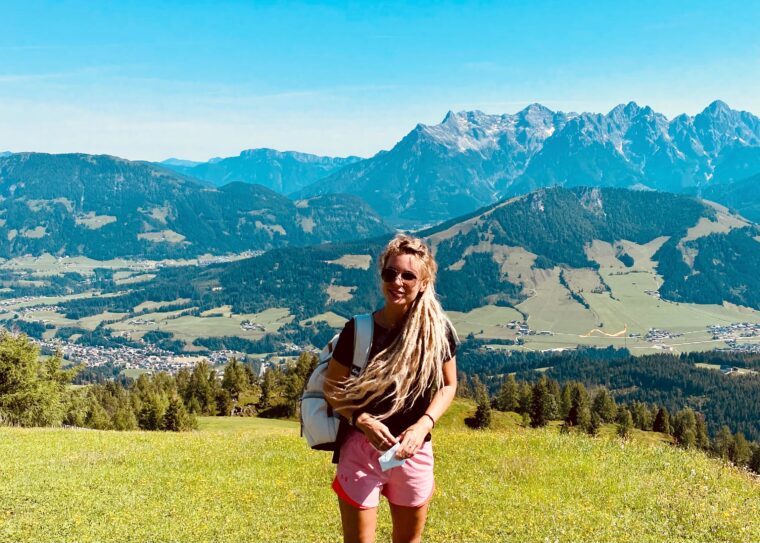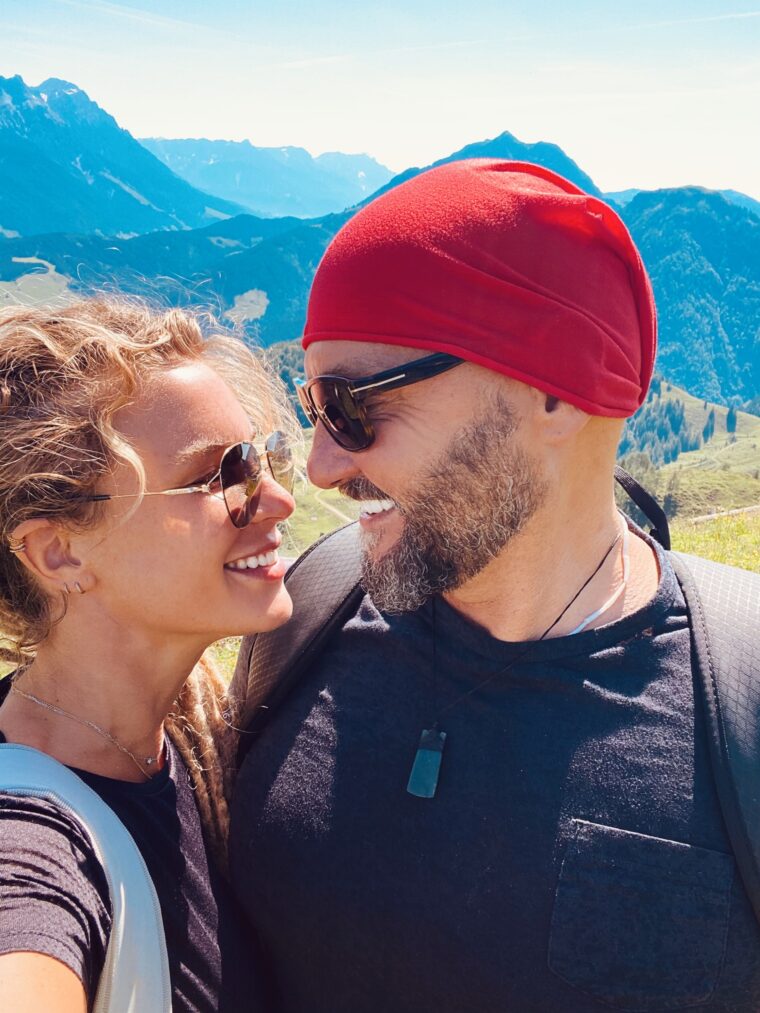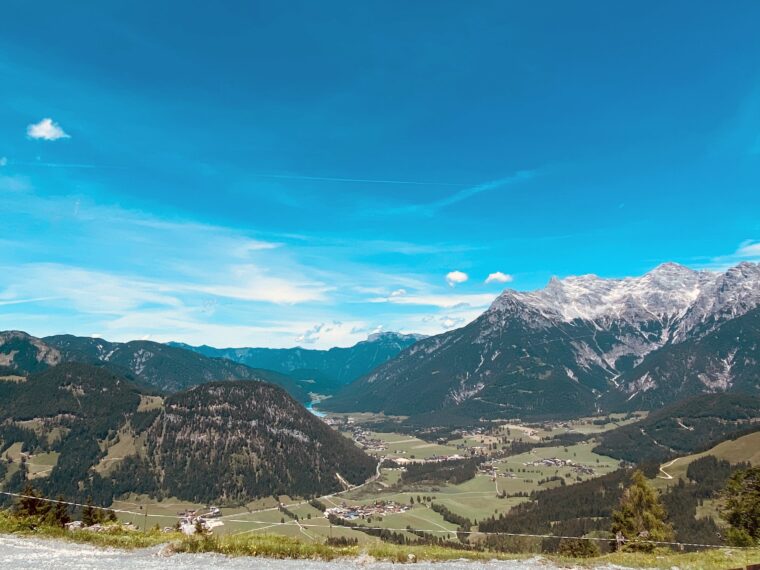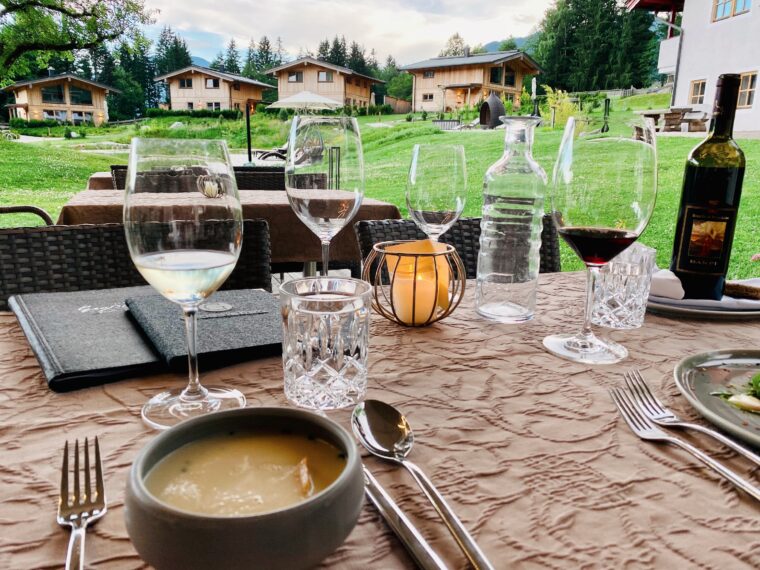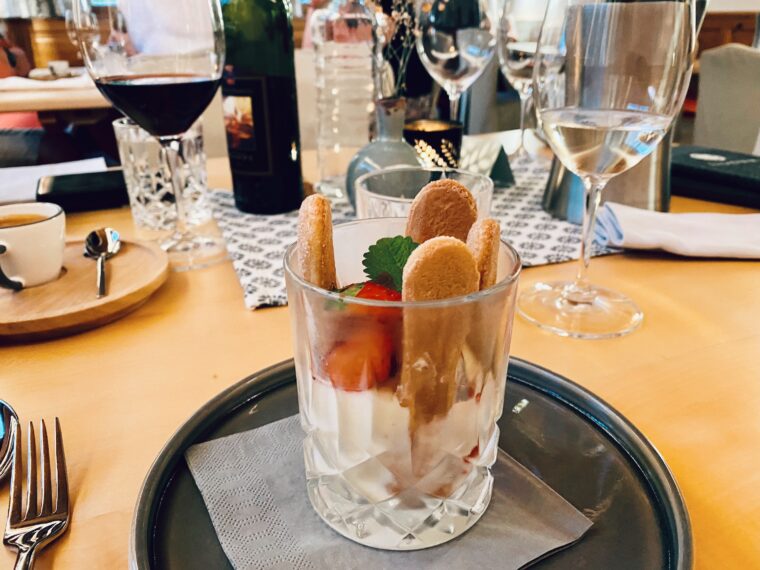 Am Folgetag haben wir uns zu einer 3-stündigen Wanderung aufgemacht, um an das Jakobskreuz zu gelangen. Normalerweise braucht man hier nicht länger als 2 Stunden, dennoch sind wir bei jeder Blume, jedem Schmetterling oder ausgefallenem Fotomotiv stehen geblieben und haben somit die Natur aufgesaugt 🙂 Es war klasse! Das Jakobskreuz steht auf 1800 m und ist das größte begehbare Gipfelkreuz der Welt! Hinauf geht es über die Buchensteinwand- verschiedene Wege mit unterschiedlicher Steigung sind hier für Klein und Groß möglich. Und wenn man nicht wandern möchte, kann man sich einfach in die Bergbahn setzen. Wir sind bis an den Gipfel gewandert, haben uns eine Mittagsjause in dem Gipfelrestaurant "das Weitblick" gegönnt und sind danach mit dem 4er-Sessellift ins Tal geschwebt. Insgesamt war unsere Wanderung an diesem Tag 10,7 km.
The following day, we set out on a 3-hour hike to get to the Jacob's Cross. Normally you don't need more than 2 hours here, yet we stopped at every flower, butterfly or fancy photo motif and thus soaked up nature 🙂 It was great! The Jakobskreuz stands at 1800 m and is the largest walkable summit cross in the world! Up it goes over the Buchensteinwand- different paths with different gradients are possible here for young and old. And if you don't want to hike, you can just sit in the mountain railroad. We hiked to the top, treated ourselves to a midday snack in the summit restaurant "das Weitblick" and then took the chairlift down to the valley. In total, our hike that day was around 10.7 km.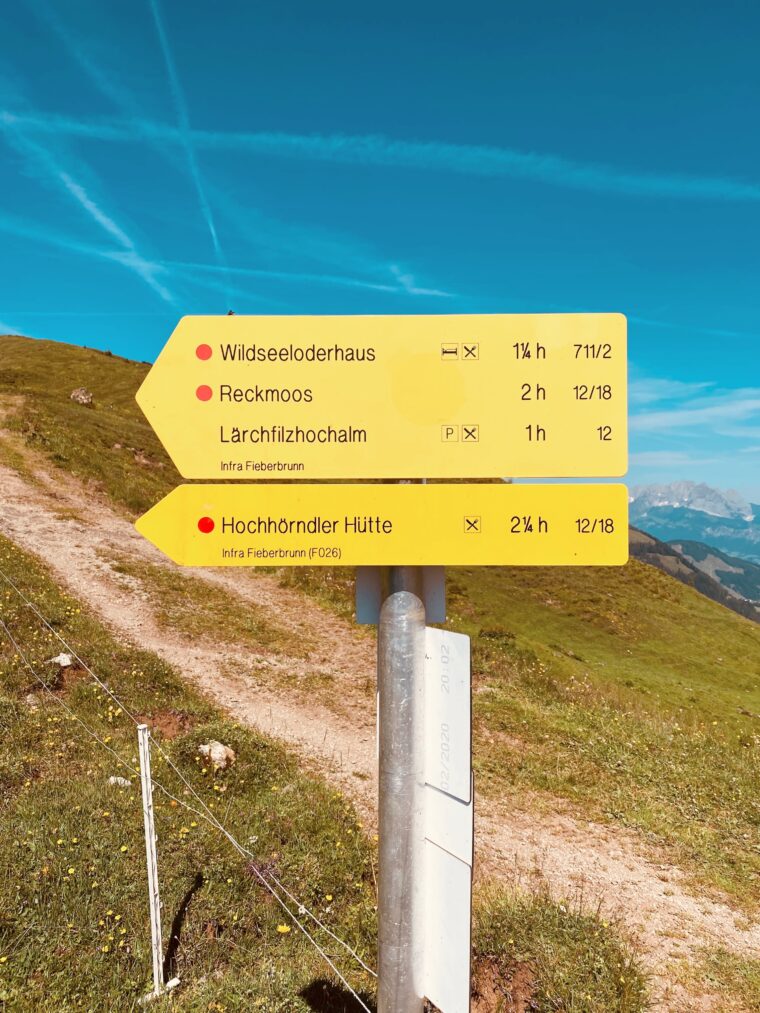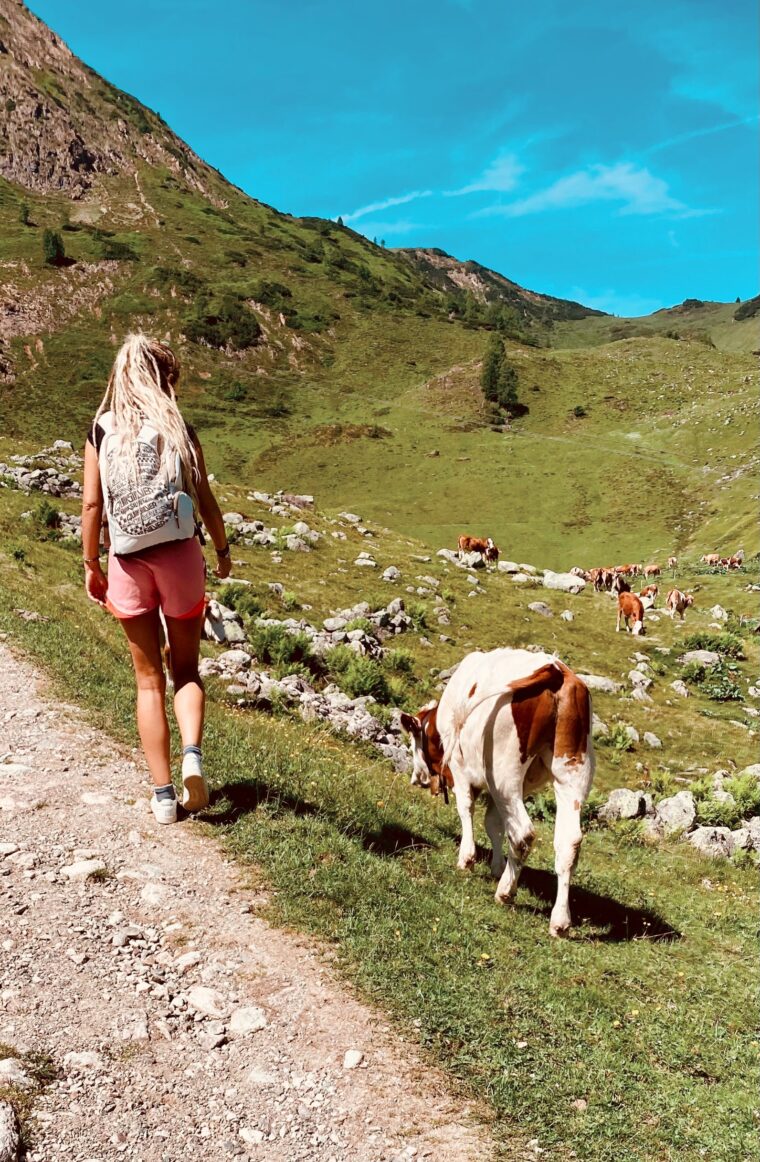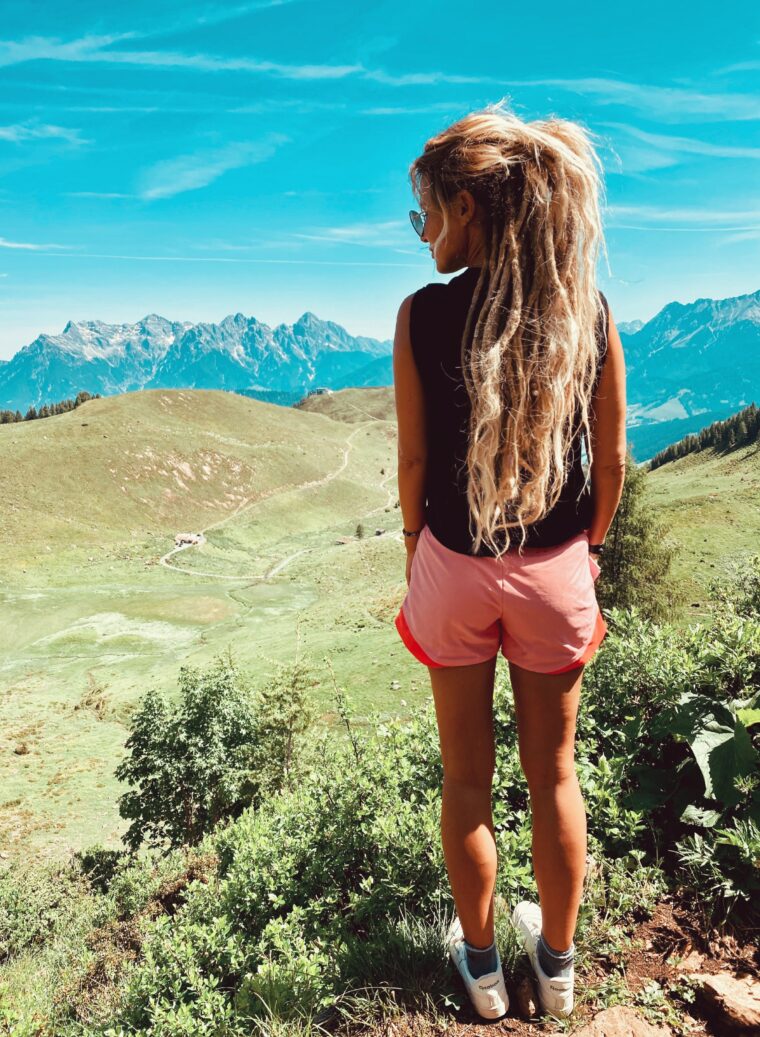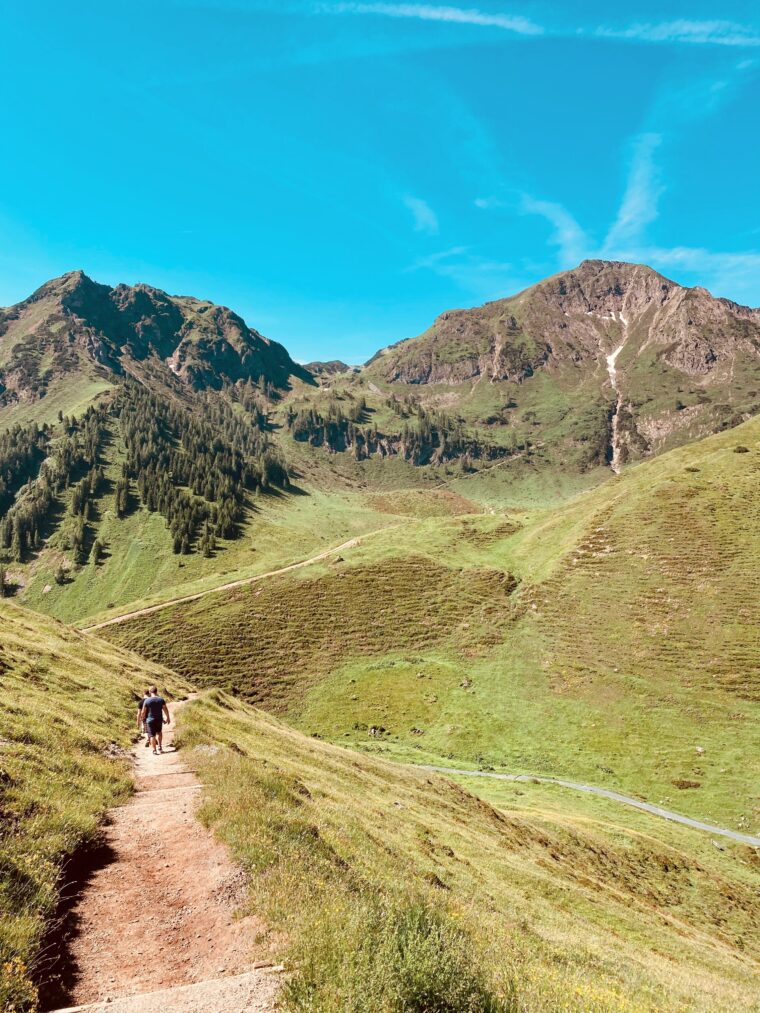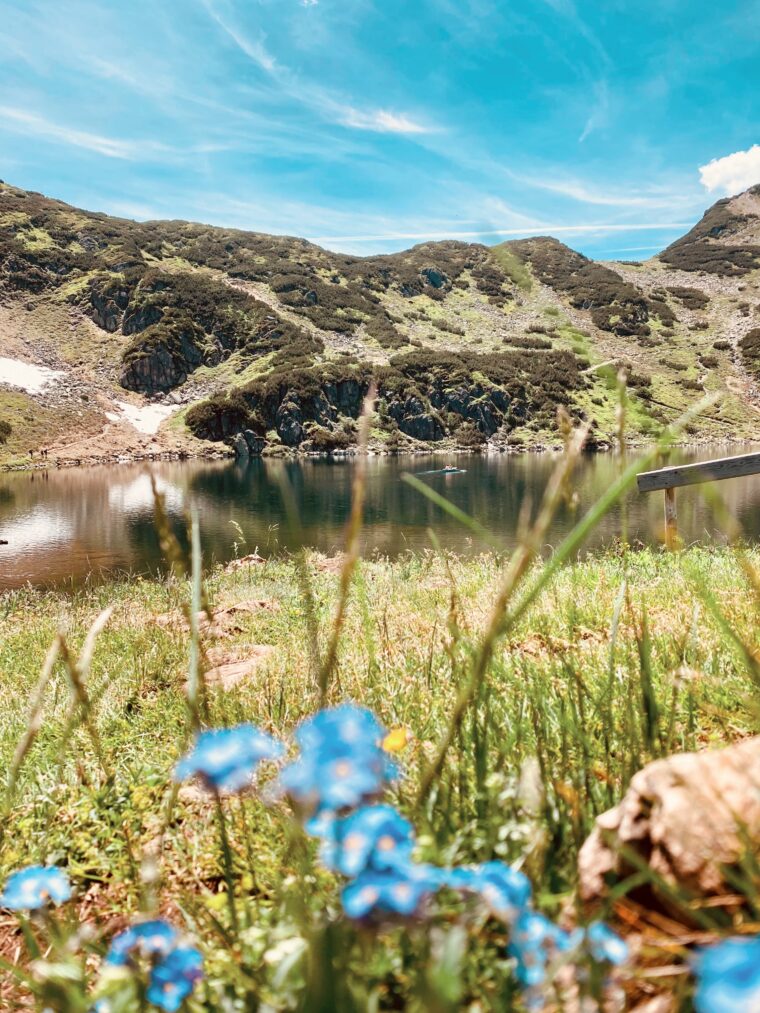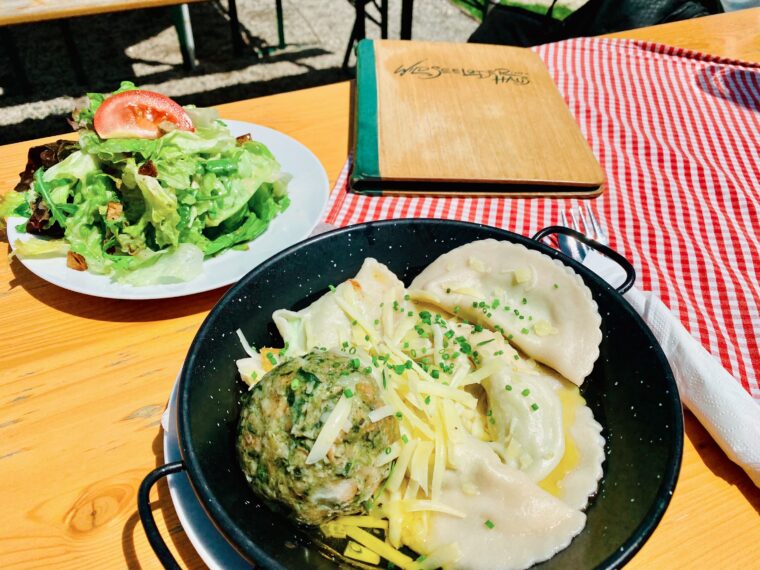 Am nächsten Tag haben wir uns auf den Weg zur Bergbahn Fieberbrunn gemacht, um mit der Bahn zum Lärchfilzkogel hochzufahren. Hier startet man schon auf einer Höhe von 1654 m, um dem Ziel, dem Wildseeloder,ein Stückchen näher zu sein. Der Wildseeloder befindet sich auf einer Höhe von 2118 m – ein bezaubernder natürlicher Bergsee umringt von wunderschönen Gipfeln. Wenn man zum Wildseeloder hoch wandert, bezwingt man ca. 600 Höhenmeter, die aber für die schöne Aussicht allemahl entschädigen. Oben angekommen findet man das kleine Wildseeloderhaus, auf der man wunderbar essen kann. Bernhard und sein Team bieten sogar Übernachtungsmöglichkeiten an. Der Wildseeloder ist sehr kühl, aber bei einem heißen Sommertag wie bei uns, sind sogar einige ins kühle Nass. Auch ein Ruderboot befindet sich am Steg. Beim Abstieg haben wir uns wieder mit der wundervollen Marion getroffen, um gemeinsam den Berg hinab zu steigen. Eingekehrt wurde dann nochmal im Wildalpgatterl, einer wunderbaren urigen Hütte mit fantastischen Marilleknödeln!
The next day we made our way to Bergbahn Fieberbrunn to take the cable car up to Lärchfilzkogel. Here you start already at an altitude of 1654 m to be a bit closer to the destination, the Wildseeloder. The Wildseeloder is located at an altitude of 2118 m – a charming natural mountain lake surrounded by beautiful peaks. If you hike up to the Wildseeloder, you will conquer about 600 meters of altitude, but this compensates for the beautiful view. At the top you will find the small Wildseeloderhaus, where you can have a wonderful meal. Bernhard and his team even offer overnight accommodation. The Wildseeloder is very cold but on a hot summer day like ours, some jumped into the cool water. There is also a rowing boat at the jetty. On the descent, we met up again with the wonderful Marion to hike down the mountain together. We then stopped again at Wildalpgatterl, a wonderful rustic hut with fantastic apricot dumplings!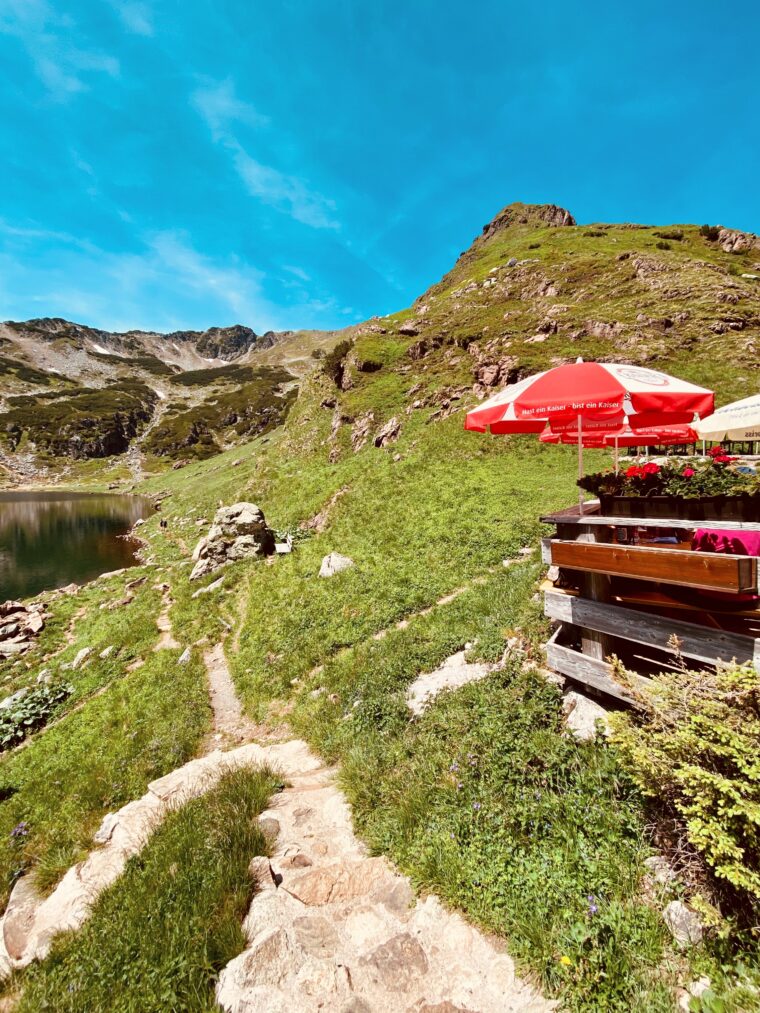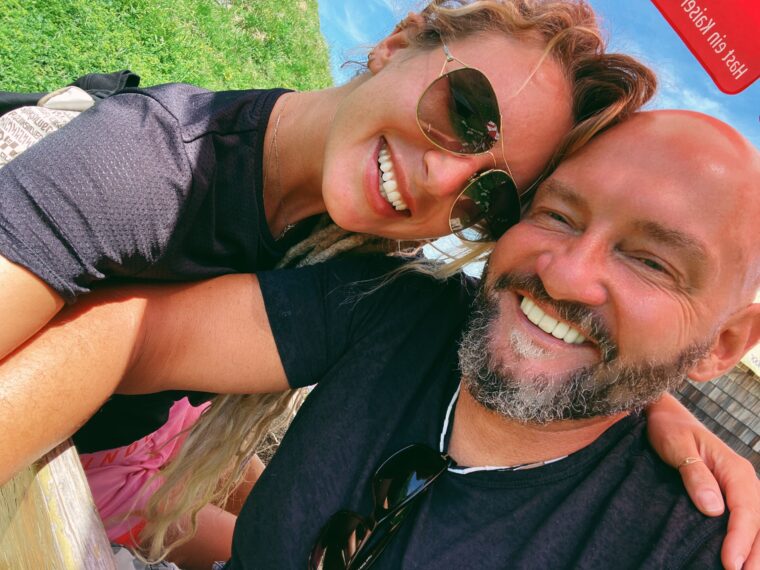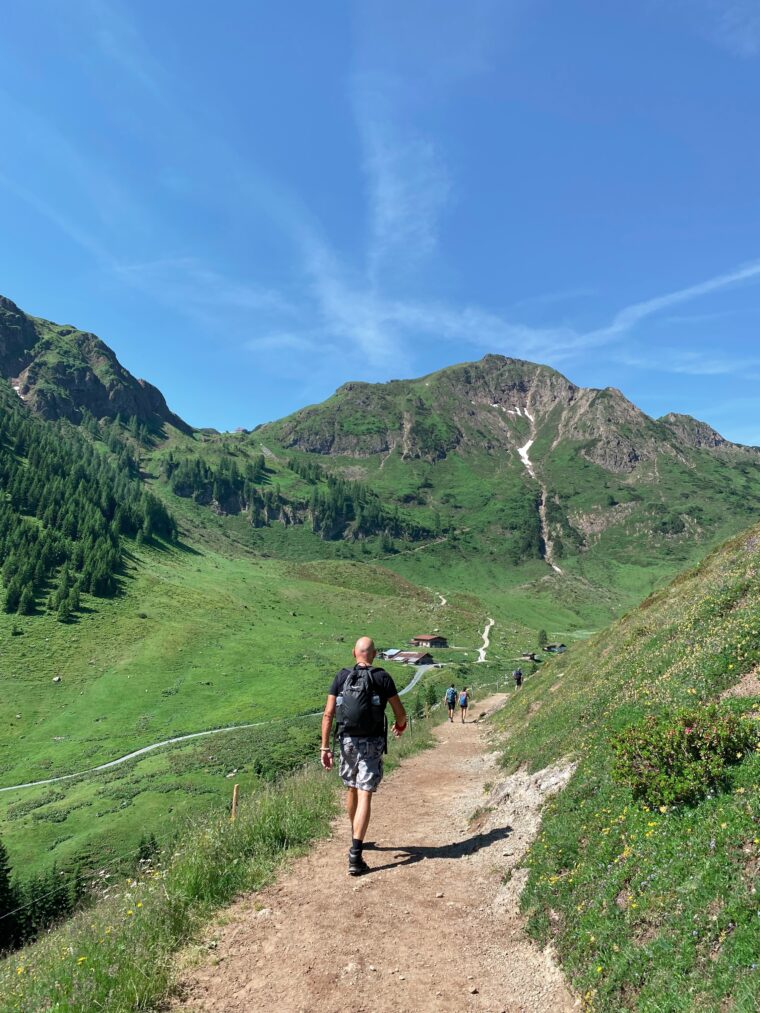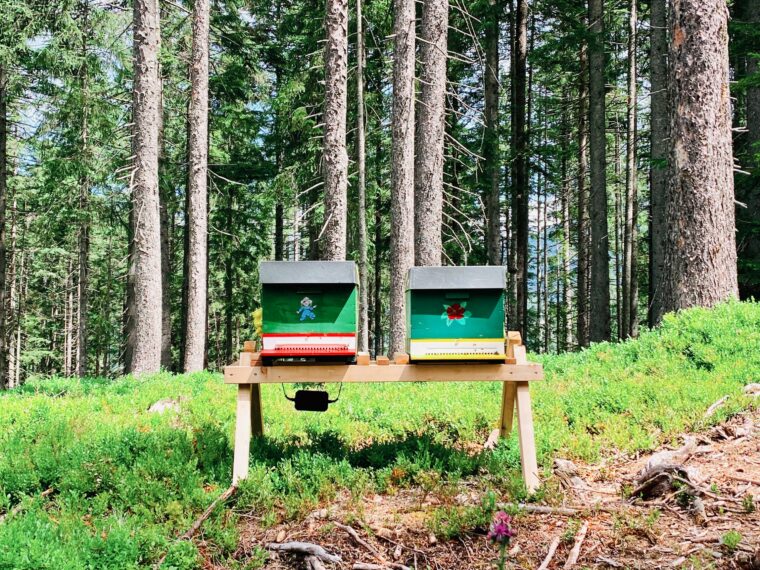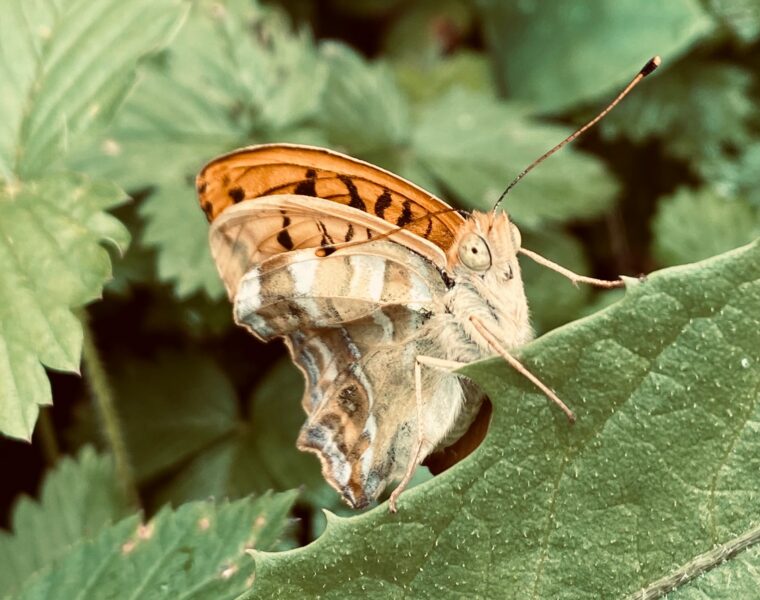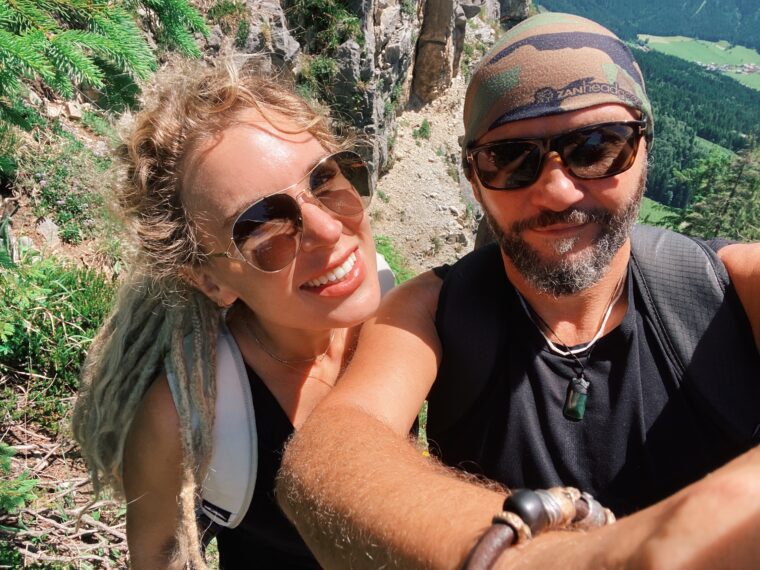 Das Pillerseetal in den Kitzbuehler Alpen ist wirklich eine Reise wert! Hier kommt jeder auf seine Kosten – ob jung oder alt, Adventure- oder Wellnessurlaub. Sommer sowie auch der Winter zum Skifahren & Co haben seinen Charme. Von Herzen ein großes Dankeschön an das wunderbare Team des Grosslehens sowie Marion und Sarah – ihr macht Fieberbrunn für mich immer unvergesslich.
Ich kann euch übrigens auch wärmstens empfehlen mit der Bahn anzureisen. Man ist sogar schneller als auf vier Rädern, steht in keinem Stau und kann seine Zeit währenddessen sinnvoll nutzen. Ein Ticket ist easy über die Bahn buchbar.
The Pillerseetal in the Kitzbuehler Alps is really worth a trip! Here, everyone is happy – whether young or old, adventure or wellness vacation. Summer as well as winter for skiing & Co have its charm. From the bottom of my heart, a big thank you to the wonderful team of the Grosslehen as well as Marion and Sarah – you always make Fieberbrunn unforgettable for me. 
By the way, I can also warmly recommend you to travel by train. You are even faster than on four wheels, there is no traffic jam and you can use your time wisely. A ticket is easy to book via the railroad.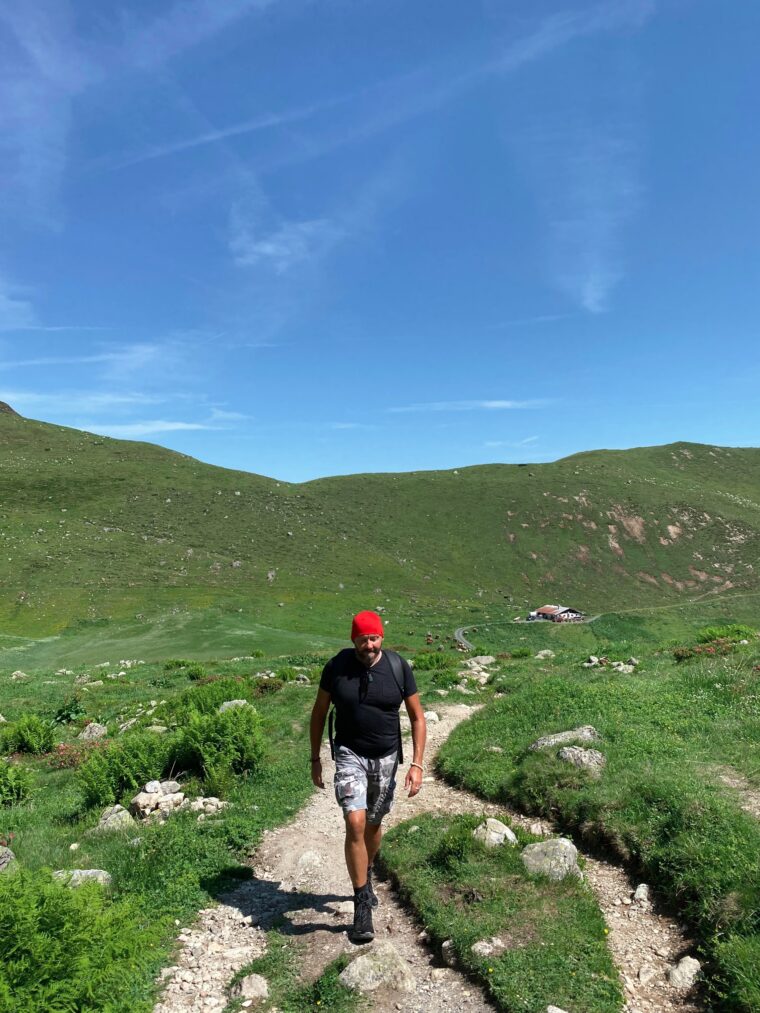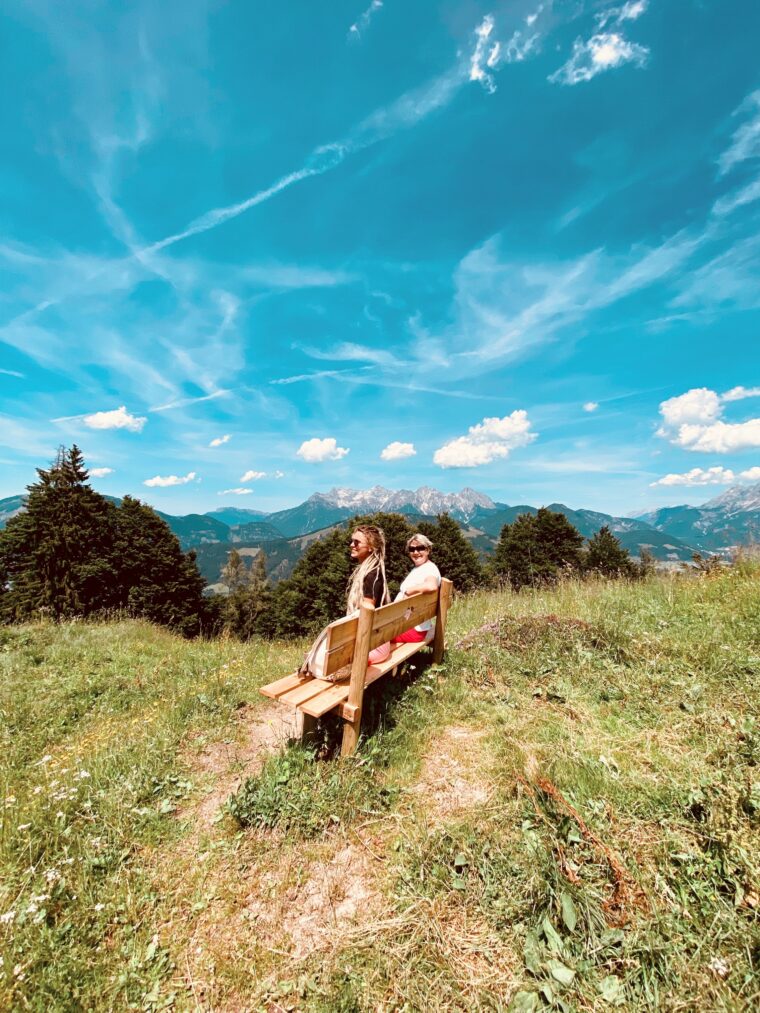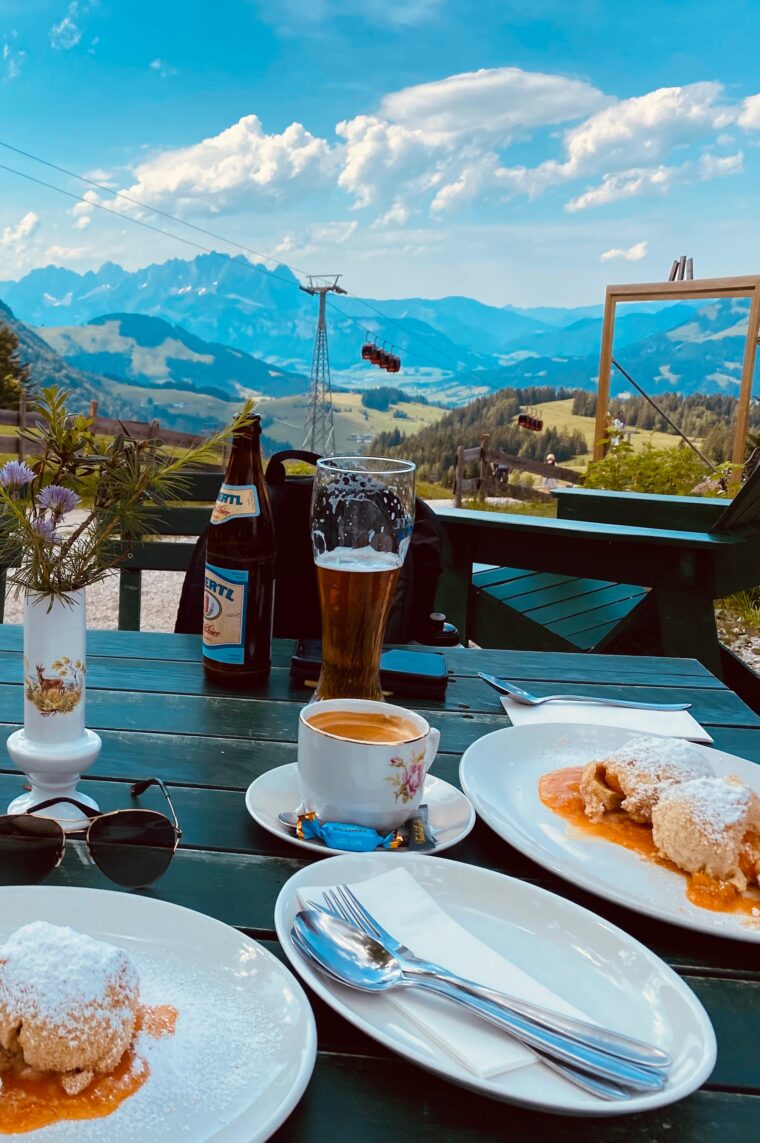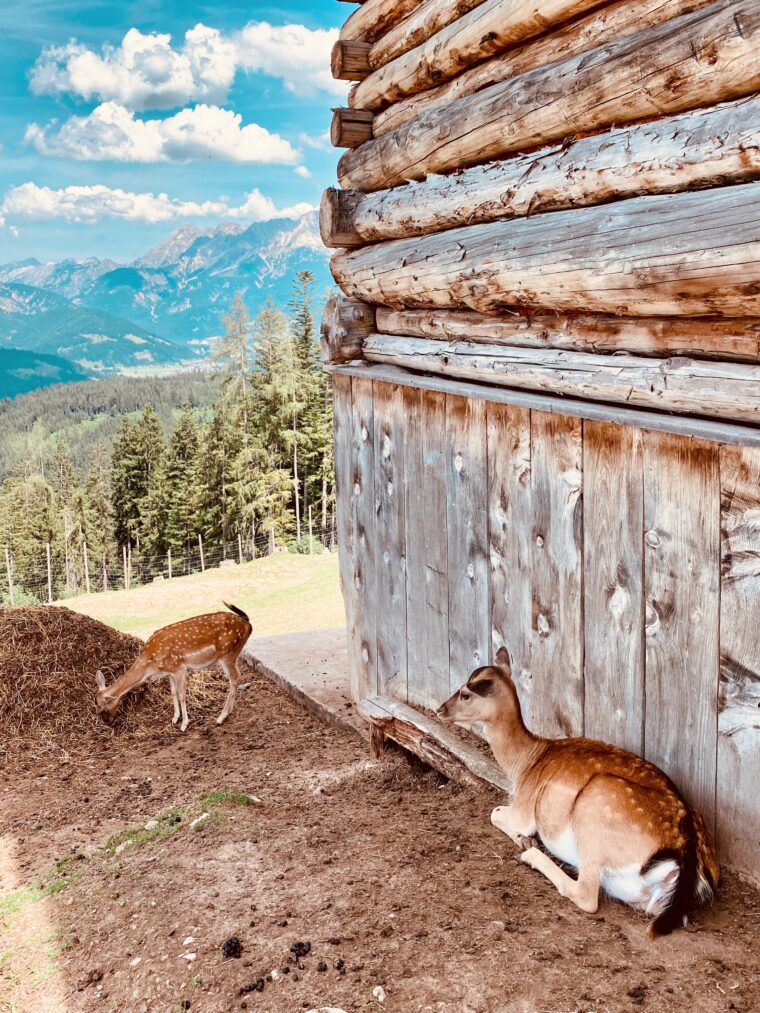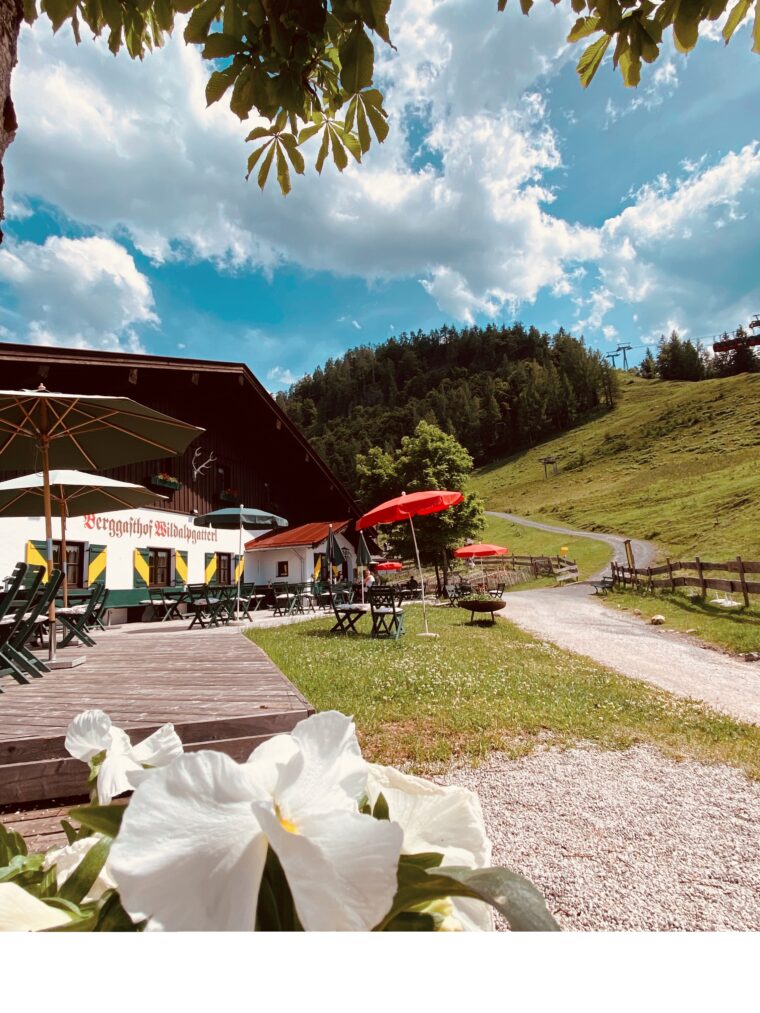 In liebevoller Zusammenarbeit mit dem Tourismusverband PILLERSEETAL