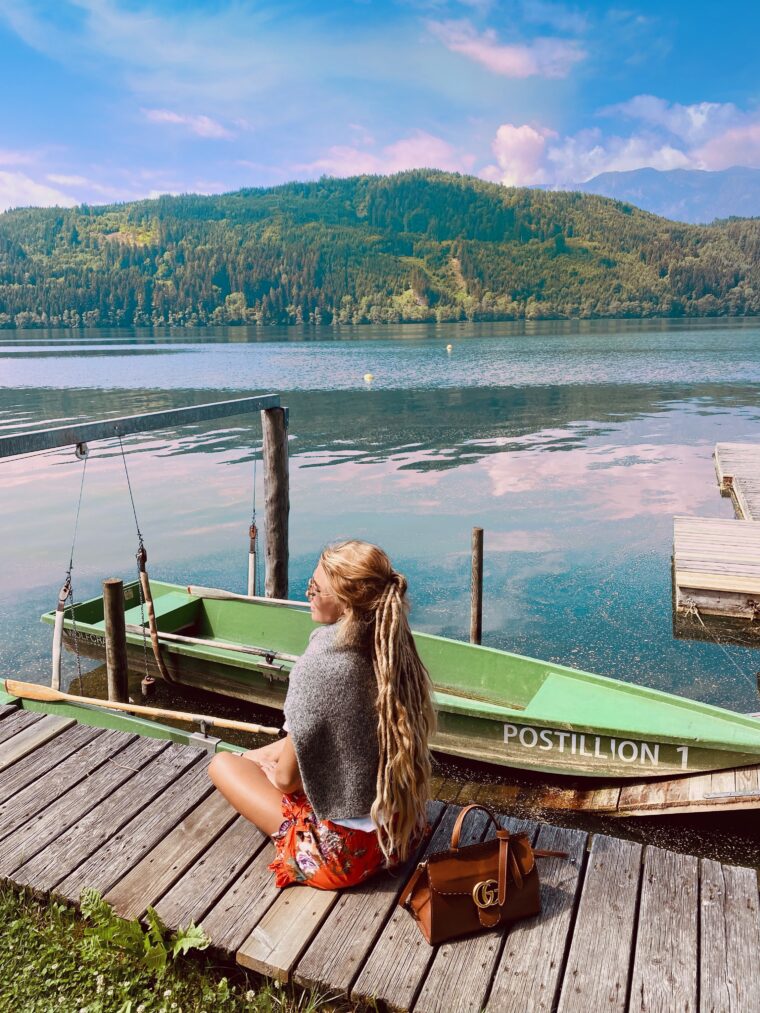 VILLA POSTILLION – die Villa Postillion befindet sich direkt in Millstatt (Kärnten) mit eigenem Zugang zum Millstätter See mit einer wunderschönen Seewiese. Hier durften wir nun meinen dritten Aufenthalt innerhalb der letzten vier Jahre verbringen, und – ich habe es mal wieder sehr genossen! Mit der Villa Postillion am See kann man nichts verkehrt machen. Hier wird jeder Wunsch von den Augen abgelesen und ob Kulinarik, Wassersport, Natur, Wandern, Wellness & Co, jeder Gast kommt auf seine Kosten. Die Location ist ein Traum! 2019 wurde das Hotel renoviert und nun erstrahlt es wieder in vollem Glanz. Als Urlauber hat man das Gefühl, richtig zur Familie zu gehören – Frau Sichrowsky begrüßt beim abendlichen Dinner die Gäste noch selbst und erkundigt sich reihum täglich über das Wohlbefinden. Die ganze Familie packt mit an beim Familienbetrieb um den Hotelgästen einen unvergesslichen wundervollen Aufenthalt zu bieten. Die Villa Postillion strahlt mediterranen Flair aus; gepaart mit einer Leichtigkeit aus Lebensfreude und familiärem Umfeld. 1894 wurde die Villa Postillion als Ferienvilla errichtet, nun ist sie seit 1972 Hotel. Peter Sichrowsky ist mit seinen 41 Jahren der Hotelchef, leidenschaftlicher Angler und ein super herzlicher Gastgeber. Wir waren mit ihm auf dem See und konnten uns mit ihm über die Unterwasserwelt, den Millstätter See und aktuelle Welt-Geschehnisse unterhalten.
VILLA POSTILLION – Villa Postillion is located directly in Millstatt with its own access to the Millstätter See with a beautiful lakeside meadow. Here we were now allowed to spend my third stay within the last four years, and – I enjoyed it very much! You can't go wrong with Villa Postillion on the lake. Here, every wish is read from the eyes and whether culinary, water sports, nature, hiking, wellness & Co, every guest gets his money's worth. The location is a dream! In 2019, the hotel was renovated and now it shines again in full splendor. As a vacationer, you have the feeling of really belonging to the family – Mrs. Sichrowsky still greets the guests herself at the evening dinner and inquires in turn about the well-being. The whole family is involved in the family business to offer the hotel guests an unforgettable wonderful stay. The Villa Postillion radiates a Mediterranean flair; coupled with a lightness of 'joie de vivre' and a family environment. In 1894 Villa Postillion was built as a vacation villa, now it has been a hotel since 1972. Peter Sichrowsky is the hotel manager, a passionate angler and a super warm host. We were with him on the lake and could talk with him about the underwater world, the Millstätter See and current world events.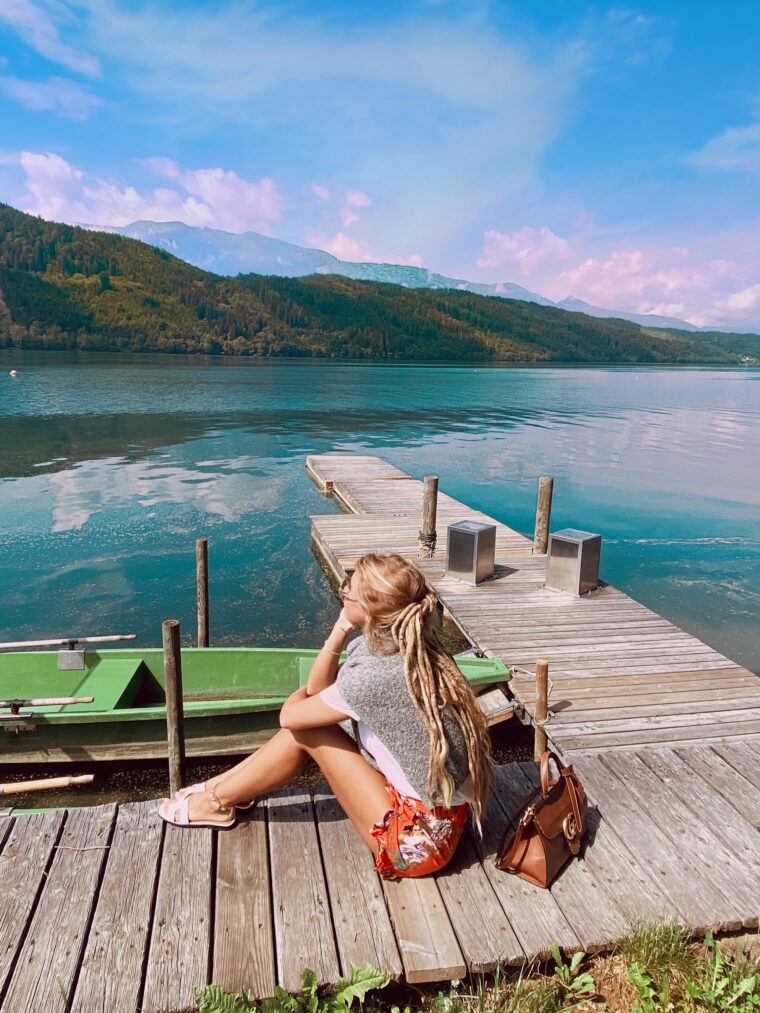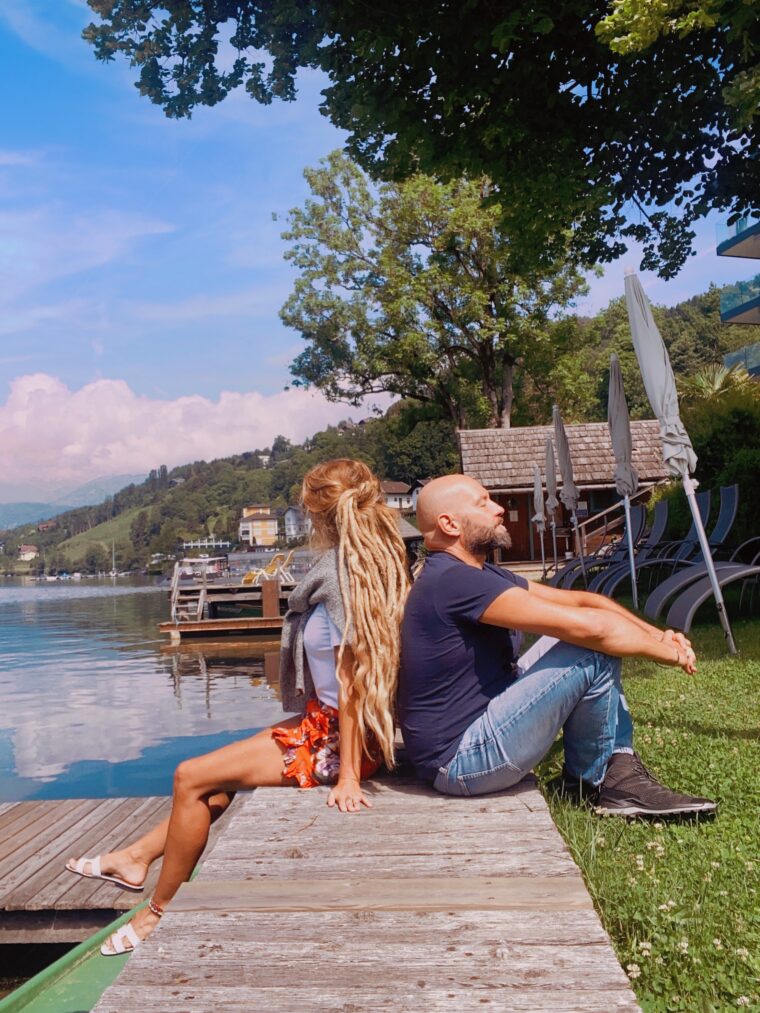 Die Zimmer des Hotels sind alle Richtung See ausgerichtet und mit schönen Naturmaterialien gestaltet. Wohlfühl – Atmosphäre pur! Auch der Wellnessbereich bietet alles, was man braucht; Dampfsauna, normale Sauna, Ruheraum, Außenbereich mit Pool und sogar direkt am See noch eine Holzsauna, die angenehme 90 Grad hat – im Anschluss kann man sich im See abkühlen! Ich finde es einfach so schön, diesen Mix aus Natur, See, Wellness und wunderbarem Hotel an einem Ort zu haben! Seit einiger Zeit bietet die Villa Postillion auch Massagen, Verwöhnprogramme wie zum Beispiel Kosmetik, Yoga, (Klangschalen-) Meditation, Trommeln und Shiatsu. Shiatsu kommt aus dem Japanischen und bedeutet 'Fingerdruck'. Hier werden mit Fingern und Handballen Druck auf bestimmte Körperstellen ausgeübt, um die Meridiane zu harmonisieren, Blockaden zu lösen und den Körper wieder mit ausreichend Energie und Lebensfluss zu versorgen.
The rooms of the hotel are all oriented towards the lake and designed with beautiful natural materials. Pure feel-good atmosphere! Also the wellness area offers everything you need; steam sauna, normal sauna, relaxation room, outdoor area with pool and even directly on the lake still a wooden sauna which has a pleasant 90 degrees – afterwards you can cool off in the lake! I just find it so nice to have this mix of nature, lake, wellness and a wonderful hotel in one place! For some time now, Villa Postillion has also been offering massages, pampering programs such as cosmetics, yoga, (singing bowl) meditation, drumming and shiatsu. Shiatsu comes from the Japanese and means 'finger pressure'. Here, pressure is applied to certain parts of the body with fingers and the heel of the hand in order to harmonize the meridians, release blockages and restore sufficient energy and life flow to the body.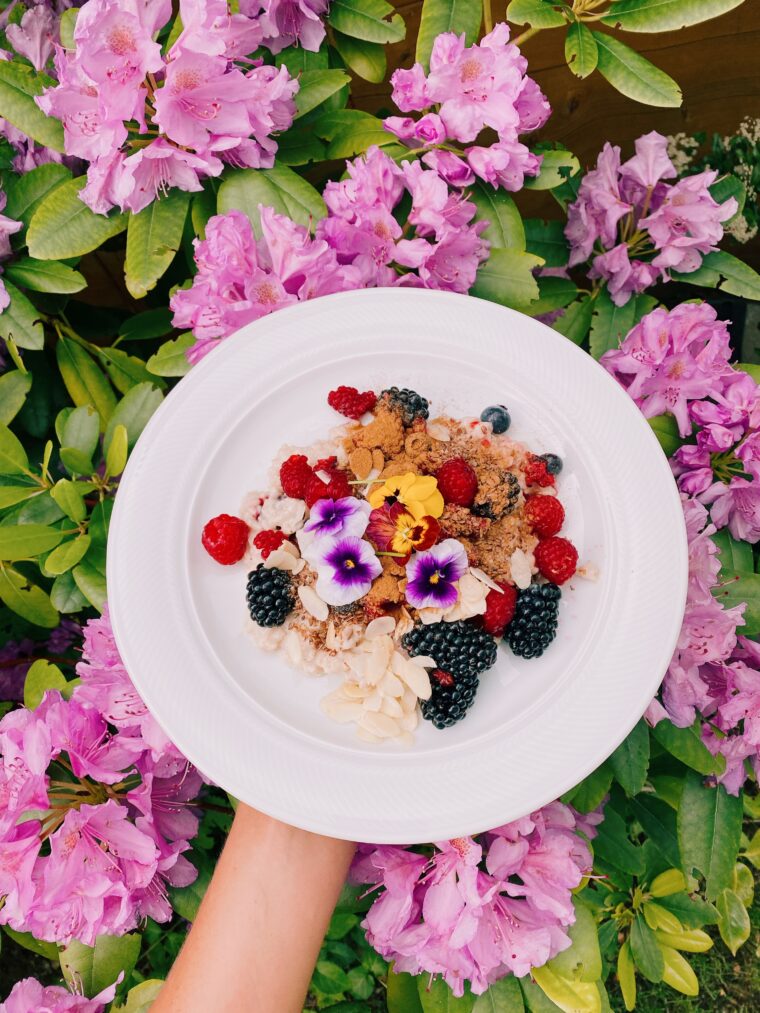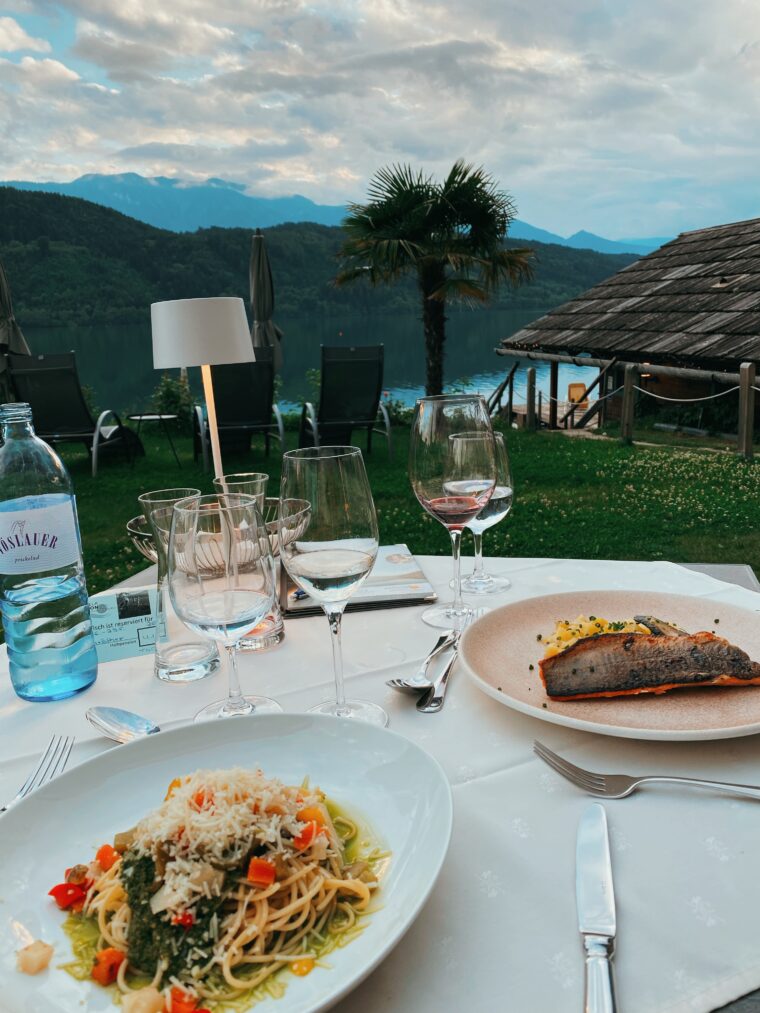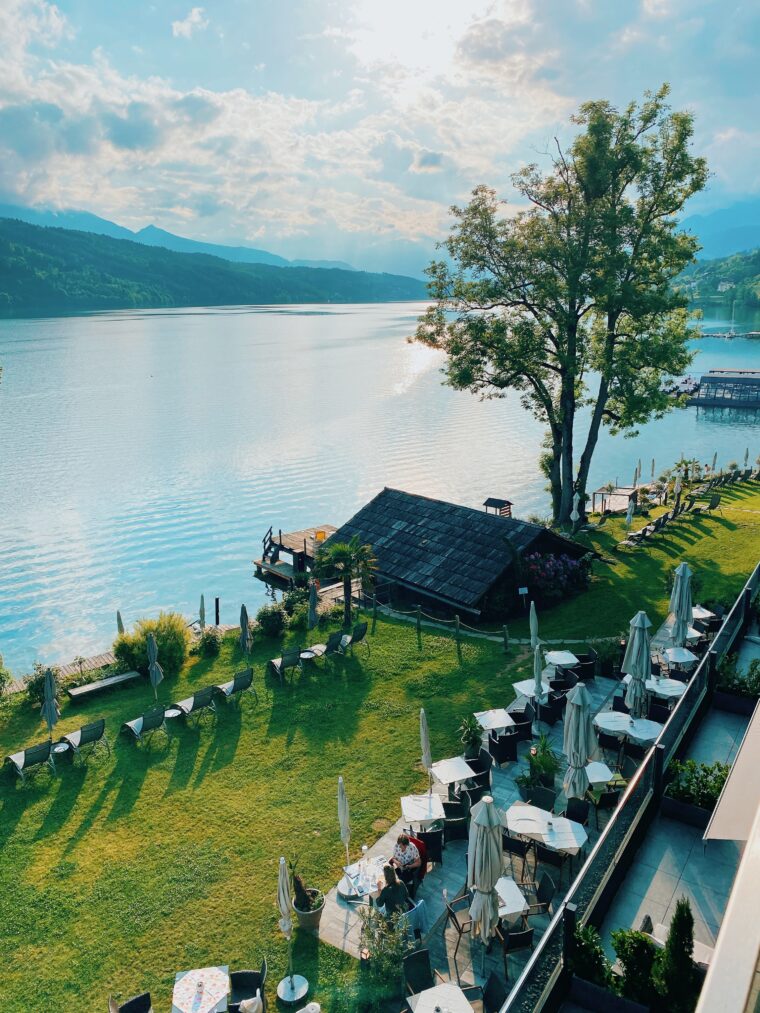 Auch Kulinarisch bietet das Hotel und die wunderbare Küche alles, was das Herz höher schlagen lässt; regionale frische Produkte, selbst der Fisch kommt größtenteils aus dem Millstätter See. Auch für die Veganer unter uns ist überall etwas zu finden – garniert mit frischen essbaren Blüten aus dem Garten. Für mich als Ästhet, bei dem das Auge immer mit isst, sehr wichtig! (und natürlich gut für meine Fotos!) Es gibt sogar glutenfreie Alternativen, eine Saftpresse und frische Eierspeisen, die man direkt am Buffet zubereiten lassen kann.
Also culinary the hotel and the wonderful kitchen offers everything that makes the heart beat faster; regional fresh products, even the fish comes mostly from the Millstätter See. Even for the vegans among us there is something to be found everywhere – garnished with fresh edible flowers from the garden. For me as an aesthete where the eye always eats with you, very important! (and of course good for my photos!) There are even gluten-free alternatives, a juicer and fresh egg dishes that you can have prepared directly at the buffet.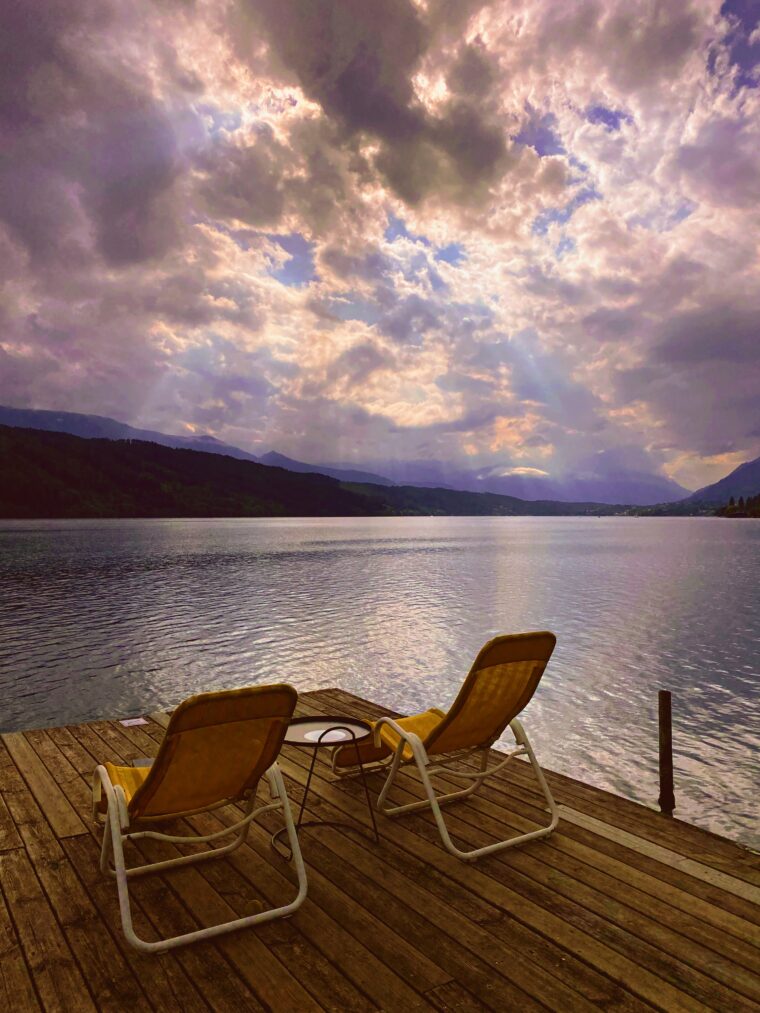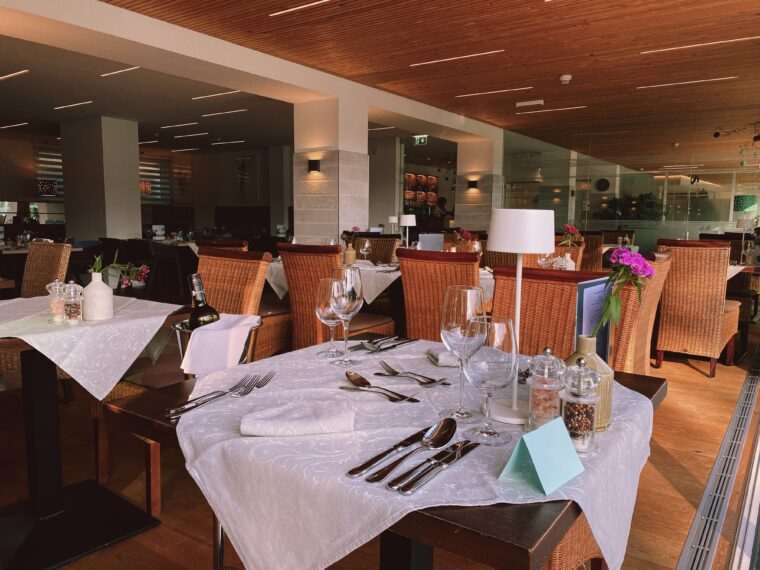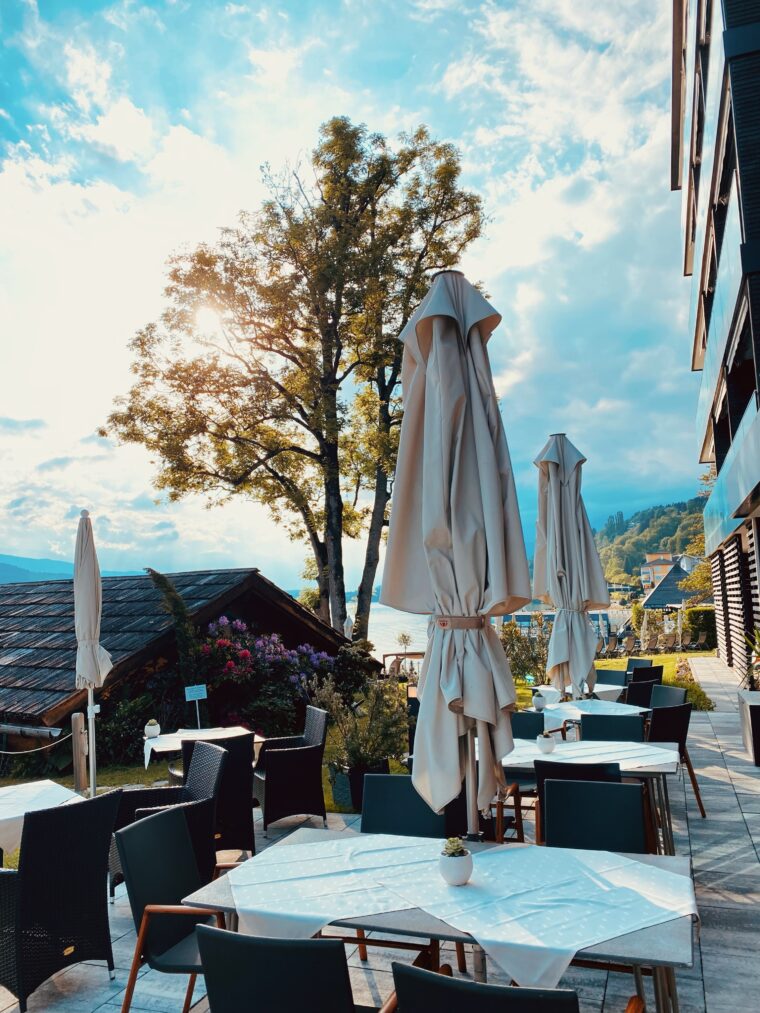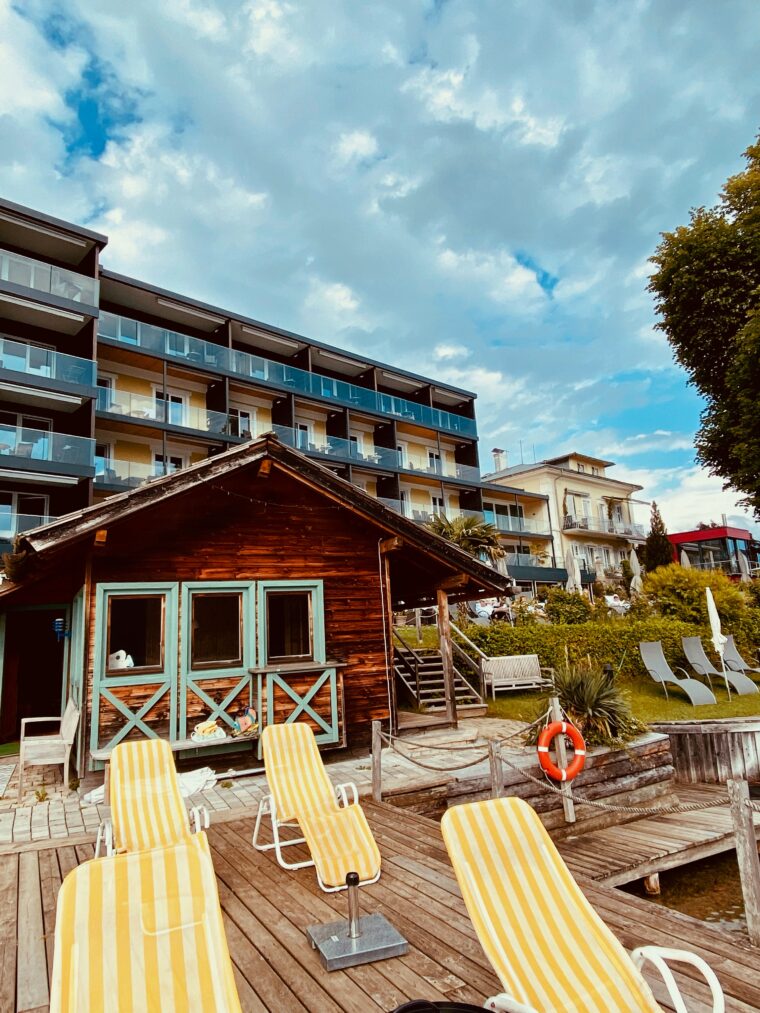 Wie schon in meinen anderen Artikeln erwähnt, gibt es am Millstätter See mehrere Biwaks, in denen man sich auch zur Übernachtung einmieten kann. Auch die Villa Postillion hat auf ihrer Seewiese ein Biwak stehen, in welchem wir die letzte Nacht vor unserer Abreise die angenehm kühle Seeluft inhalieren konnten. Das Dach ist sogar verglast, sodass man bei klarem Himmel die Sterne sehen kann – ein Traum! Es gibt einen Gourmetkorb und Frühstück, wobei man natürlich auch den Service des Hotels im Speisesaal oder auf der Restaurantterrasse in Anspruch nehmen kann. Wir haben uns aber für die Privatsphäre auf unserer eigenen Biwak – Terrasse entschieden und den ruhigen Blick auf den Millstätter See genossen. Nicht umsonst heißt genau dieses Biwak 'Biwak Sonnenuntergang'.
As already mentioned in my other articles, there are several bivouacs on Lake Millstatt where you can also rent for the night. Villa Postillion also has a bivouac on its lakeside meadow, where we were able to inhale the pleasantly cool lake air the last night before our departure. The roof is even glazed so you can see the stars on a clear day – a dream! There's a gourmet basket and breakfast, though of course you can also use the hotel's services in the dining room or on the restaurant terrace. But we went for privacy on our own bivouac – terrace and enjoyed the quiet view of Lake Millstatt. By the way; this bivouac is called 'Bivouac Sunset'.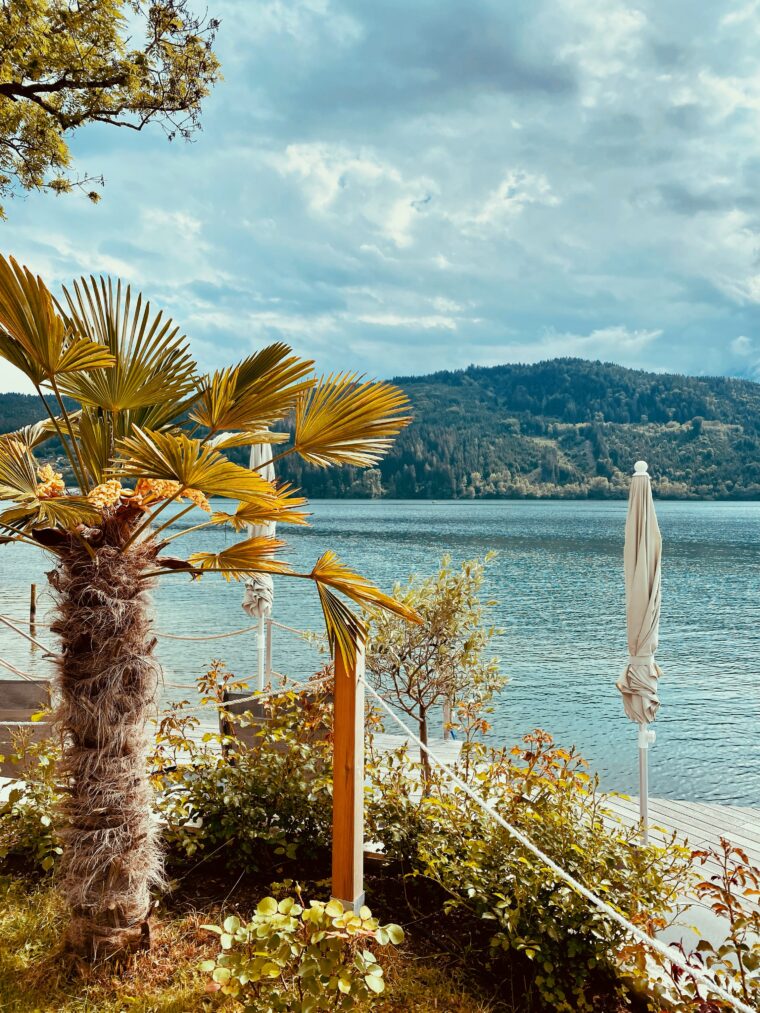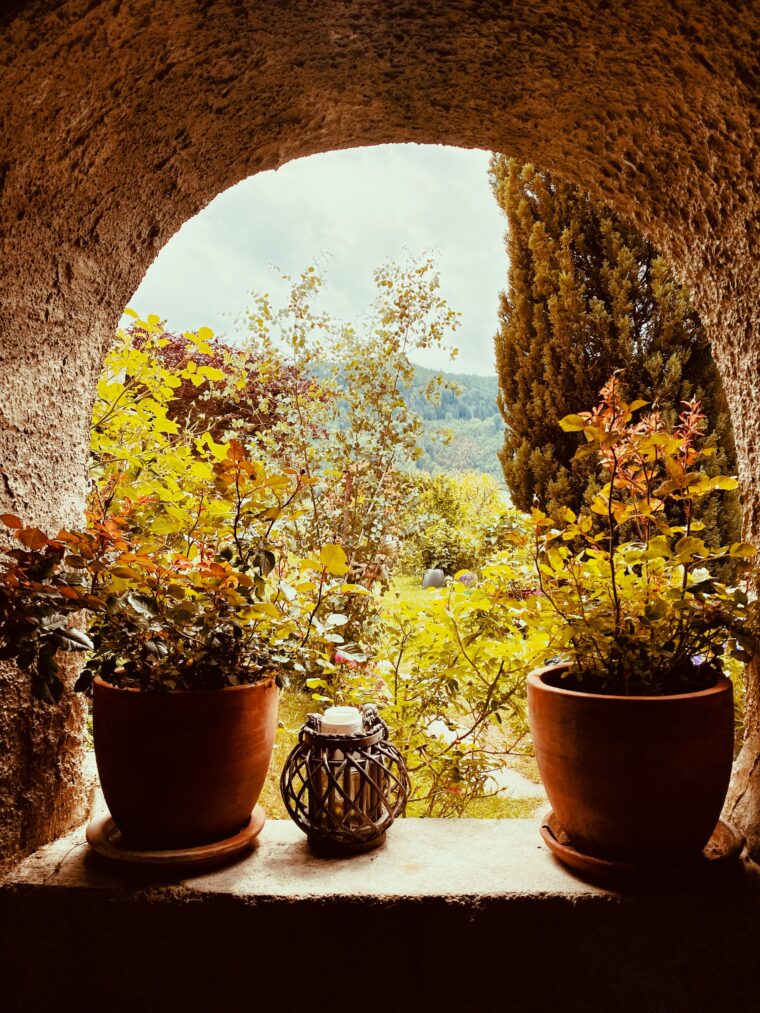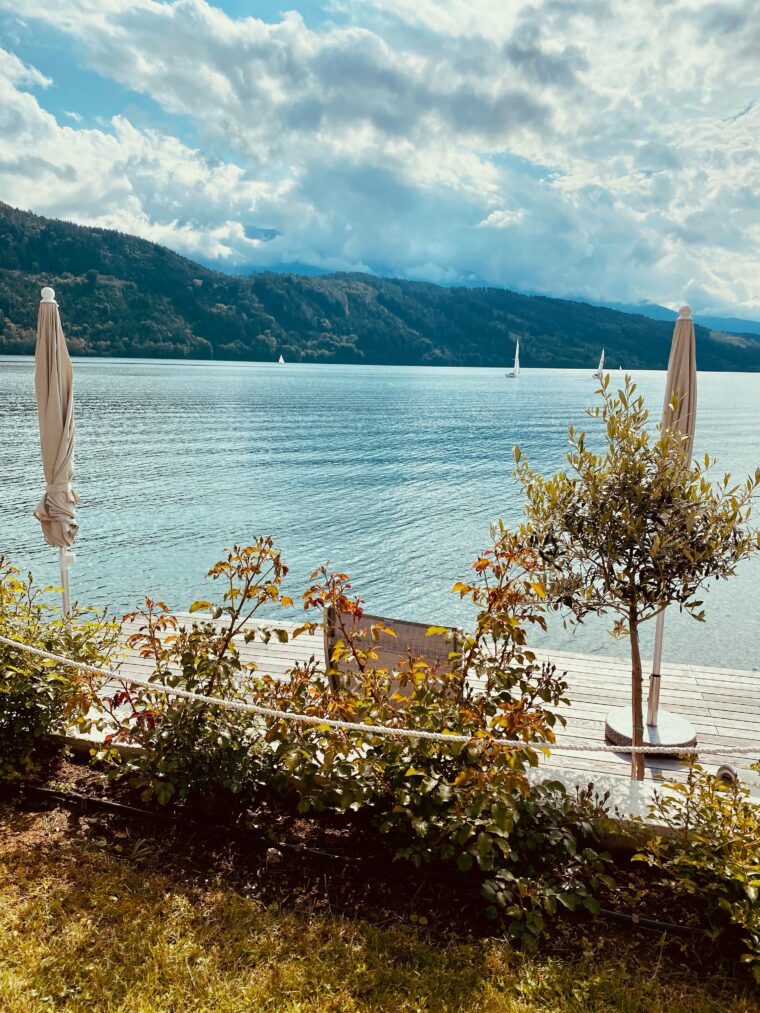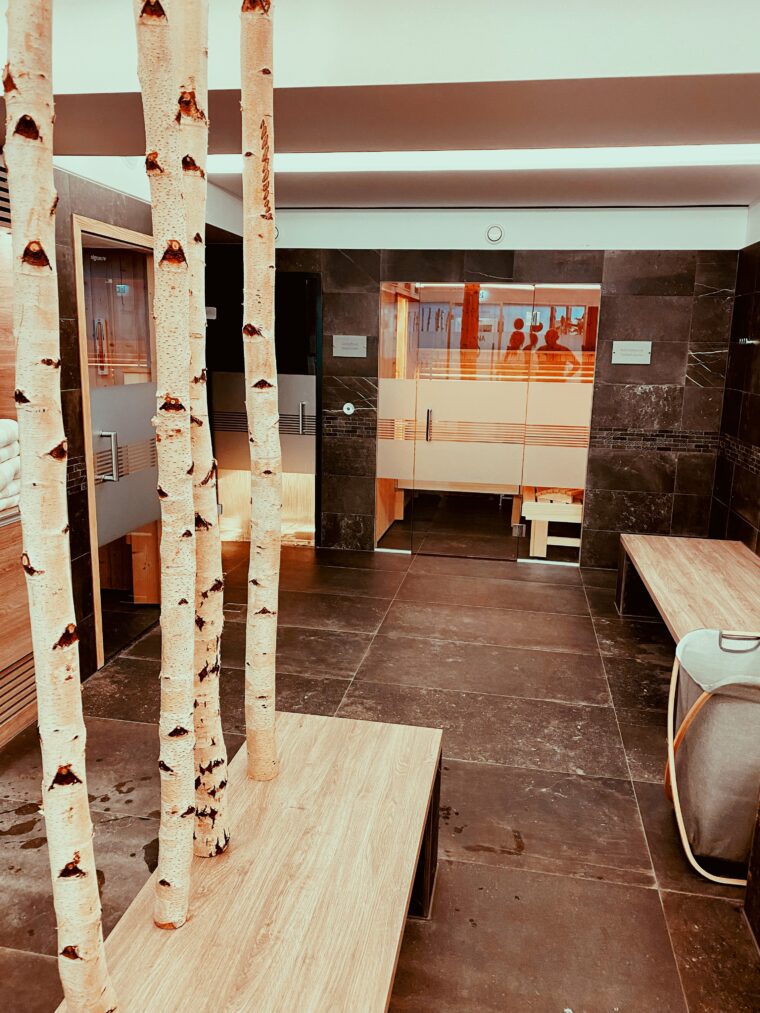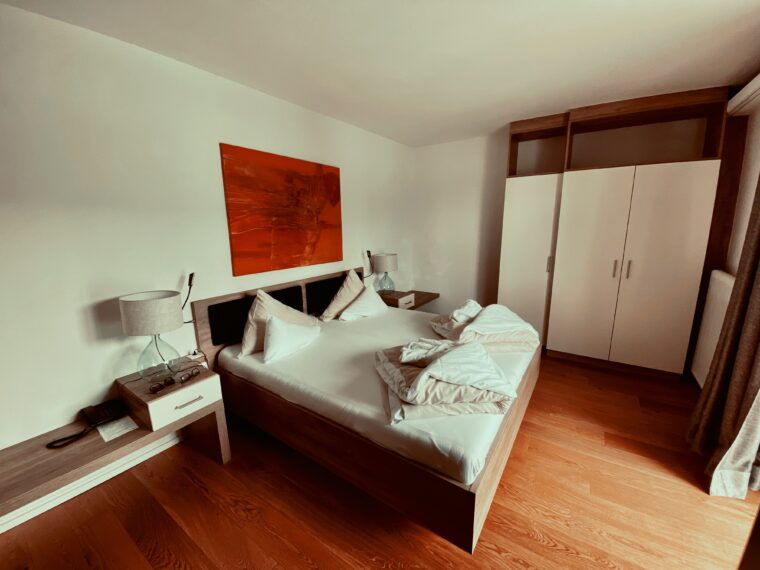 Natürlich gibt es auch außerhalb des Hotels sehr viel rund um den Millstätter See zu entdecken! Nur um ein paar dieser unzähligen Aktivitäten zu nennen; Fahrrad fahren (sehr viele bieten hier Fahrradverleih an, sogar E-Bikes – auch in der Villa Postillion), wandern auf wunderschöne Almen mit Blick auf den Millstätter See, Rudern in einsame Buchten, SUP, Etappen des Weitwanderweges 'Via Paradiso' – wandern entlang des Hochplateaus mit wunderbarem Weitblick auf See und die umliegenden Berge, Bonsaimuseum in Seeboden, Burg Sommeregg, Stift Millstatt, 1. Kärntner Badehaus, das Sagamundo (mystische Berg- und Wasserwesen), verschiedene tolle Restaurants (wie z.B. das L'Onda, Wirtshaus Lindenhof, Burschenschenke, der Italiener Peppino, …), Wasserski, Freibäder, usw.  Hier wird es definitv NICHT langweilig – für den Gast ist etwas geboten. Wir haben den wundervollen Aufenthalt in vollen Zügen genossen und freuen uns schon auf das nächste Mal.
Of course, there is also a lot to discover outside the hotel around Lake Millstatt! Just to name a few of these countless activities; cycling (many offer bike rental here, even e-bikes – also in Villa Postillion), hiking to beautiful alpine pastures overlooking Lake Millstatt, rowing in secluded bays, SUP, stages of the long-distance hiking trail 'Via Paradiso' – hiking along the plateau with wonderful views of the lake and surrounding mountains, bonsai museum in Seeboden, Sommeregg Castle, Millstatt Abbey, 1. Carinthian bathhouse, the Sagamundo (mystical mountain and water creatures), various great restaurants (such as the L'Onda, Wirtshaus Lindenhof, Burschenschenke, the Italian Peppino, …), water skiing, outdoor pools, etc.  Here it's definitely NOT boring – there is something for the guest. We enjoyed the wonderful stay to the fullest and are already looking forward to the next time.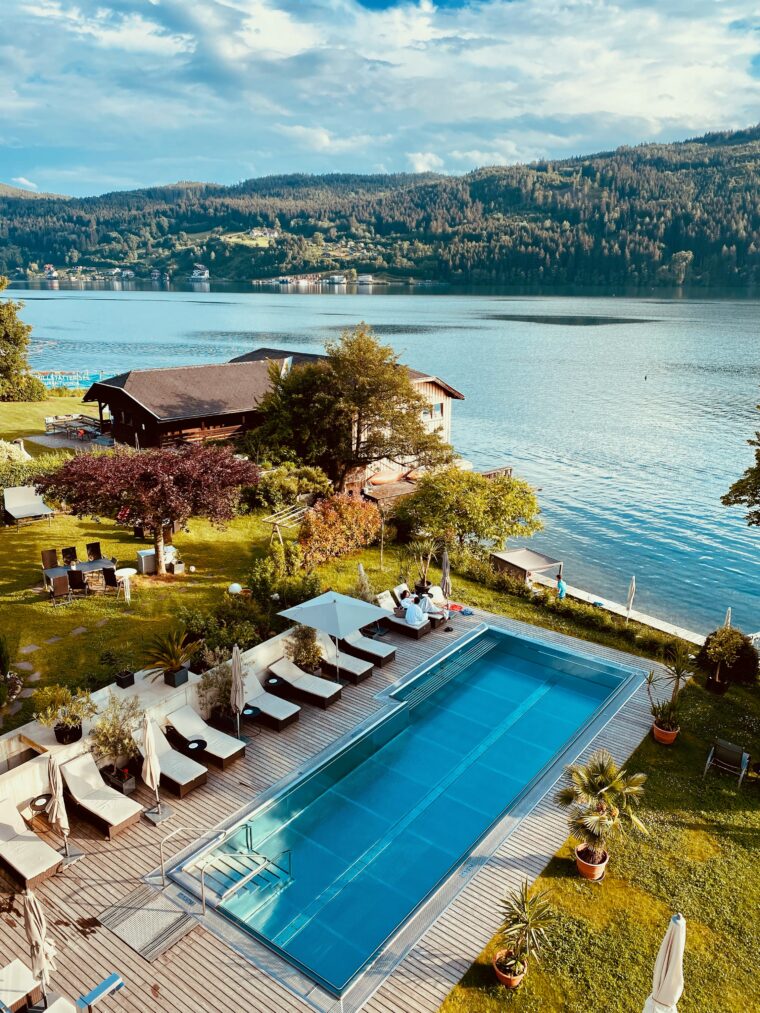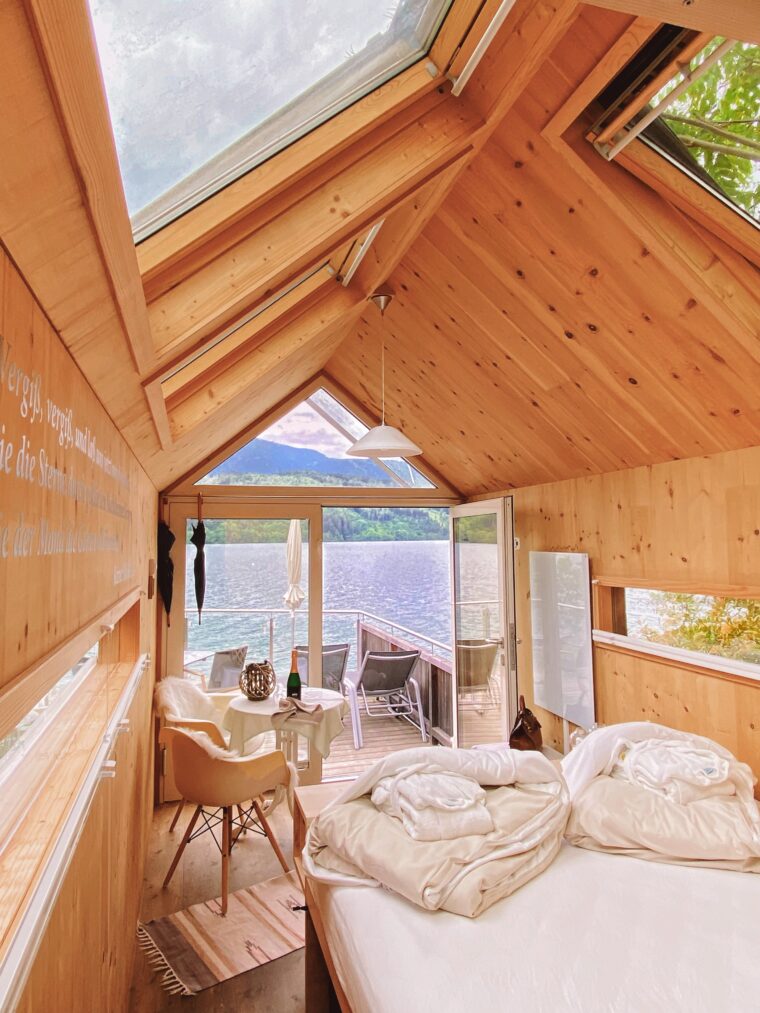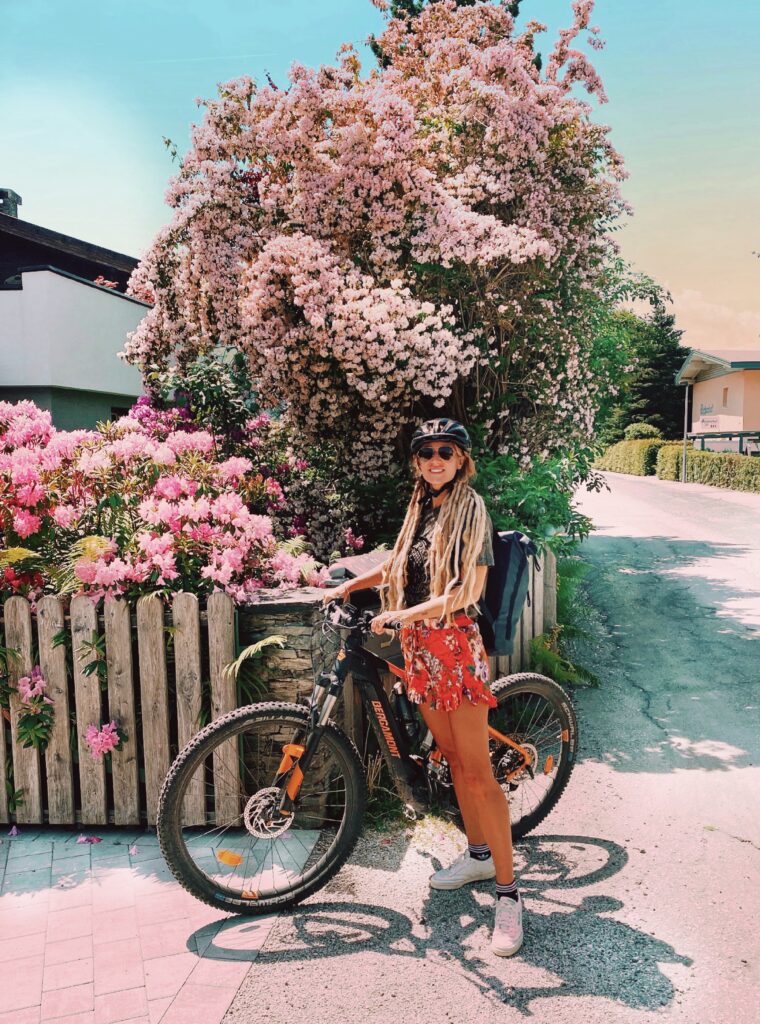 In liebevoller Zusammenarbeit mit der Villa Postillion und dem Millstätter See